After a nationwide six-year tour, the Liberty Bell 7 returned Monday, September 18, 2006, to Kansas for a permanent landing in its new home at the Kansas Cosmosphere and Space Center.
The spacecraft was moved to the Hutchinson museum by flatbed truck and lowered by crane into the building's lower level. Liberty Bell 7 will be a permanent exhibit in the Cosmosphere's Early Spaceflight Gallery.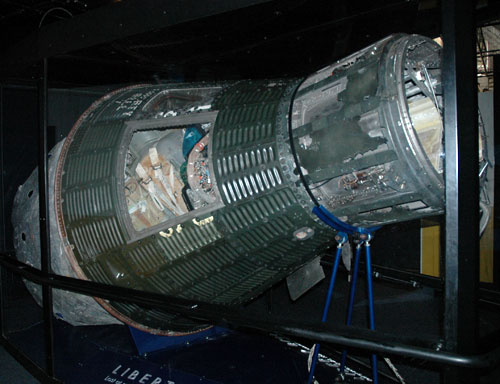 The exhibit, which will include a number of items that traveled with the capsule during its U.S. tour and tell the story of its flight, sinking, recovery and restoration, will cost about $100,000 to build and take about a year to complete, Cosmosphere President Jeff Ollenburger told The Hutchinson News.
Returning Liberty Bell 7 to the Cosmosphere's collection makes the museum one of only four places in the world where visitors can see a complete set of flown manned Mercury, Gemini and Apollo spacecraft. The Cosmosphere also houses the Gemini X and Apollo 13 capsule Odyssey.
"Liberty Bell 7 also elevates the Cosmosphere the elite status of being the only private museum in the world to own a flown manned American spacecraft," said Ollenburger.
Liberty Bell 7, piloted by Mercury astronaut Virgil "Gus" Grissom, sank shortly after splashdown on July 21, 1961. Recovery attempts were unsuccessful until 1999, when a team led by Curt Newport and financed by the Discovery Channel located and rescued the craft from the bottom of the Atlantic Ocean. The Cosmosphere's restoration team restored the spacecraft.
Since 2000, Liberty Bell 7 has toured the major museums in the country, including stops in Chicago, Denver, St. Louis, Boston and Phoenix. Most recently it was in Florida, where it was on display at the Kennedy Space Center.
Liberty Bell 7 was open to public visitors at the Cosmosphere today.