March 24, 2016
– Liberty Bell 7, the historic NASA capsule that launched the second American to space, is leaving its museum home for the home state of its astronaut pilot.

The Mercury spacecraft, which was flown by Indiana-born Virgil "Gus" Grissom in July 1961, has departed its display at the Cosmosphere in Kansas for a three-year loan to The Children's Museum of Indianapolis. There, it will be part of an "immersive space object experience" set for debut this summer.

The new Schaefer Planetarium & Space Object Theater at The Children's Museum will initially showcase Liberty Bell 7 in a "dynamic light-and-sound presentation" that, along with other real space vehicles and equipment, will help tell stories of missions, astronauts and events throughout the history of space exploration.

The theater, which is part of The Children's Museum's new Beyond Spaceship Earth gallery, is scheduled to open on June 25.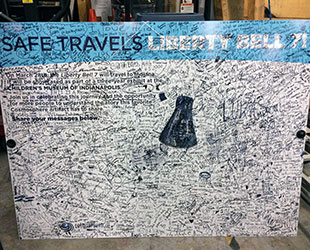 "Safe Travels Liberty Bell 7!" Visitors to the Cosmosphere signed a card wishing the capsule a good trip to Indiana.
(Cosmosphere)
On Tuesday (March 22), a crane hoisted the Liberty Bell 7 and its display case onto a flatbed truck for its short move from the Cosmosphere to the nearby SpaceWorks facility in Hutchinson, Kansas. On Monday, Grissom's capsule will be loaded onto a bigger, enclosed truck for its 700-mile trip to Indianapolis.

This isn't the first time Liberty Bell 7 has hit the road.

Launched July 21, 1961 on Grissom's 15-minute Mercury-Redstone 4 sub-orbital mission, the capsule famously sank soon after splashing down. It remained on the ocean floor until July 20, 1999, when Liberty Bell 7 was recovered by a Cosmosphere and Discovery Channel-led expedition.

Granted its ownership by NASA and the Smithsonian, the Cosmosphere restored Liberty Bell 7 and then launched it on a six-year nationwide tour, prior to placing it on display in Kansas.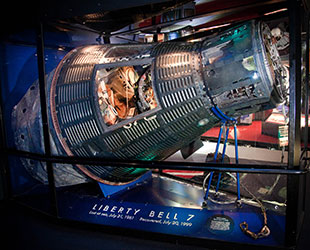 Liberty Bell 7, seen on display at the Cosmosphere.
(Cosmosphere)
The space capsule remained at the Cosmosphere until the summer of 2014, when it was shipped to Bonn, Germany for an eight-month art and science-themed exhibit. It then returned to the U.S. and its home at the space museum in April 2015.

Liberty Bell 7's three-year loan to The Children's Museum is the second time it has been exhibited at the Indianapolis institution. The museum was one of the stops on "The Lost Spacecraft" nationwide tour from October 2000 to January 2001.

In addition to the new space object theater, The Children's Museum's Beyond Spaceship Earth gallery will feature a recreation of the inside of the International Space Station and an "Astronaut Wall of Fame" presented in partnership with Purdue University to pay tribute to the astronauts like Grissom who have ties to Indiana.

Another Hoosier astronaut, David Wolf, is currently serving as the museum's "Extraordinary Scientist-in-Residence."

"It is an honor to be associated with the museum, to share my experiences in such a captivating manner to ignite the passion of our next generation of explorers, on Earth and in space," said Wolf, who logged almost 170 days in orbit on three shuttle missions and one stay aboard the Russian space station Mir.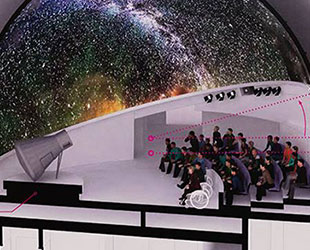 The Children's Museum of Indianapolis' Space Object Theater will display Liberty Bell 7 from 2016 to 2019.
(The Children's Museum)
Grissom, who also launched on the Gemini 3 mission in 1965, tragically died two years later in a fire on the launch pad during a test of the first Apollo capsule. He was born in Mitchell, Indiana, where his Gemini capsule is displayed at Spring Mill State Park.

A total of 12 astronauts have hailed from Indiana, including record spacewalker Jerry Ross and industry's first payload specialist Charles Walker. In addition to Wolf, both Serena Aunon and Tony England were also born in Indianapolis.