rlobinske
Member

Posts: 103
From: Crawfordville, FL
Registered: Oct 2014

posted 01-16-2018 08:54 AM



---
The Astronaut Scholarship Foundation (ASF) is advertising Space Rendezvous for Nov. 1-3, 2018 in Houston, Texas.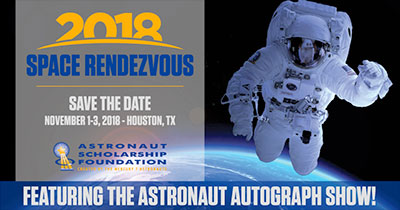 MCroft04
Member

Posts: 1530
From: Smithfield, Me, USA
Registered: Mar 2005

posted 01-16-2018 06:41 PM




---
I'm excited by the change in venue. On the downside I don't know of any great hotels near the Space Center, although perhaps that has changed.

More importantly, being in Houston may bring out more astronauts. Does anyone know how many astronauts live in the Houston area? Bean and Cunningham live there, but I suspect there are a lot of shuttle astronauts still in the area.

Perhaps a good perk for top ticket holders would be a visit to Bean's art studio (I know, wishful thinking). Maybe a tour of Mercury, Gemini and Apollo-era homes?
bthumble
Member

Posts: 236
From: Houston, Texas USA
Registered: Nov 2007

posted 01-16-2018 06:52 PM




---
I am excited. Live just north of Houston and have not been able to visit due to my job. But will be able to now!!
Daugherty54
Member

Posts: 503
From: Cabot, Arkansas, USA
Registered: Sep 2010

posted 01-16-2018 09:05 PM




---
This is awesome news! I can make Houston!