Apollo-Soyuz
Member

Posts: 868
From: Shady Side, Md
Registered: Sep 2004

posted 06-13-2009 06:00 AM




---
Space Cover of the Week, Week 8 (June 8, 2009)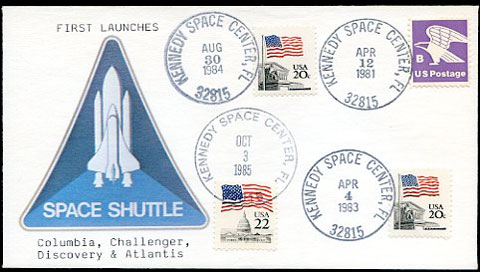 Space Cover #8, Maiden Shuttle Launches

This week's cover picked by veteran space collector, Bob McLeod was created by Ken Havekotte and has four KSC hand stamp cancels, one for each of the first launches of NASA's first four Shuttle Orbiters:

Columbia on April 12, 1981 for STS-1

Challenger on April 4, 1983 for STS-6

Discovery on August 30, 1984 for STS-41D

Atlantis on October 3, 1985 for STS-51J

Beacuse of the loss of Challenger on STS-51L, a replacement orbiter was needed and on May 7, 1992 Endeavour joined the fleet making its first flight on STS-49. There were no plans for a fifth orbiter after Atlantis joined the fleet in 1985, so this cover was considered complete, with not enough room to add another stamp and cancel for Endeavour's first launch.

This cover was a result of Ken personally having it cancelled at KSC for each of the launches. So besides being a philatelic record of these significant events, it also has the distinction of actually being in the vicinity of each of these four orbiters when they blasted off on their maiden voyages.
------------------
John Macco
Space Unit #1457