Dec. 7, 2016
- Jennifer Lawrence and Chris Pratt are about to become "passengers" on board the International Space Station.

The actors' new sci-fi film, "Passengers," is set to be sent to the space station for the astronaut and cosmonaut crew to screen, Sony Pictures announced Wednesday (Dec. 7).

In the movie, which opens in Earth-based theaters on Dec. 21, Lawrence and Pratt portray Jim and Aurora, strangers who are aboard a 120-year journey to another planet when their hibernation pods wake them 90 years too early.


"In 'Passengers,' I play an interstellar traveler headed for a colony planet far from Earth," explains Lawrence in a new NASA public service announcement (PSA) released online on Wednesday. "NASA is exploring our solar system and far beyond to look for what one day could be a new home away from Earth."

Former astronauts Garrett Reisman, Mike Massimino and Nicole Stott will join Lawrence and Pratt next week to walk the red carpet at the movie's premiere in Los Angeles.

As part of the festivities, Sony will provide NASA with the Morten Tyldum-directed movie to be delivered to the space station.

Since 2015, the orbiting outpost has been equipped with a high-definition laser-light projector and a 65-inch (165-cm) viewscreen, which crew members have used to view video conferences and training exercises, as well as to watch TV programs and movies in their limited free time.

"Passengers" will be the latest movie set in outer space to also be viewed there.

The 2013 film "Gravity" and last year's "The Martian" were both uplinked to the space station for its crew to enjoy. The orbiting laboratory also has a DVD library, which includes "The Right Stuff" and "Apollo 13," among other titles.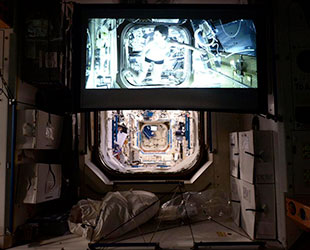 The Expedition 43 crew used the space station's "ISS Viewscreen" to watch the movie "Gravity" in April 2015.
(Scott Kelly on Twitter)
In addition to it being entertainment for orbiting astronauts, "Passengers" is also being used by scientists on Earth to inform the press – and through them, the public, about the realities behind some of the movie's themes.

Tiffany Kataria, a planetary scientist working at NASA's Jet Propulsion Laboratory in California, and John Bradford, the CEO of SpaceWorks, an Atlanta-based engineering firm focused on future space exploration technologies, will brief reporters on how the movie's depiction of exoplanets and human hibernation relate to current research and projects.

"The movie is about the very real possibility of traveling to a new home around another star," said the film's producer, Neal Moritz, in a statement. "It's fascinating to ... see how astronomers are discovering exoplanets and finding ways that what we imagine could someday become a reality."

"Scientists believe there may be at least one potentially-habitable planet revolving around every star we see in the sky," said Pratt in the NASA PSA.