July 8, 2016
— Nicole Stott would really like it if she could find her paint kit.

A small watercolor set no bigger than a deck of cards, she knows the general location of where she last left it, she just can no longer go there to look for it.

"I did not think about bringing my little watercolor set home with me," Stott admitted in a recent interview. "I left it there thinking other people might want to paint..."

"...in space," she quickly adds.

Stott, a former NASA astronaut who was the first person to paint what she saw out the window while still in space, left her pallet aboard the International Space Station when she lived there for 90 days in 2009. She revisited the orbiting outpost two years later as a crewmember on the final flight of the space shuttle Discovery, but didn't have the chance to look for it.

"I knew on STS-133 I would not have the time to paint and similarly, I did not think to grab the paint kit while I was up there again," she explained.

Stott has had some of her astronaut friends try to look for the watercolors during their own expeditions since then but they have come back empty handed.

The paint set, at least for now, is lost in space.

Fortunately for Stott, and her growing audience of patrons and admirers, there are more and better paints on Earth, which she has used to share the brilliance of what she saw orbiting the planet.

A wave of beauty

"Every picture you take from the space station looks like it is in a haze," Stott observed. "So you have to do this auto-color, auto-correct [digital manipulation] to get any type of clarity out of it and it still doesn't get it."

"It still doesn't get what your eyes see through the window – this glowing, colorful living planet, it just doesn't get that," she said.

Artistically-inclined since childhood ("my mom calls me the 'artsy-crafty' one in the family"), Stott was inspired to take the watercolor set to space after the crew support staff at NASA asked her to think about what she would like to do during her limited free time on the station.

"I thought it would be kind of cool to paint in space," she recalled. "At that time, I did not know that no one else had painted in space."

Once in orbit, Stott reviewed the photos she took each day and identified what she considered to be the most beautiful place on the planet below.

"This one place, Isla Los Roques, is just this tiny chain of islands, located just east of Bonaire on the northern coast of Venezuela. When you look at it from space, it looks like a wave was just drawn on the surface of the ocean. It is just the way the little island chain is. It kept standing out to me as the one that I should paint."

Capturing the moment

Having chosen "the wave" as her scene, Stott then needed to figure out how to capture it.

"There was no way you could sit in front of the window and paint it," she explained. "It would be gone before you had the chance to get the water out of the drink bag."

Travelling around the Earth at 17,500 mph (28,000 kp/h), any spot on the planet below was only out the window for a minute or so at most. As such, Stott took a photo of the islands and then printed it out on a scrap piece of paper.

"I still have that too, the little printout that I did on this torn sheet of paper, and used that as a guide for painting," she said.

Like any watercolors, the solid paints only become active when made wet, which presented another challenge in the microgravity environment of space. Liquids, like everything else, have a tendency to float away.

"What I would do is squeeze just the tiniest little sphere of water out of a drink bag and then shove the brush into that so that it would wick into the brush. I'd then quickly cap the bag off," Stott described.

"You just had to be careful you were not squirting water all over the place, or swinging your brush around," she said. "The water kind of wicked to the paper, too. It was a nice flow and worked out really easily."

From astronaut to artist

Stott returned from her first spaceflight with that one small painting, a blue and green watercolor of Isla Los Roques.

"It's not like a masterpiece or anything, but I think, in some ways, it portrays what I saw out the window," she said.

She then put her painting aspirations aside. Having been assigned to her next mission while she was still aboard the station, she jumped immediately into training for her flight on Discovery. It was not until after her second spaceflight that she began to pick up the paintbrush again.

"At that point, I was still thinking about flying again, staying in the [astronaut] office, but did start painting a little bit, at home, for fun," Stott recalled. "Some of what I was using [as inspiration] was what I had seen in space, but a lot of it was what I had at home, like the flowers in my backyard or things like that."

Eventually though, her desire for another flight gave way to more Earthly-endeavors, including her art.

"I finally reached that 'warm fuzzy feeling' about not flying again, making my own proactive decision to pull myself out of that and go do something different, to spend more time with my son, do some things I did not have time to do and art just seemed the thing that kept coming up for me," she said. "It was the best way I could share the experiences I was blessed to have."

Bolstering her decision, Stott had another astronaut to look to as role model.

"I'm very thankful to him for allowing me the time to speak to him, both before and after I retired," Stott said of Alan Bean, an Apollo moonwalker who returned from space to become a professional artist. "I was grateful just for having the chance to have a conversation with him about making the transition."

Bean, who adds moon dust to his paintings of astronauts exploring the lunar surface, befriended Stott and welcome her to his home studio.

"I think in terms of heroes from within the [astronaut] office, he was really it for me," said Stott. "He was able to go from test pilot, astronaut, guy who walked on the moon, Skylab guy and transition to the artist mode of life. It was a really compelling thing to me."

That's how it felt to be in space

Since resigning from NASA in June 2015, Nicole Stott has launched two art collections, one focusing on observations of the Earth, and the other on the spacecraft that she flew in orbit.

With both she has tried to impart how it felt to be in space, more so that recreate the exact look of being there.

"For me, it is more about the emotion, my re-interpretation of what the photo captured," she said. "Where I am trying to go for more of the reality side of things is in the paints that I am choosing."

To overcome the haze she observed in her photography of Earth, Stott sought out paints that have a range of color, translucence and iridescence to more closely match what she remembers seeing from space.

"That's what I am trying to put into it, which hopefully can give folks a better idea of the brilliance you see when you look at Earth," explained Stott, adding that she uses sand, glass and beading to add textures and elevation to her art.

For her spacecraft collection, she is just happy if the final product looks like the station or shuttle she set out to paint.

"I really am," she said. "I want it to look like a station, but I want there to be beautiful aspects to it. I am not concerned about the detail of the station itself."

Sharing space in a meaningful way

What does concern Stott is attracting the public who may not even be aware there is a station on which she bases her art.

"It has been fun to engage an audience that may not even think about the fact that we have a space station and then get them keyed in by looking at my art. If I can continue to do that, that's not just fun, I think it is an important thing," she said.

Even more important though, has been a collaboration that has merged her experiences as an astronaut with her life as an artist, delivering the benefits of arts and science to pediatric cancer patients while at the same time increasing awareness of childhood cancer.

The Space Suit Art Project, which launched Friday (July 8) at the University of Texas MD Anderson Cancer Center in Houston, provides patients, families and staff members the chance to paint original artwork that is then used to create full-size spacesuits. NASA provides the suit's patterns and ILC Dover, which builds the real suits for the agency, then assembles them, stitching the hand-painted art pieces into a wearable replica spacesuit.

"The children are going through what is probably the most difficult thing they are going to go through in their lives and yet they talk to me about how what they experience must be what it is like to go fly in space, being isolated from your family and not being able to touch people you love," said Stott. "They are paralleling the traumatic, tragic experience that they are going through to astronauts, who are in awe and loving what they are doing."

"They are paralleling it in a way that is just really thoughtful and meaningful."

To date, the project has produced two spacesuits, referred to as "Hope" and "Courage," from more than 600 pieces of art created by patients, families and staff at MD Anderson. "Hope" is heading for display at The Museum of Fine Arts, Houston, while "Courage" will be flown to the International Space Station later this month.

A third suit, "Unity," will be created as a collaboration with children's hospitals located around the world, representing the global issues surrounding childhood cancers.

"I really feel this is the most meaningful thing I've had the opportunity to work with, from the standpoint of the people I am getting to engage with and the message that is going to come from it," said Stott.

For more about Nicole Stott's "eARTh from space" artwork, see her website, The Artistic Astronaut.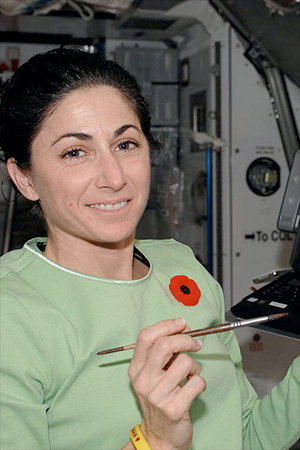 Nicole Stott with her original photo and watercolor painting as she created aboard the space station in 2009. Six years later, Stott left NASA to be a full-time artist. (NASA/TheArtisticAstronaut.com)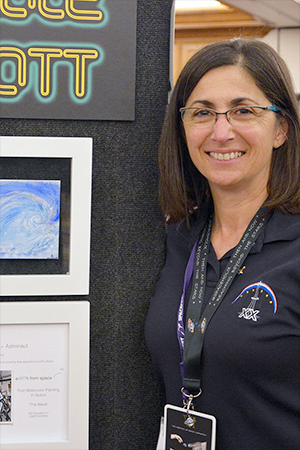 Nicole Stott poses with her original watercolor painted aboard the International Space Station in 2009. (collectSPACE)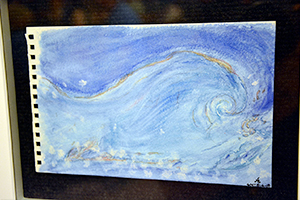 Nicole Stott's original watercolor painted aboard the space station in 2009. Stott was the first person to paint in space. (collectSPACE)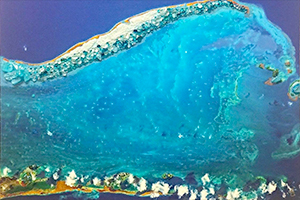 "The Wave" mixed media art based on the original watercolor that Nicole Stott painted while in space. (TheArtisticAstronaut.com)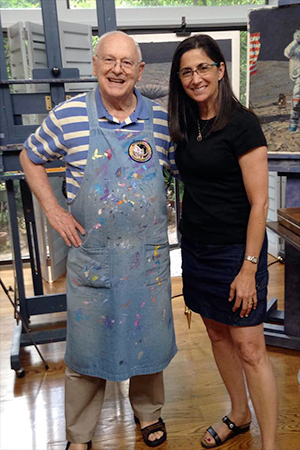 Astronauts-turned-artists Alan Bean and Nicole Stott inside Bean's home studio. (TheArtisticAstronaut.com)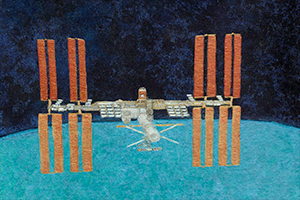 Nicole Stott's "ISS 133," an oil/acrylic painting depicting the space station as seen from shuttle Discovery. (TheArtisticAstronaut.com)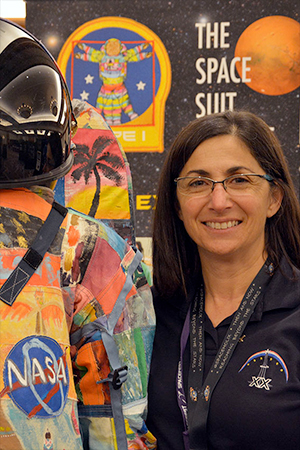 Astronaut Nicole Stott poses with a suit created by The Space Suit Art Project, a campaign to raise awareness of childhood cancer by MD Anderson Cancer Center, NASA and ILC Dover. (cS)