May 11, 2016
— To suggest that the astronauts aboard the International Space Station have been "snap happy" would be an understatement of astronomical proportions.

The orbiting outpost's crew recently took the three millionth photograph since the space station's first residents began sending back images in November 2000.

"15 years, 3 million photos, and 1 beautiful planet," NASA flight engineer Jeff Williams wrote on Twitter.

Williams, who is the first American astronaut to embark on a third long-duration mission on the station, posed with his Expedition 47 crewmates to take the three-millionth shot.

"Excited to mark this photography milestone with my crew," he tweeted on May 5.

The photo, which was taken a few days earlier on April 30, shows Williams with his fellow NASA astronaut Tim Kopra, British astronaut Tim Peake of ESA (the European Space Agency), and Roscosmos cosmonauts Yuri Malenchenko, Oleg Skripochka and Alexey Ovchinin. The six crewmates were captured floating inside Zvezda, the station's Russian service module.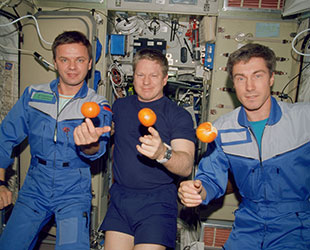 International Space Station Expedition 1 crewmates Yuri Gidzenko, William Shepherd and Sergei Krikalev pose for a photograph in the Zvezda service module on Dec. 4, 2000.
(NASA)
The image is similar to one taken in the same module on Dec. 4, 2000 by the space station's first expedition crew. At that time, Zvezda was one of two modules that comprised the orbital laboratory.

Since then, more than a dozen rooms have expanded the size of the complex, adding numerous locations for photos to be taken. But the space station's increased volume has been the focus of only a fraction of the snapshots that the astronauts and cosmonauts took over the past 15 years.

"These [photographs] include shots of science, thousands of maintenance photos for engineers on the ground, views of life on board and tons of our beautiful planet," described NASA spokesman Dan Huot in a video segment about the three-millionth image.

In fact, a majority of the photos taken on the space station have been of Earth — including a prior milestone image.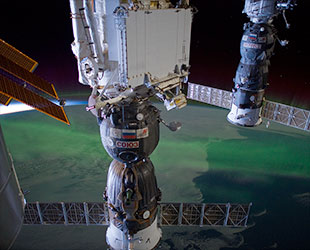 This photo, taken by the Expedition 30 crew in 2012, was the one millionth image captured aboard the orbiting outpost.
(NASA)
"1 millionth ISS photo," wrote NASA astronaut Don Pettit in his caption for a March 2012 shot of the Earth blanketed by a green aurora.

That photo was one of hundreds in a time-lapse series, an imagery technique that Pettit was among the first to demo in space and that partially accounted for the increased rate at which photos have been recorded on the station.

It took 12 years for the astronauts and cosmonauts to take the first one million images, but only four years to take two million more.

If all three million of their photos were printed out as 4 by 6 inch snapshots and then laid out side by side, they would extend longer than the International Space Station is high above the Earth.