March 7, 2011
— Space shuttle Discovery's final crew left their mark on the International Space Station on Sunday (March 6), prior to departing the orbiting laboratory today.

Participating in a tradition established by previous visiting crews, the six astronauts added their mission's insignia to the station's wall and then signed their names around the decal. The simple act signified the successful conclusion of their goals while onboard the space station.

"We delivered the last pressurized module, we delivered the ELC4 [cargo pallet], we did a whole bunch of transfer and we outfitted the [Permanent Multipurpose Module] as best we could," Discovery's STS-133 mission commander Steven Lindsey said during a farewell ceremony.

Space shuttle Discovery undocked from the space station at 6:00 a.m. CST, beginning its journey back to the Earth for its last time. Landing is targeted for Wednesday at the Kennedy Space Center in Florida.

The addition of the red, orange, and blue patch, which the crew also wore on their pressure suits, polo shirts, and on the pair of suits used for the flight's two spacewalks, also represented the final contribution by a famed space artist to the visual history of the United States' space program.

The astronaut and the artist

Astronaut Alvin Drew volunteered to head up choosing the design for Discovery's final mission emblem soon after he was named to the crew in 2009. At the time, the flight was not only the last for Discovery, but was also scheduled as the final mission of the space shuttle program.

"I saw it as something that might be fun to do," said Drew during a preflight interview with collectSPACE.

It was not too long after, that he received a suggestion to call on artist Robert McCall.

"I had gotten a suggestion from one of the workers at the Johnson Space Center. Bob McCall had done the [patch] for the last Apollo mission and the first shuttle mission. Wouldn't it be a nice bookend if he also got to do the last shuttle mission patch?" Drew recounted.

In addition to designing the Apollo 17 and STS-1 patches, McCall was a highly-regarded space artist whose murals filled full walls at NASA's centers and the National Air and Space Museum in Washington, DC.

"It was a great idea," recalled Drew. "If anyone was going to have any better design ideas than I have, it was going to be Bob McCall. He has all the experience at this."

As much as he liked the idea, Drew didn't know if McCall was still designing patches or who to contact to ask if he was. Then a chance meeting introduced an opportunity.

"I was in Star City [Russia] and one of the back-up space flight participants named Barbara Barrett, she was one of Bob McCall's neighbors and she was proudly showing us the personal patch that he designed for her."

Drew asked Barrett to ask McCall if he'd like to design the patch for Discovery's last mission.

The famed artist's reply was simply "Yes."

Just a beautiful patch

Drew provided McCall with information about the flight and brief crew biographies. He also described what he wanted — and what he didn't want — from the design.

"I [told McCall] I am not interested in any deep symbology or harking back to the ships or the shuttle program," Drew shared. "I understand it is the last one, but I just want a patch that is beautiful. A patch that really is just pleasing to the eye so even if we are not the last shuttle mission — because even at that point we knew we might not be — it would still be just a gorgeous patch to look at."

"Got it," said McCall.

Weeks went by and Drew hadn't heard from the artist, so he started to look elsewhere for ideas.

"Lots of folks out there were submitting their designs and ideas for patches. A lot of them were really good."

"Finally, I get this voicemail at work from Bob McCall. 'Oh yeah, I have been working on these patches,'" McCall told Drew.

"'I was up all weekend,'" Drew recalled McCall saying. "He had found his muse and was just completely tickled with these patch concepts he had come up with."

"I can't wait for you to see them!" McCall told Drew.

The astronaut was excited by the artist's enthusiasm.

"This is Bob McCall. He's been working on patch designs for as long as I have been alive and if he is kind of beside himself with these patch designs, I can't wait to see them either," remarked Drew.

McCall told Drew that he'd FedEx him the patch designs "as soon as I figure out how to get these things digitized."

"Look for them by Thursday or Friday," McCall said.

A passing and the package

Thursday and Friday came and went without a package.

"Saturday, I see a newsgram that Bob McCall had passed away that Friday," recalled Drew. "So I'm like, well, I'm not going to see those patches. I am not going to bother his family."

McCall, 90, died of a heart attack on Feb. 26, 2010.

"I asked Barbara Barrett to pass along our condolences to his family," said Drew.

Having given up on seeing McCall's designs, he resumed searching for patch ideas. Then, the following Tuesday, a FedEx envelope showed up in his inbox.

"It had been held up by Johnson Space Center's security system," explained Drew. "So I'm sitting there, my hands just shaking because I just know what's in this thing."

"This is the final works of art by Bob McCall."

"I assumed they were not the originals. I opened it up and there they are, his designs. Three just gorgeous designs. They are bright, very airy," described Drew.

Drew soon realized the challenge before him.

"I was just sad that we couldn't call [McCall] up and go, 'Pick your favorite one of these and turn it into a patch.'"

Turning sketches into a space patch

McCall's trio of designs each played off the basic concept of a space shuttle orbiter, without its external tank or solid rocket boosters, ascending skyward on a fiery plume. The different sketches varied in the shape of the insignia and the style of stars and wreaths surrounding the shuttle.

The artwork also incorporated the words "Final Flight" and the mission designation, "STS-133," as well as the crews' names.

"I needed to find someone up to the task of turning these preliminary sketches into a finished patch design," said Drew. "And there were lots and lots of iterations to doing that."

That person was Tim Gagnon of Titusville, Fla., who with a fellow artist in Spain, Jorge Cartes, created the patches for several previous space shuttle crews and a number of space station expeditions.

"Tim Gagnon seemed to me to be the best suited," Drew said. "He was patient with all the thousands of different iterations and permutations before we came to the final one."

For Gagnon, the invitation to work with McCall's sketches was both a compliment and a daunting challenge. Since a young age, Gagnon, now 54, considered McCall his role model.

"He was the aerospace artist in my mind, bigger than any other," Gagnon shared in an interview with collectSPACE. "I had two opportunities to meet him and was awestruck both times."

So when the STS-133 crew came to him for help finishing McCall's work, Gagnon jumped at the chance.

"They were paying me the ultimate compliment," Gagnon said. "I mean I'd have paid money to work on that design. [They] trusted me to do this and pay proper respect to the original artwork."

"At the same time," he continued, "it was a tough project because I didn't want to change too much."

Neither, apparently, did the crew.

It's Robert McCall's patch...

About a month into working with Gagnon, the crew almost went another direction.

"The crew was still kind of undecided about which way we were going to go," recalled Gagnon. "They almost said let us just use the original artwork and leave it at that."

But the six astronauts didn't want the words "Final Flight" on the patch, explained Gagnon, nor were they happy with the placement of their names. And they wanted the wreath removed.

"I thought the wreath was killer," admitted Gagnon. "They thought it was too much like McCall's patch for the Space Mirror Memorial honoring fallen astronauts."

Ultimately, the astronauts settled on a design that stayed true to McCall's original sketches, while also paying credit to him.

"On the patch you will notice one large gold four-pointed star just to the right of the orbiter. We placed that star in honor of Bob McCall," revealed Gagnon. "Opposite on the left of the orbiter are two small, four-pointed, gold stars representing Jorge and I. The size difference is deliberate honoring the relative contributions of the artists."

"It's Robert McCall's patch and I just finished it," Gagnon said. "They let me work on it. I'll never say that I designed it."

McCall's final flight

In addition to the decal the crew left on the station and the various embroidered and silkscreened patches they wore, Discovery also carries over 600 of the patches for NASA to present to shuttle team members and others after their return from space.

In fact, there are two versions of the final patch in space. Due to a late crew change, some of the emblems include mission specialist Tim Kopra's name. Others replace him with Stephen Bowen, who was assigned to STS-133 after Kopra was injured in a bike accident in January.

Drew also has the three original designs he received from McCall with him in space.

Although McCall created his sketches with the end of the space shuttle program in mind, his designs also came to serve as a tribute to him after his passing.

The program for his memorial service adapted his sketch, substituting the crew's names with his own. The use gave his inscription, "Final Flight" added meaning.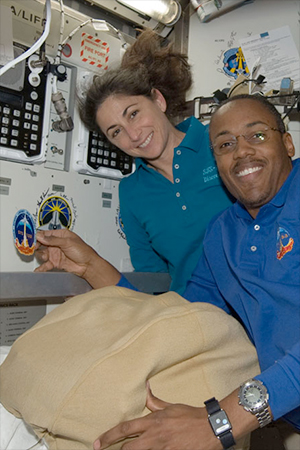 STS-133 astronauts Alvin Drew, center, Nicole Stott and Steve Bowen add their patch to the space station's wall. (NASA)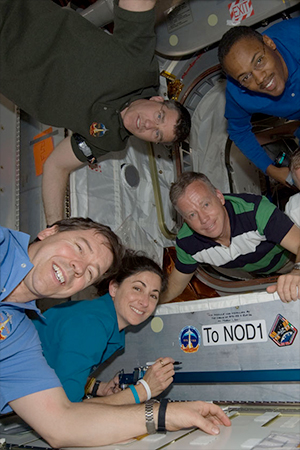 Space shuttle Discovery's final crew gathers in the hatchway to the PMM Leonardo to autograph around their patch. (NASA)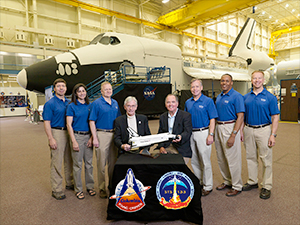 STS-133 astronauts with STS-1's John Young and Bob Crippen. Both flights' patches were designed by Robert McCall. (NASA)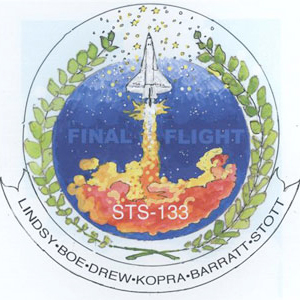 One of three "gorgeous designs" that Robert McCall created for Discovery's final mission patch. (McCall Studios/NASA)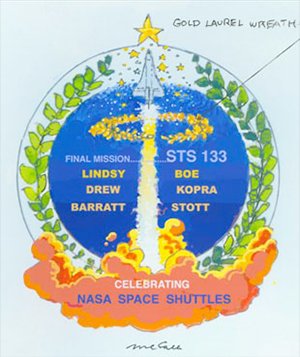 McCall included in his designs "Final Flight" and a wreath, both removed from the final insignia. (McCall Studios/NASA)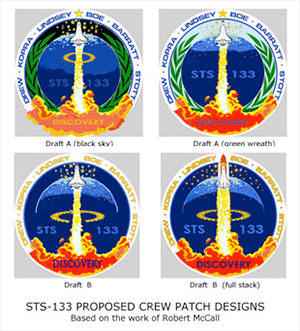 Tim Gagnon's early iterations of the STS-133 patch based on Robert McCall's original designs. (Tim Gagnon)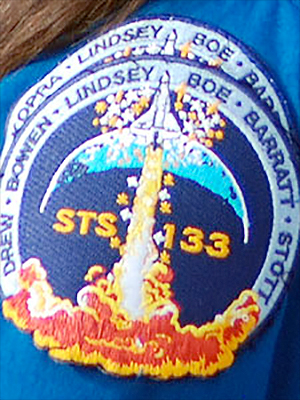 Astronaut Nicole Stott's flight suit with the "Bowen" version of the patch overlapping the earlier "Kopra" one. (collectSPACE)