advertisements

Famed space artist Robert McCall dies at 90
February 28, 2010

— An artist whose visions of the past, present, and future of space exploration have graced U.S. postage stamps, NASA mission patches, and the walls of the Smithsonian, Robert McCall died on Friday of a heart attack in Scottsdale, Arizona. He was 90.

Once described by author Isaac Asimov as the "nearest thing to an artist in residence from outer space," McCall's paintings first attracted the public's attention in the 1960s on the pages of LIFE, illustrating the magazine's series on the future of space travel. He expanded on that theme at the invitation of director Stanley Kubrick, who had McCall paint the advertising posters for his seminal 1968 science fiction film, "2001: A Space Odyssey."

Since then, many more have encountered McCall's space art through canvases both very large and very small.

Perhaps his most famous piece, the six-story "The Space Mural - A Cosmic View" greets visitors to the National Air and Space Museum in Washington, DC. Painted over the course of eight months in 1976, McCall's depiction of the creation of the universe leading to astronauts walking on the Moon is seen by an estimated ten million annually.

Others of McCall's large murals can be found at NASA's Johnson Space Center in Houston, Texas, at the Dryden Flight Research Center in Lancaster, California, and at the Kansas Cosmosphere and Space Center in Hutchinson. A number of his paintings decorated the walls of the former Horizons pavilion at Walt Disney World Resort's Epcot in Florida, and one remains on display at the entrance to the park's iconic "Spaceship Earth" attraction.

At the other end of the size spectrum but no less popular, McCall created the art for 21 space-themed U.S. postage stamps, ranging in subject from the moon landings to the unmanned probes sent to Mars and Jupiter. His design for a commemorative marking the Apollo-Soyuz Test Project adorned the largest stamp published in the United States.

In 1981, McCall designed eight stamps celebrating STS-1, the first flight of the space shuttle. At mission commander John Young's request, McCall also designed the insignia that Young and Bob Crippen wore aboard Columbia for the two-day mission.

It was through the stamps and patches that he created did McCall ultimately see his artwork merge with their subject matter and enter space. The Apollo 15 astronauts flew his "Decade of Achievement" two-stamp pane to the Moon, and the last men to walk on the lunar surface did so while wearing an Apollo 17 mission patch designed by McCall.

"It is something I continue to covet," shared McCall in a 2006 interview with collectSPACE.com. "It was wonderful to really see this emblem that I designed on the Moon, in real time from Mission Control."

In 1973, at the personal request of flight director Eugene Kranz, McCall designed the original insignia to represent the Mission Control teams.

McCall also created patches for the third and fifth shuttle crews, as well as the first to dock with Russia's Mir space station. His most recent patch was designed for back-up spaceflight participant Barbara Barrett, a family friend, in 2009.

Born in Columbus, Ohio in 1919, McCall's early interest in art led to his winning a scholarship to the Columbus Fine Art School following his graduation from high school. After serving in the Army Air Corps during World War II, McCall did a short stint as an advertising artist before becoming a magazine illustrator for the Saturday Evening Post, LIFE, and Popular Science.

Invited by the Air Force in the mid-1950s to tour air bases around the world as part of an art program, McCall created nearly 50 paintings which he donated to the Air Force and which now hang in the Pentagon, the Air Force Academy, and as part of a traveling exhibition open to the public.

Enamored by the advent of NASA, McCall was one of the first artists to be invited into the civilian space agency's own art program, alongside the likes of Norman Rockwell and other well-known American painters. In attendance at every major launch, McCall became an eyewitness to the U.S. space program, following the astronauts through their flight preparations and missions.

In addition to his work as a visual historian for NASA and the posters he created for Kubrick's "2001," McCall also served as the art director on Disney's "The Black Hole" as well as the 1979 Paramount feature film "Star Trek: The Motion Picture."

Spanning a career of more than 60 years, McCall's space art collection grew to include more than 400 paintings. A failed 2004 attempt to establish a McCall Museum of Art led McCall three years later to donate 200 of his original paintings, drawings and prints to the University of Arizona Museum of Art in Tucson.

"Sometimes people like Bob McCall help point us in the direction of where science should be going," said Joaquin Ruiz, dean of the University of Arizona College of Science at the time McCall's donation was received. "The futuristic views of his work will be inspiring to new explorations."

Two books have been devoted to McCall's space artwork. "Vision of the Future," by science fiction author Ben Bova was published in 1982, followed by McCall's own "The Art of Robert McCall: A Celebration of Our Future in Space" ten years later. The 1972 "Eyewitness to Space" and the 2008 "NASA/ART: 50 Years of Exploration," both of which were NASA commissioned, also feature McCall.

Hailed as the world's premiere space artist, McCall was bestowed with an honorary doctorate from the Columbus College of Art and Design in 1988, and was inducted into the Arizona Aviation Hall of Fame in 2001. A member of the National Space Society's (NSS) Board of Governors for many years, he was presented the Douglas S. Morrow Public Outreach Award by the Space Foundation in 2003.

Survived by his wife Louise, their two daughters Linda and Catherine and four grandchildren, McCall had high hopes for the future.

"I think when we finally are living in space, as people will be doing soon, we'll recognize a whole new freedom and ease of life," McCall was quoted as saying. "These space habitats will be more beautiful because we will plan and condition that beauty to suit our needs. I see a future that is very bright."





Robert McCall in his Arizona art studio in 1988. (McCall Studios)







Part of a study for McCall's "The Space Mural - A Cosmic View" at the National Air and Space Museum. (Eric Long/NASM)







McCall with his "Decade of Achievement" stamps. (NASA)







Robert McCall posing with his "History of Flight" mural at NASA's Dryden Flight Research Center in California. (McCall Studios)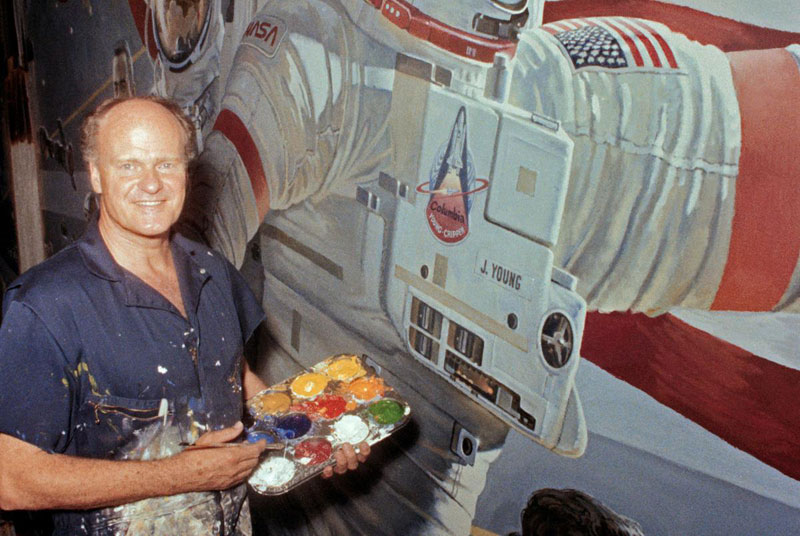 Robert McCall, a long-time painter of the past, present and future of spaceflight, passed away Feb. 26, 2010.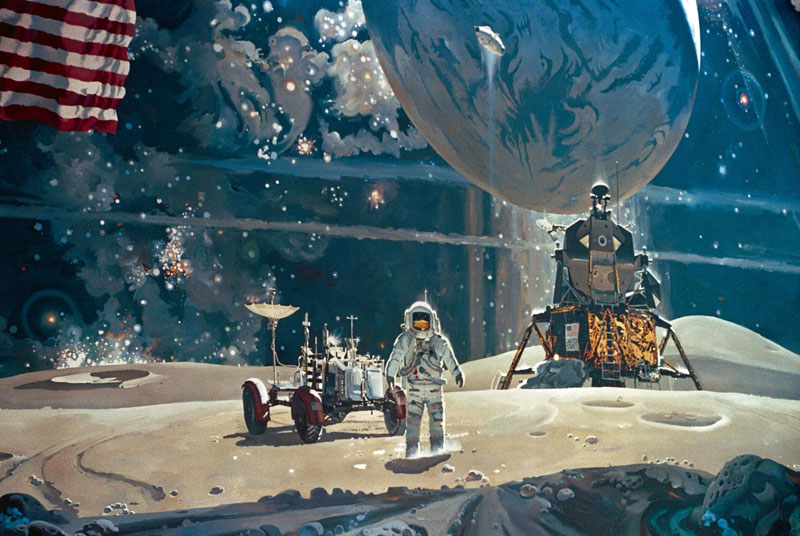 McCall's six-story "The Space Mural: A Cosmic View" at the National Air and Space Museum, Washington, DC.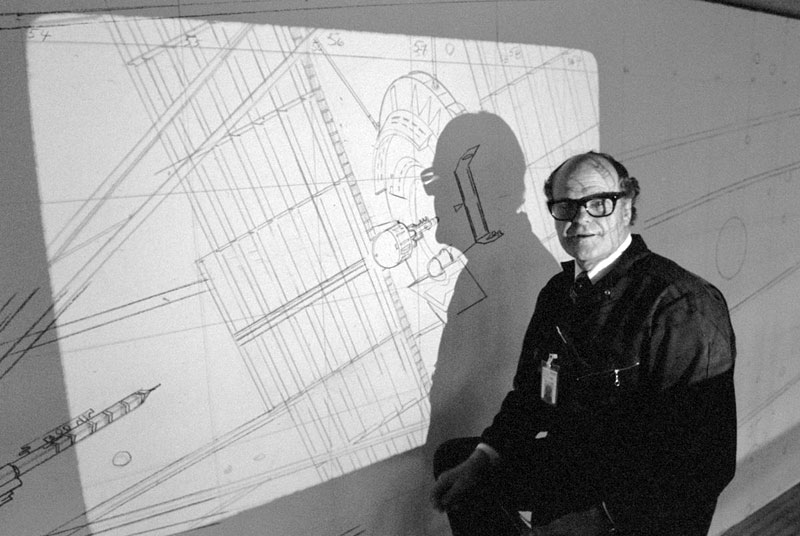 McCall working on his mural "Opening the Space Frontier: The Next Giant Leap" at Johnson Space Center.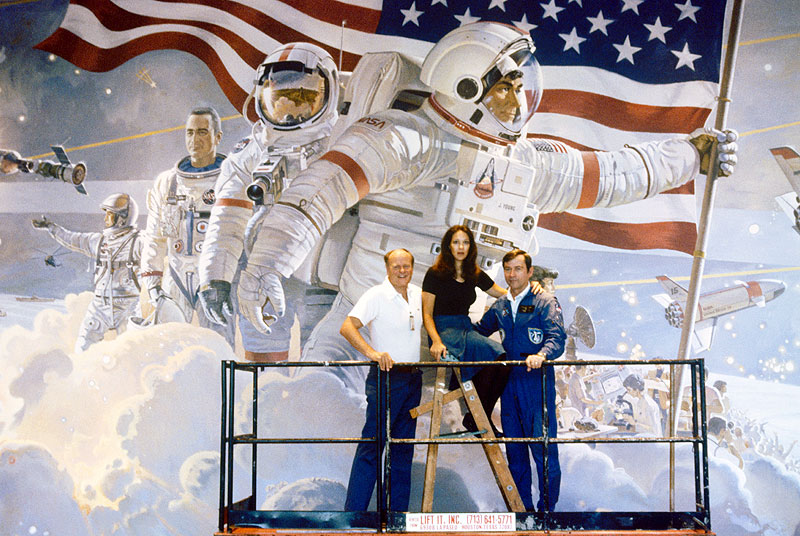 McCall with STS-1 astronaut John Young and his wife Suzy. Young is depicted in McCall's mural.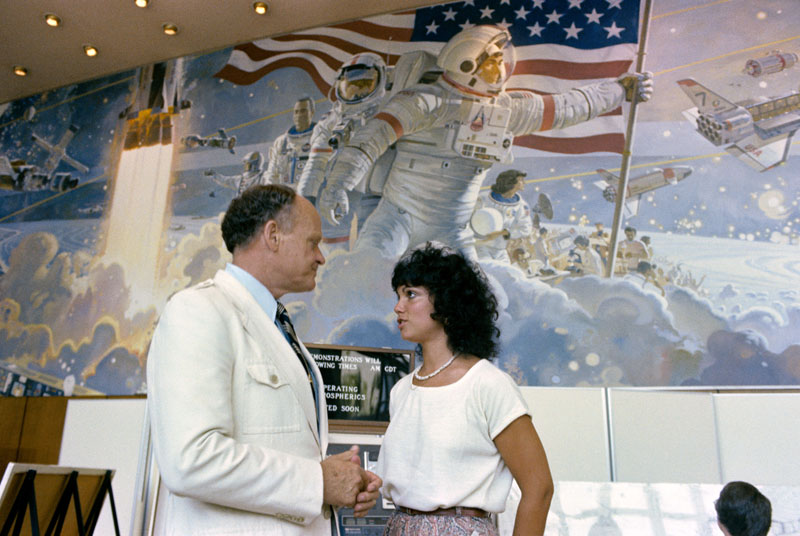 McCall with astronaut Judy Resnik, who can be seen in the mural just above and to her right.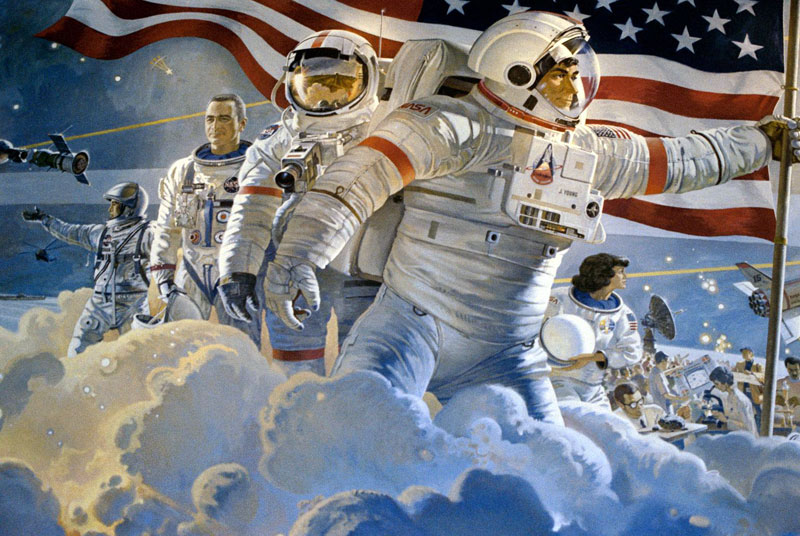 "Opening the Space Frontier: The Next Giant Leap" above the Teague Auditorium at Johnson Space Center.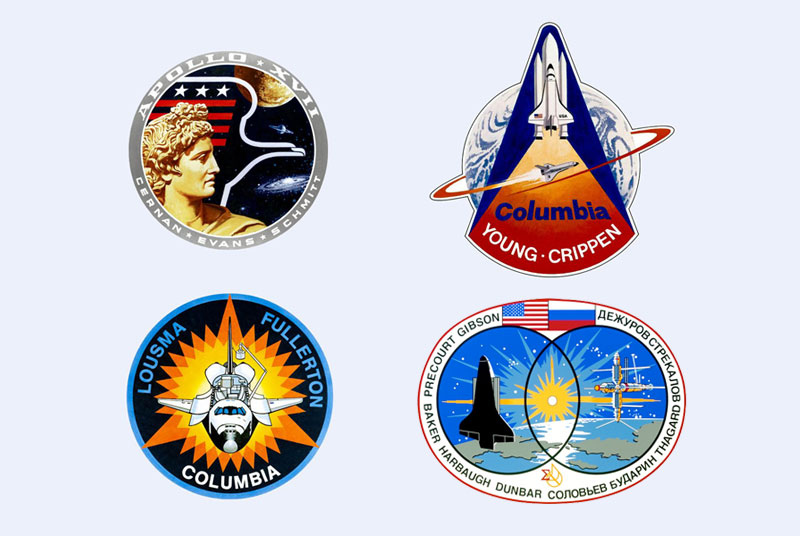 McCall designed several NASA mission patches, including these for Apollo 17, STS-1, STS-3 and STS-71.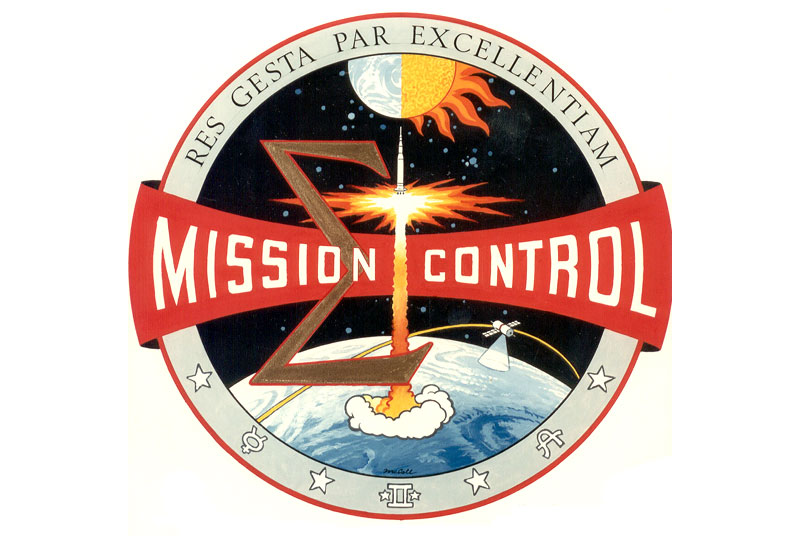 At flight director Gene Kranz's request, McCall designed the original emblem for the Mission Control teams.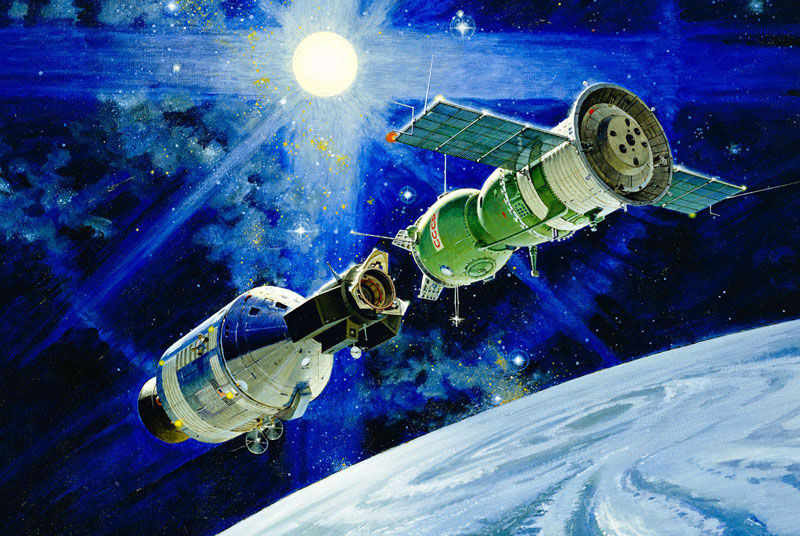 McCall designed 21 space-themed U.S. postage stamps including one marking the Apollo-Soyuz Test Project.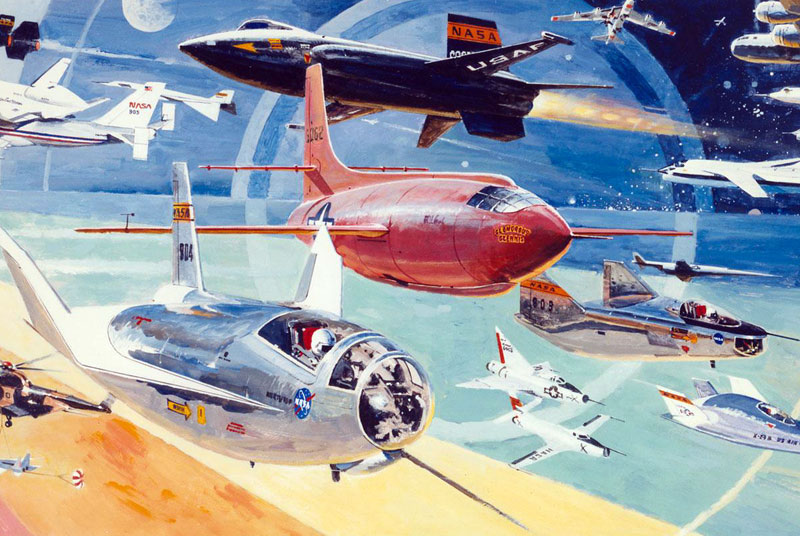 This McCall mural at the Dryden Flight Research Center in Calif., showcases a host of experimental aircraft.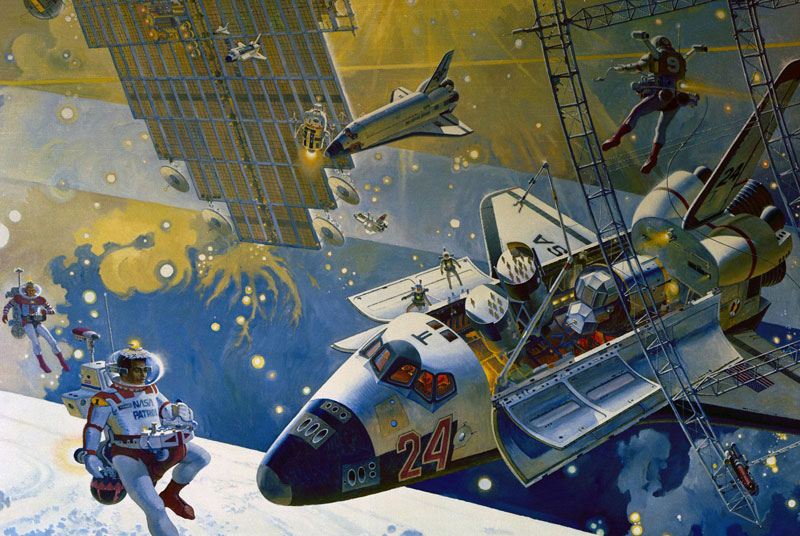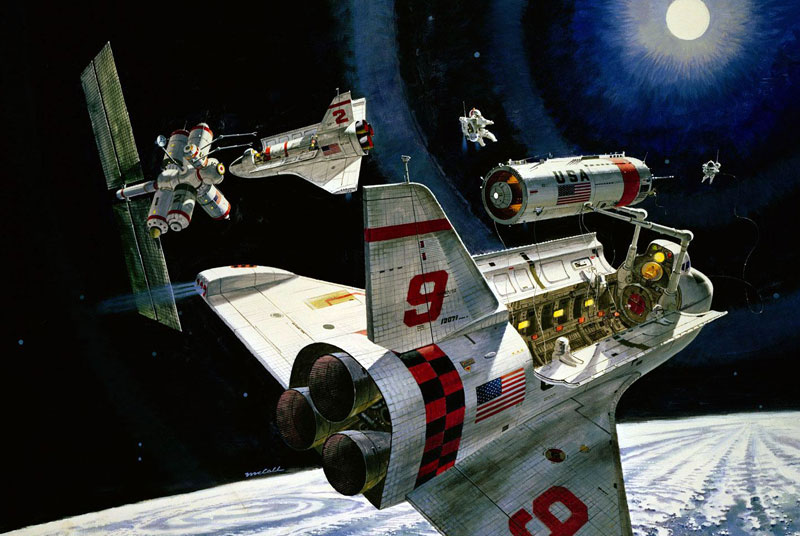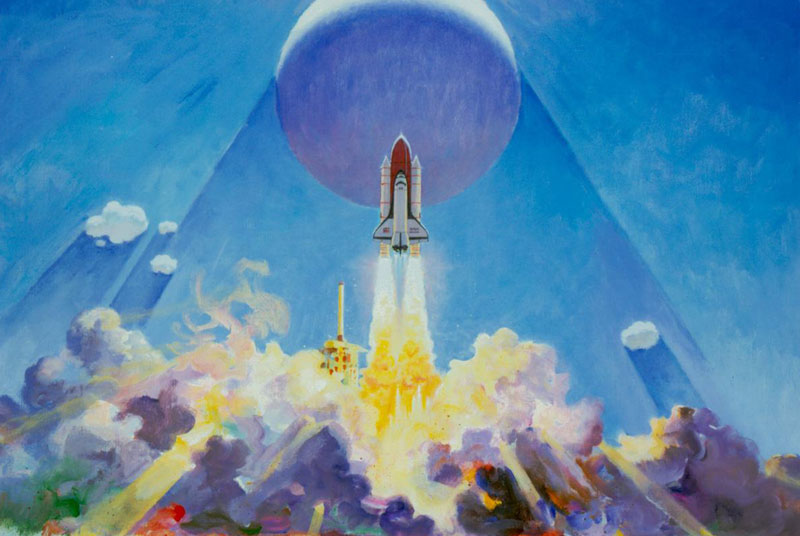 In this 1983 painting by McCall, the launch of STS-7 from the Kennedy Space Center in Florida is depicted.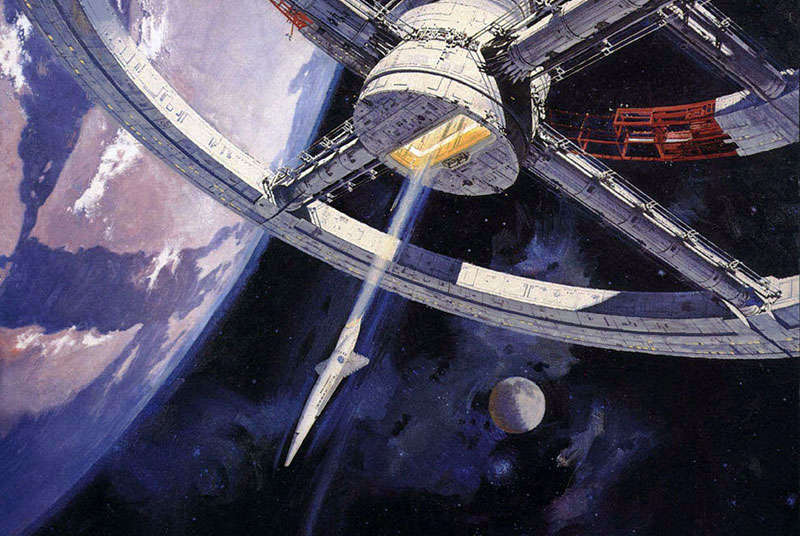 McCall's "Orion Leaving Space Station" was used for Stanley Kubrik's 1968 sci-fi classic, "2001: A Space Odyssey."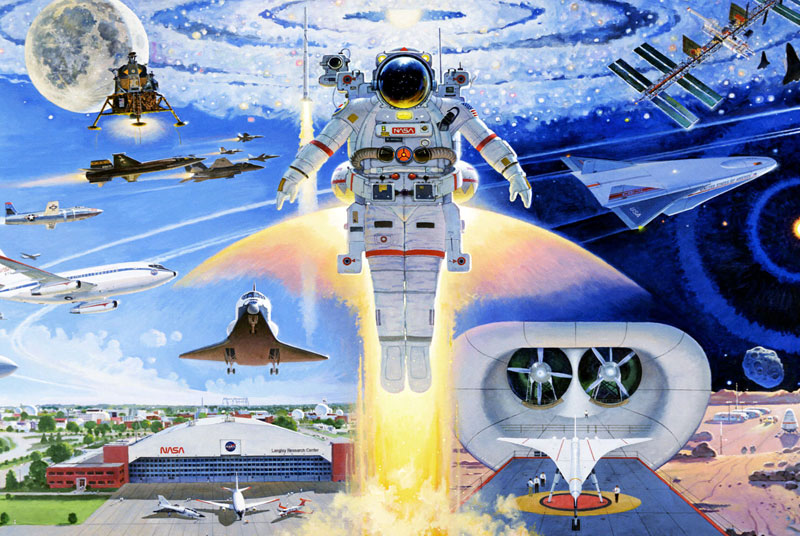 © 2023 collectSPACE.com All rights reserved.