'The Right Stuff' docks with the ISS
collectSPACE Press Release

August 31, 2003 — The Right Stuff has again reached the International Space Station (ISS).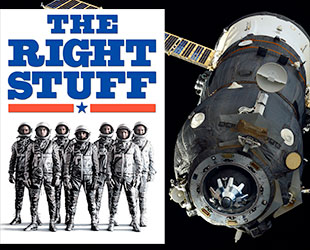 At 11:40 p.m. EDT Saturday, a Russian unmanned Progress spacecraft delivered three tons of food, fuel, water, and supplies to the residents of the ISS. As NASA Science Officer Ed Lu and ISS Expedition 7 Commander Yuri Malenchenko unpack the vehicle, they will discover a surprise gift from collectSPACE: a unique cast- and crew- autographed copy of the special edition DVD of the 1983 movie, "The Right Stuff".

"We wanted to send something that embodied our focus and our membership, including our community of space memorabilia collectors and space history enthusiasts," said Robert Pearlman, collectSPACE founder and editor.

"The DVD release of the expanded edition of 'The Right Stuff' coincided with our search and once signed, we knew we had found our gift for the crew," said Pearlman.

Members of the original cast and crew autographed the space-bound DVD set at a 20th anniversary celebration of the film hosted in Los Angeles in June.

In attendance and signing were actors Ed Harris ("John Glenn"), Lance Henriksen ("Wally Schirra"), Scott Paulin ("Deke Slayton"), Charles Frank ("Scott Carpenter"), Barbara Hershey ("Glennis Yeager"), Mary Jo Deschanel ("Annie Glenn"), Veronica Cartwright ("Betty Grissom"), Pamela Reed ("Trudy Cooper"), Kathy Baker ("Louise Shepard"), Scott Wilson ("Scott Crossfield"), Harry Shearer and Jeff Goldblum (NASA recruiters), as well as director Philip Kaufman.

General Chuck Yeager, the first pilot to break the sound barrier and the film's technical advisor also autographed the DVD.

The ISS crew has a DVD player available for their use and entertainment and while a previous edition of "The Right Stuff" is already onboard, the expanded edition with its hours of extra footage should be a welcome addition to the ISS movie library.

"The Right Stuff" Special Edition DVD set has more than three hours of bonus features that include four documentaries (three produced specifically for the film's 20th anniversary), selected scene commentaries with cast and filmmakers, fifteen minutes of never-before-seen footage, and an interactive timeline complete with archival NASA footage and events highlighting mankind's leap to the stars.

The Progress 12 craft lifted off from the Baikonur Cosmodrome in Kazakhstan at 9:48 p.m. EDT on August 28, as the ISS sailed over the south Atlantic Ocean east of South America at an altitude of 240 statute miles. The resupply vehicle docked to the aft port of the Zvezda Service Module.
back to News



© 1999-2013 collectSPACE.com All rights reserved.
Questions? E-mail contact@collectspace.com