November 8, 2021
— Four astronauts have returned safely from the International Space Station, less than 11 days shy of their spacecraft's on-orbit limit.

Shane Kimbrough and Megan McArthur with NASA, Thomas Pesquet with the European Space Agency (ESA) and Akihiko Hoshide of the Japan Aerospace Exploration Agency (JAXA) splashed down on board the SpaceX Crew Dragon "Endeavour" on Monday (Nov. 8). Their landing at 10:33 p.m. EST (0333 GMT Nov 9) off the coast of Pensacola, Florida in the Gulf of Mexico brought an end to the 199-day Crew-2 mission.

"It sure is great to be back to planet Earth!" Kimbrough radioed to SpaceX mission control in Hawthorne, California.

SpaceX recovery boats were staged near the splashdown point to quickly meet up with the bobbing capsule and bring the astronauts back on shore.

Kimbrough, McArthur, Pesquet and Hoshide were originally planned to still be at the space station for the launch and arrival of their Expedition 66 replacements, Crew-3 astronauts Raja Chari, Tom Marshburn and Kayla Barron with NASA and Matthias Maurer of ESA. A "minor medical issue" with one of the Crew-3 members and long-range weather predictions for the Crew-2 splashdown, coupled with NASA's 210-day flight rating for SpaceX's Dragon spacecraft, resulted in bringing the Crew-2 astronauts home first.


Remaining on the station until the arrival of Crew-3 on Dragon Endurance (now expected no earlier than Thursday) are Soyuz MS-19 crewmates Anton Shkaplerov and Pyotr Dubrov of Roscosmos and NASA astronaut Mark Vande Hei. Prior to leaving for Earth, Pesquet handed over command of the Expedition 66 crew to Shkaplerov.

Despite its approaching on-orbit deadline, Endeavour performed without issue, other than a known issue with the capsule's waste management system (or toilet). On a previous Dragon flight, a tube that funnels urine into a tank broke loose creating a corrosion risk under the floor of the capsule. The Crew-2 astronauts inspected and found the same issue aboard Endeavour.

"We are unable to use the toilet on Dragon for the return trip," said McArthur during a pre-landing press conference from orbit. "Spaceflight is full of lots of little challenges, this is just one more that we will encounter and take care of in our mission. So, we are not too worried about it."

Endeavour undocked from the space-facing port on the space station's Harmony module at 2:05 p.m. EST (1905 GMT) Sunday to begin its way home. In addition to the astronauts (and their "fifth crew member," a plush penguin "zero-g indicator" named GuinGuin), the spacecraft was packed with about 530 pounds (240 kg) of hardware and scientific investigations for the return to Earth.

Before leaving the vicinity of the station, Endeavour conducted an automated flight around the orbital complex, enabling the Crew-2 astronauts to visually document their home of the past six-and-a-half months.

"This is a procedure that we used to do on the space shuttle back in the days and the reason is, long story short, is we don't have that many opportunities to see the station from the outside," said Pesquet. "Now that we have a spacecraft that has the capability to fly around the station, [we] do it and take pictures for the general purpose of mapping the station from the outside."

"And so we have some specific targets that we'll try to image, some docking ports and some specific equipment on the truss of the station," he said.

After completing the hour-and-a-half flyaround and a series of departure burns to move away from the space station, Endeavour performed a 16-minute, 25-second de-orbit burn at 9:39 p.m. EST (0239 GMT Nov. 9) to begin its re-entry into Earth's atmosphere. An hour later, the crew capsule descended into the water under four main parachutes.

The Crew-2 astronauts had been on the space station since their launch on April 23, 2021. During their mission, which spanned Expeditions 65 and 66, Kimbrough, McArthur, Pesquet and Hoshide helped conduct hundreds of experiments, ranging from testing new technologies in robotics and augmented reality, studying water bears, racking microbes and growing chile peppers.

"We've all been very excited about this plant habitat for a project that's been on going for over 100 days when Shane initiated the project by planting the seeds," said McArthur. "It's really been a nice morale boost, as well as an interesting science project."

"Mark [Vande Hei] harvested the first chilies last weekend and we all got to taste them," she said.

In addition to their research tasks, Kimbrough, Pesquet and Hoshide also went out on several spacewalks to upgrade the station's solar arrays, including the first all-international extravehicular activity.

Crew-2 was Kimbrough's and Hoside's third spaceflight and McArthur's and Pesquet's second. Kimbrough has logged 388 days, 17 hours and 27 minutes in space. Hoshide has spent 340 days, 11 hours and 40 minutes off the planet. McArthur has accumulated 212 days, 15 hours and 20 minutes and Pesquet has totaled 396 days, 11 hours and 32 minutes, the most by any European astronaut.

This was Crew Dragon Endeavour's second spaceflight after the Demo-2 mission in 2020. The capsule has now spent 263 days, 17 hours and 8 minutes in flight.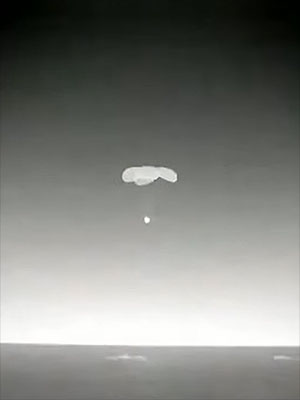 Infrared view of SpaceX's Crew Dragon Endeavour as it descended under parachutes to a splashdown in the Gulf of Mexico with Crew-2 astronauts Shane Kimbrough, Megan McArthur, Thomas Pesquet and Akihiko Hoshide on Monday, Nov. 8, 2021. (NASA TV)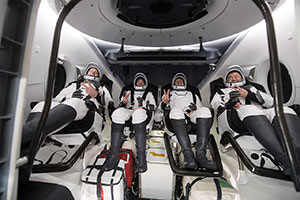 View of the Crew-2 astronauts aboard the Crew Dragon Endeavour after returning from the International Space Station. From the left: Thomas Pesquet of ESA, Megan McArthur and Shane Kimbrough of NASA and Akihiko Hoshide of JAXA. (NASA/Aubrey Gemignani)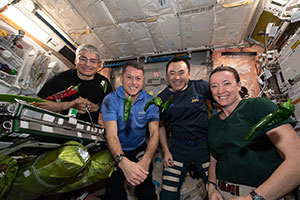 Expedition 66 flight engineer Mark Vande Hei (at left) with Crew-2 members Shane Kimbrough, Aki Hoshide and Megan McArthur pose before eating the first chile peppers grown in space. (NASA)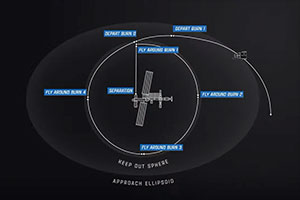 SpaceX infographic showing the path taken by Dragon Endeavour on its flyaround of the International Space Station. (SpaceX)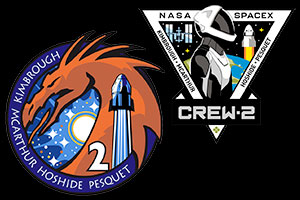 NASA (left) and SpaceX Crew-2 mission patches. (NASA/SpaceX)