October 8, 2021
— SpaceX's next new capsule to launch astronauts now has a name to last.

NASA astronaut Raja Chari, who is set to command SpaceX's Crew-3 aboard the fresh-off-the-factory-floor spacecraft, revealed the new moniker at his and his crewmates' pre-mission press conference at Johnson Space Center in Houston on Thursday (Oct. 7).

"We can stop calling it Capsule 210, which is the serial number for our SpaceX Dragon. The crew has come up with name of the vehicle, which is 'Endurance,'" Chari said.

Endurance will carry Chari and fellow NASA astronauts Tom Marshburn and Kayla Barron, as well as German astronaut Matthias Maurer with the European Space Agency (ESA), to the International Space Station for a six-month stay. The Crew-3 launch on a SpaceX Falcon 9 rocket from the Kennedy Space Center in Florida is scheduled for Oct. 30.

"Endurance" was among a number of names that the crew "tossed around," Chari told collectSPACE in an interview.

"Honestly, I don't know who it was who initially suggested 'Endurance,'" he said. "I think maybe more than one person may have come up with it."

Ultimately, all of the crew agreed to "Endurance," but for a variety of reasons.

"First off," said Chari, "it is a tribute to the tenacity of the human spirit as we push humans and machines farther than we ever have, going both to stay and extended stays in low Earth orbit, opening it up to private companies and private astronauts and knowing we will continue our exploration to go into even further and continue."

"Also, it is a nod to the development teams, production teams [and] training teams that got us here, who have endured through a pandemic," he said.

The Crew-3 astronauts also recognized that whatever name they chose would outlast their own mission. SpaceX's Dragon is the first capsule to be reused on crewed flights, such that the capsules' names can and will span multiple crews and flights.

"We'll be the first ones to use Endurance, but it won't be the last time it is used. It is going to be used many times by many missions and it will continue to support long duration missions," said Chari.

Lastly, there was a historical connection — one that spoke to the mission they are about to embark on and the skills it will take for it be successful.

"I go straight to the Shackleton voyage," said Marshburn, referring to Ernest Shackleton's 1914 expedition to cross Antarctica. Shackleton's ship, the Endurance, was trapped in ice and he and his crew endured months of hardship before being rescued.

"If you haven't read the book 'Endurance,' then you should. That book [by Alfred Lansing, written in 1959] is actually in the astronaut library — we have a bookshelf up there [on the station] and that is what we call it, the astronaut library. It is one of the best examples of real-life leadership in literature in my mind," Marshburn told collectSPACE.

"Throughout all he [Shackleton] went through in 18 months, one person lost a toe to frostbite but otherwise the crew did fine, which is just miraculous," Marshburn said. "If you're in a different situation, whether it is during training or in space, keep it in mind that is not your forever life. Endurance is a mindset, as well as a physical challenge."

The christening of Capsule 210 continues a tradition of having the first astronauts to fly on a SpaceX Crew Dragon give it its name.

NASA astronauts Bob Behnken and Doug Hurley, who flew on SpaceX's first crewed flight to the station, named their capsule "Endeavour" after the space shuttle by the same name. Crew-2, who is currently aboard the space station, reused the same capsule (206) and kept "Endeavour" as the vehicle's designation.

Crew-1 named Capsule 207 "Resilience" as a tribute to the NASA and SpaceX teams who worked through the height of the pandemic to keep their mission moving forward and on schedule. The privately-funded Inspiration4 mission, which spent three days in Earth orbit aboard the same capsule in September, continued the custom by retaining use of the name "Resilience."

Although not cited by the Crew-3 astronauts, "Endurance" has a few other ties to spaceflight. NASA previously funded the ENDURANCE (Environmentally Non-Disturbing Under-ice Robotic Antarctic Explorer), which autonomously mapped the underwater terrains of Antarctica as a means of learning more about exploring ice-covered worlds such as on Jupiter's moon Europa.

NASA's Mars Exploration Rover Opportunity explored the crater Endurance, also named after Shackleton's ship, in 2004. Former NASA astronaut Scott Kelly, who currently holds the record for the single longest spaceflight by an American at 340 days, titled his 2017 account of his time on board the space station "Endurance: A Year in Space, A Lifetime of Discovery."

"Endurance" was also the name the fictional NASA starship in director Christopher Nolan's 2014 science fiction drama "Interstellar."

"We're proud to carry on [the name] and excited to fly on Endurance," Chari said.
Crew-3 commander Raja Chari revealed the name of his and his crewmates' SpaceX Dragon spacecraft. "Endurance" will launch Chari, pilot Tom Marshburn and mission specialists Kayla Barron and Matthias Maurer to the International Space Station. (SpaceX)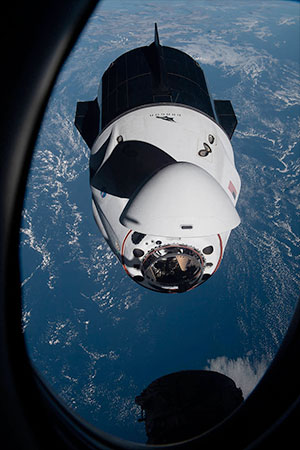 SpaceX's Crew Dragon Endeavour approaches the International Space Station as seen through a window on the Dragon Resilience in April 2021. (NASA)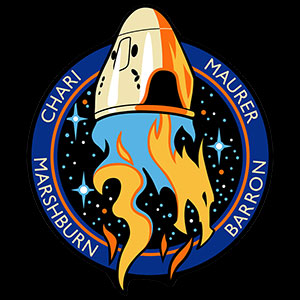 NASA patch for SpaceX's Crew-3 mission, representing Raja Chari, Thomas Marshburn, Kayla Barron and Matthias Maurer. (NASA)