April 23, 2021
— Four astronauts have lifted off for the International Space Station on NASA's first crewed mission to fly on a reused SpaceX rocket stage and crew capsule.

SpaceX's Crew Dragon "Endeavour," which splashed down from a demonstration mission to the space station in August 2020, launched again on Friday (April 23) with NASA astronauts Shane Kimbrough and Megan McArthur, European Space Agency (ESA) astronaut Thomas Pesquet and Japan Aerospace Exploration Agency astronaut (JAXA) Aki Hoshide. The Crew-2 mission flew from Pad 39A at NASA's Kennedy Space Center in Florida at 5:49 a.m. EDT (0949 GMT), boosted by the Falcon 9 first stage that lifted off with the Crew-1 mission in November.

"Since we're flying on a reused booster that is darkened by its previous re-entry, we were lucky enough to be able to draw our initials in the soot on the side of the booster," said Pesquet, describing what he hoped will become a new tradition for crews launching on reused rockets. SpaceX earlier flew "flight proven" stages and capsules on cargo missions to the space station but this was a first with a crew.

Kimbrough, McArthur, Pesquet and Hoshide are scheduled to arrive at the space station on Saturday at about 5:10 a.m. EDT (0910 GMT). Endeavour will dock with forward facing port on the Harmony module. Once aboard, the Crew-2 astronauts will join the station's Expedition 65 crew, including commander Shannon Walker and flight engineers Michael Hopkins, Victor Glover and Mark Vande Hei of NASA, Oleg Novitsky and Pyotr Dubrov of Roscosmos and Soichi Noguchi of JAXA.

On Tuesday (April 27), Walker will hand off command of the space station to Hoshide. She will then depart the orbiting laboratory with her Crew-1 crewmates Hopkins, Glover and Noguchi the next day aboard Crew Dragon "Resilience."


The Crew-2 astronauts, called such as they are the second crew to fly on board SpaceX's Crew Dragon on an operation mission for NASA, are expected to stay on orbit through October. During their six-month stay, they will take part in more than 200 different research investigations, including tissue chip studies and Earth observations.

Kimbrough, McArthur, Pesquet and Hoshide will also take part in spacewalks to outfit the station with new, more capable solar arrays and oversee the arrival of visiting vehicles, including the first Boeing CST-100 Starliner capsule to dock it the space station, if the uncrewed Orbital Flight Test-2 (OFT-2) flies as now planned in August or September.

Kimbrough, 53, is a former colonel in the U.S. Army. Crew-2 is his third time to space, including a previous 173-day stay on the station in 2017. It is his second mission aboard a spacecraft named "Endeavour."

"I am really excited that it is called 'Endeavour' because that is the space shuttle I got to fly on," said Kimbrough, referring to his STS-126 mission in 2008. "For me it is a familiar term to the spacecraft, so I'm really excited to fly on this Crew Dragon Endeavour."

McArthur also shares a connection with Endeavour. A 49-year-old oceanographer, McArthur previously flew on the fifth and final shuttle mission to service the Hubble Space Telescope. Her connection to the Crew Dragon is through her husband, NASA astronaut Bob Behnken, who flew in her same seat as pilot of Endeavour's first flight, SpaceX's Demo-2 mission.

"I often had conversations with our instructors and make suggestions or ask the 'Why not this instead of that?' and they would talk to me about it for awhile and then say, 'You know, your husband asked the same set of questions,'" McArthur told collectSPACE in an interview. "I found that amusing that we sometimes had the same thought processes or maybe the same ways to approach problems."

Pesquet, 43, is the first ESA astronaut to fly on a U.S. commercial crew vehicle. A French aerospace engineer, he was a member of the same station expedition as Kimbrough in 2017. Pesquet's ESA science mission for this stay is titled "Alpha."

Hoshide, 52, will be the second Japanese astronaut to command the station. An engineer, he earlier flew on the space shuttle Discovery and launched on Soyuz for a 126-day stay on the space station.

"For Shane and I, [the Crew Dragon] it is our third spacecraft we're leaving Earth with. We both flew on the space shuttle and Soyuz spacecraft, so this is our third kind," said Hoshide.

After launching the Crew-2 astronauts into space, the now-twice flown Falcon 9 first stage descended to a landing and was recovered for its future reuse by SpaceX's "Of Course I Still Love You" droneship stationed in the Atlantic Ocean.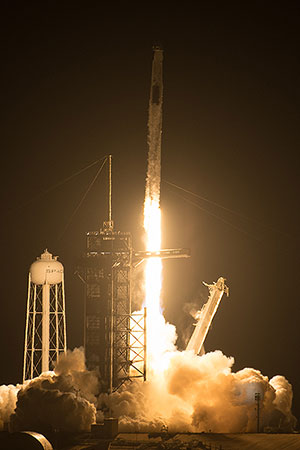 A SpaceX Falcon 9 rocket lifts off from Launch Complex 39A at NASA's Kennedy Space Center in Florida carrying "Endeavour," a Crew Dragon spacecraft, with NASA astronauts Shane Kimbrough and Megan McArthur, along with Thomas Pesquet of ESA and Aki Hoshide of JAXA on April 23, 2021. (NASA/Aubrey Gemignani)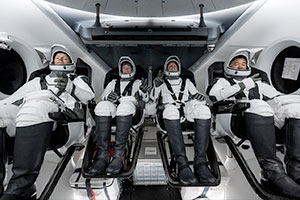 Crew-2 astronauts aboard the Crew Dragon Endeavour before launch, from left: Thomas Pesquet of ESA, Megan McArthur and Shane Kimbrough of NASA and Aki Hoshide of JAXA. (SpaceX)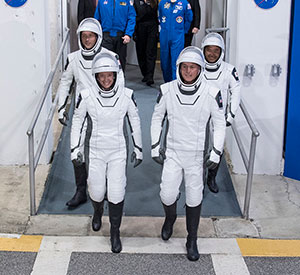 SpaceX Crew-2 astronauts Shane Kimbrough (front right), Megan McArthur (front left), Thomas Pesquet (back left) and Aki Hoshide walk out of the Neil A. Armstrong Operations and Checkout Building at Kennedy Space Center in Florida to depart for Launch Complex 39A on Friday, April 23, 2021. (NASA/Aubrey Gemignani)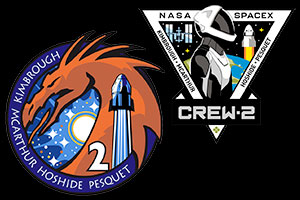 NASA (left) and SpaceX Crew-2 mission patches. (NASA/SpaceX)