November 15, 2020
— Four astronauts lifted off on board a SpaceX rocket to the International Space Station, marking the start of the first "operational" commercial crewed orbital spaceflight from the United States.

Crew-1 mission commander Michael Hopkins, pilot Victor Glover and mission specialist Shannon Walker, all with NASA, together with mission specialist Soichi Noguchi of JAXA (the Japan Aerospace Exploration Agency), launched on the SpaceX Dragon "Resilience" on Sunday (Nov. 15).

"This is another historic moment," said NASA Administrator Jim Bridenstine. "The history being made this time is that we are launching what we call an 'operational' flight to the International Space Station."

Riding atop a Falcon 9 booster from Pad 39A at the Kennedy Space Center in Florida, the four astronauts — a record number for a space capsule — lifted off at 7:27 p.m. EST (0027 GMT Nov. 16). After a 12-minute climb into Earth orbit, including the landing of the Falcon's first stage on an ocean-based platform for its future reuse, the Dragon began a 27-hour rendezvous with the space station.

"That was one heck of a ride! There were a lot of smiles," Hopkins exclaimed after the launch. "Resilience is in orbit."

The spacecraft is expected to autonomously dock to the forward-facing port on the space station's Harmony module on Monday (Nov. 16) at about 11 p.m. EST (0400 GMT Nov. 17). Update: Docking occurred at 11:01 p.m. EST (0401 GMT).


The Crew-1 launch, which as a commercial endeavor was licensed by the FAA (Federal Aviation Administration) — another first for a NASA astronaut mission — signaled both the start of a new era of commercial human spaceflight and the resumption of regular crewed flights from the U.S. since the space shuttle program came to an end in 2011.

"This is the culmination of years of work and effort from a lot of people and a lot of time," said Benji Reed, senior director of human spaceflight programs at SpaceX. "We have built what I would call one of the safest launch vehicles and spacecraft ever. It is an honor to be a part of that."

Operational test

The Crew-1 mission follows the first crewed flight of the SpaceX Dragon, a two-person, two-month test flight that safely splashed down in August.

"They were more of the development and demonstration type," Hopkins said in reference to the Demo-2 mission flown by NASA astronauts Bob Behnken and Doug Hurley. "We are really more of the operational. We are going to putting the vehicle through its operational paces, so what that means is figuring out how four people are going to live and operate on board the vehicle."

Hopkins, Glover, Walker and Noguchi took steps in advance of the mission to anticipate their needs while in transit to the space station.

"My personal favorite was to think about with four of us how we were going to pack our food," Glover said at a pre-launch press conference. "And so we actually rearranged our food to make sure that it was easy to access and it also made sense considering that there were four of us."

"I would add to that, not just packing the food, but dealing with things inside the capsule," said Walker, "and how to do that efficiently so it doesn't eat your lunch while you are trying to accomplish other things."

Unlike the Demo-2 Dragon ("Endeavour"), the Resilience has been equipped with more capable solar cells lining the exterior of its rear-mounted trunk, enabling an extended stay at the station.

"We are going to be up there four more months longer than Bob and Doug were and so we are going to be monitoring very closely how the vehicle handles the space environment for that length of time," Hopkins said in a pre-flight interview.

With a planned duration of six months, Crew-1 will break the record for the longest U.S. human space mission, surpassing the the 84-day Skylab 4 flight in 1974.

Crew-1 crews

At the space station, Crew-1 will become part of Expedition 64, joining NASA astronaut Kate Rubins and Roscosmos cosmonauts Sergey Ryzhikov and Sergey Kud-Sverchkov, who arrived aboard a Russian Soyuz spacecraft in mid-October.

It will be the first time that the space station has been home to a seven-person expedition crew in its more than 20 years of continuous crewed operations.

Hopkins, Glover, Walker and Noguchi will transition to Expedition 65 in April 2021, after the arrival of another Soyuz with three Russian crewmates, Oleg Novitsky, Pyotr Dubrov and Sergey Korsakov, and the departure of Rubins, Ryzhikov and Kud-Sverchkov for Earth.

With only four crew quarters on the U.S. side of the station, which includes the European and Japanese modules, and five USOS (U.S. Operating Segment) crew members for the first five months of their stay, one of the astronauts will need to sleep in the Dragon.

"I don't necessarily look at it as drawing the short straw," said Hopkins of making his temporary home aboard the Resilience. "There's a tradition in the shuttle days that the commanders usually slept in the cockpit. So it just felt like that was where I needed to be if any of us were going to sleep there."

During their stay, Hopkins, Glover, Walker and Noguchi will see the arrival and departure of the first second-generation SpaceX Dragon configured to deliver cargo. They will also relocate their Dragon to another port on the Harmony to allow for the planned docking of a Boeing Starliner capsule on an uncrewed test flight.

Hopkins, 51, and Glover, 44, were assigned by NASA to the Crew-1 mission in 2018. Walker, 55, and Noguchi, 55, were added to the crew in March of this year.

Crew-1 is Glover's first spaceflight, Hopkins' and Walker's second and Noguchi's third. Walker and Noguchi previously lived on board the space station in 2010, logging 163 and 177 days, respectively. Hopkins spent 166 days on the station in 2014.

Glover is the 127th member of an International Space Station expedition and will be the 242nd person to come aboard the orbiting complex. When it docks, Resilience will become the 100th crewed spacecraft to arrive at the International Space Station.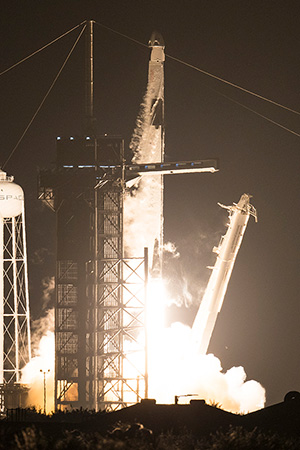 A SpaceX Falcon 9 rocket lifts off from Launch Complex 39A at NASA's Kennedy Space Center in Florida carrying "Resilience," a Crew Dragon spacecraft, with NASA astronauts Michael Hopkins, Victor Glover and Shannon Walker, along with Soichi Noguichi of JAXA, on the Crew-1 mission, Nov. 15, 2020. (NASA/Joel Kowsky)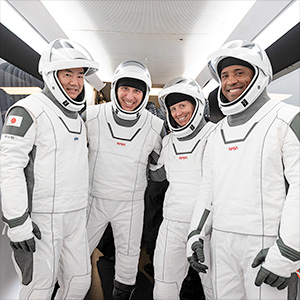 SpaceX Crew-1 astronauts, from the left, mission specialist Soichi Noguchi of JAXA, commander Michael Hopkins, mission specialist Shannon Walker and pilot Victor Glover, all of NASA. (SpaceX)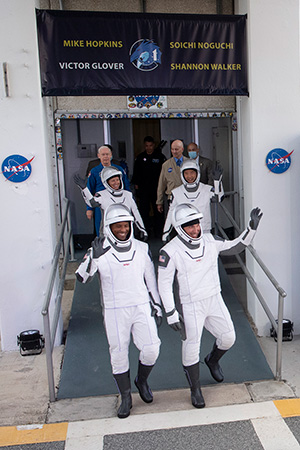 SpaceX Crew-1 astronauts Michael Hopkins (at front right), Victor Glover (front left), Shannon Walker (back left) and Soichi Noguchi walkout of the Neil A. Armstrong Operations and Checkout Building at Kennedy Space Center in Florida to depart for Launch Complex 39A on Sunday, Nov. 15, 2020. (NASA/Joel Kowsky)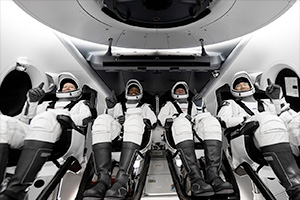 Crew-1 astronauts Shannon Walker, Victor Glover, Michael Hopkins and Soichi Noguchi seen on board the SpaceX Dragon "Resilience" prior to their launch on Sunday, Nov. 15, 2020. (SpaceX)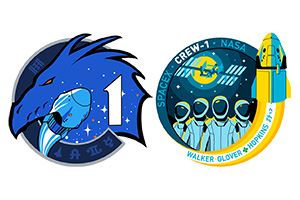 NASA and SpaceX Crew-1 crew and mission patches. (SpaceX)