October 12, 2022
— The first person to pay his way into space has now bought two tickets to the moon.

Dennis Tito, who in 2001 became the first privately-funded space tourist to fly to the International Space Station, revealed on Wednesday (Oct. 12) that he and his wife, Akiko, have reserved seats on SpaceX's second circumlunar flight on board the still-in-development Starship launch vehicle.

"We [had] our first discussion with SpaceX a little over a year ago and that came at a time when we were just getting a tour of SpaceX. We weren't even thinking at that point about flying together," said Tito in reply to a question from collectSPACE on a call with reporters on Wednesday. "The question came up, would I like to go back and fly in space? Well, I certainly don't want to go back to the space station. I don't even want to orbit the Earth. And then I thought about it and I said I would be interested in going to the moon."

"Then I looked over to Akiko and we kind of had a little eye contact and she goes, 'Yeah, me too.' And that's how it all began," he said.

The two signed a contract with SpaceX in the summer of 2021. As planned, the Titos will join 10 other passengers, still to be signed up, on a week-long mission that will bring them close to the lunar surface. The launch will come after another lunar orbit mission dubbed "#dearMoon" that was booked by Japanese billionaire Yusaku Maezawa in 2018.

At 82, Tito could set a record as the oldest person to launch into orbit, let alone fly to the moon. He is already older than the current record holder, the late astronaut and Senator John Glenn, who flew on NASA's space shuttle Discovery at the age of 77. (Actor William Shatner of "Star Trek" fame was 90 when he lifted off on Blue Origin's New Shepard last October, but that flight did not enter orbit.)

Akiko would also become one of the first women to fly around the moon.

"I think another first that's very important is that we'll be the first married couple to fly around the moon. And hopefully that'll be inspiring to other couples to do the same," said Tito. "And I think I probably will end up being the oldest person to go beyond Earth orbit, so that will be nice."

Tito was one of the oldest people to fly into space when he lifted off on his first mission two decades ago.

The first orbital client of the U.S. space tourism company Space Adventures, Tito helped designed the trajectory for NASA's first Mars mission before he made his fortune as the founder of an investment management firm. He was 60 when he launched with two career cosmonauts on Russia's Soyuz TM-32 spacecraft on April 28, 2001. Two days later, they docked with the International Space Station, where Tito stayed for five days.

In total, he logged 7 days, 22 hours and 4 minutes in space at a reported cost of $20 million.

"It was eight days of euphoria," Tito told CNN in 2021. "It was the greatest moment of my life, to achieve a life objective, and I knew then that nothing could ever beat this."

Nothing, perhaps, then a flight into deep space. In 2013, Tito founded Inspiration Mars to pursue a flight to the Red Planet five years later.

"I thought maybe it would be possible if we could get the Apollo kind of excitement going for a mission," said Tito. "That turned out not to be feasible."

The moon now seems much more in reach (Tito did not disclose the price he paid for the two seats). In addition to developing Starship to fly privately-funded tourists around the moon, SpaceX is also under contract with NASA to adapt Starship as a lunar lander for the agency's first return with astronauts to the lunar surface.

"I can say unequivocally that we will not be landing on the moon. That is a completely different mission. It involves the Artemis spacecraft, the Orion and the SLS [Space Launch System], and that's above our pay grade," Tito said. "[But] I would love them to change the mission profile. Maybe they will decide to do a little burn on the far side of the moon, circularize the orbit and let us go around the moon a few times ... but that would be wishful thinking."

"But if it happened, I'm not going to complain," Tito said.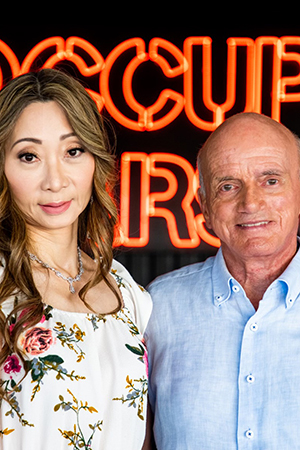 Dennis Tito, the world's first self-funded space tourist, and his wife Akiko pose for a photo at Starbase, SpaceX's Starship test facility in Boca Chica, Texas. The Titos have booked seats on the second Starship circumlunar flight. (SpaceX)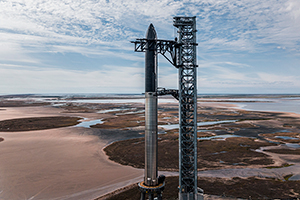 Starship and Super Booster on the test stand at SpaceX's Starbase facility in Boca Chica, Texas. (SpaceX)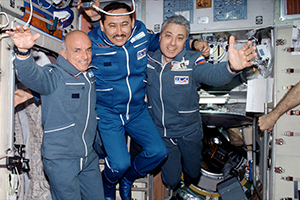 Privately-funded space tourist Dennis Tito, at left, with his Soyuz TM-32 crewmates, Roscosmos cosmonauts Talgat Musabayev and Yuri Baturin, on the International Space Station in 2001. (NASA)