October 13, 2021
— William Shatner can now say he is an astronaut, and he played one on TV.

The 90-year-old actor, who famously originated the role of James T. Kirk, captain of the Starship Enterprise, on the 1966 television series "Star Trek," became the oldest person to fly into space on Wednesday (Oct. 12). Shatner and his three crewmates lifted off on board Blue Origin's New Shepard rocket and flew 66 miles high (107 km) — just above the international boundary between Earth and space, earning them the title "astronaut."

"Everybody in the world needs to do this. Everybody in the world needs to see," Shatner said soon after landing. "It was unbelievable."

"The little things, the weightlessness, but to see the blue color just whip by and now you're staring into blackness, that's the thing," he said. "The covering of blue, this sheet, this blanket, this comforter of blue that we have around us. We think, 'Oh, that's the blue sky,' and then suddenly you shoot through it all, as if you have ripped off a sheet when you're asleep and you're looking into blackness."

The flight, from Blue Origin's West Texas launch site near Van Horn, was the 18th successful mission of the New Shepard (NS-18) and only the second time the company flew with humans on board. The first flight in July included Blue Origin's founder Jeff Bezos, the former CEO of Amazon, who was present to see the NS-18 crew fly.

"What you have given me is the most profound experience I can imagine," Shatner told Bezos after landing. "I am so filled with emotion about what just happened. It's extraordinary. I hope I never recover from this."

For the NS-18 mission, Shatner was joined by Audrey Powers, Blue Origin's vice president for mission and flight operations, and two paying passengers: Chris Boshuizen, co-founder of Planet Labs, the first company to commercially utilize nanosatellites, and Glen de Vries, vice chair of life sciences and healthcare for Dassault Systems and the co-founder of Medidata, the world's most used clinical research platform.


After a few days of basic training and a one-day delay for the weather forecast to improve, the four NS-18 astronauts lifted off aboard the "RSS First Step," New Shepard's first reusable crew capsule configured for human spaceflight. Taking flight at 9:49 a.m. CDT (1449 GMT), the New Shepard booster fired its single BE-3 engine for 2 minutes and 20 seconds, lofting the cabin and crew to about 36 miles high (58 km).

The rocket then dropped away to land on its own, while the capsule continued to climb into space. Shatner, Powers, Boshuizen and de Vries were weightless for about four minutes as they floated around the cabin and looked down at Earth through what Blue Origin has described as the largest windows flown into space.

Returning to their seats, the four astronauts then plunged back to Earth. The RSS First Step deployed drogue chutes and then three large red and blue parachutes to slow its descent and, at the last second, fired thrusters for an air-cushioned soft landing. The capsule met the ground at 9:59 a.m. CDT (1459 GMT), 10 minutes and 17 seconds after taking off for space.

The launch was licensed by the Federal Aviation Administration (FAA), which has oversight of all U.S. commercial spaceflight activities.

Blue Origin did not disclose the amounts paid by Boshuizen and de Vries to fly, nor did release any details about its arrangement with Shatner to provide him a seat. Each crew member was allowed to pack a small satchel of mementos to be flown into space, but was under contract not to sell or otherwise monetize their contents.

Shatner's record as the oldest person to fly into space succeeds 82-year-old pilot Wally Funk, who launched on New Shepard in July. The late John Glenn remains the oldest person to orbit Earth at age 77.

Shatner is the fifth person to appear on "Star Trek" and fly into space, but only the second to first appear on the show and then leave Earth. Mae Jemison, Mike Fincke and Terry Virts all made cameo appearances as members of Starfleet after launching on NASA missions. Bezos appeared as an alien in the 2016 movie "Star Trek Beyond," prior to his New Shepard launch.

(James Doohan, who played Montgomery "Scotty" Scott opposite Shatner's Kirk, flew posthumously into space, including having some of his remains flown to the International Space Station in 2008.)

Shatner, Powers, Boshuizen and de Vries are the 594th, 595th, 596th and 597th people to fly above 50 miles (80 km) and qualify as astronauts. They are the 29th through 32nd people to launch on a suborbital spaceflight since NASA astronaut Alan Shepard — the first American in space and namesake for the New Shepard — did so first in 1961.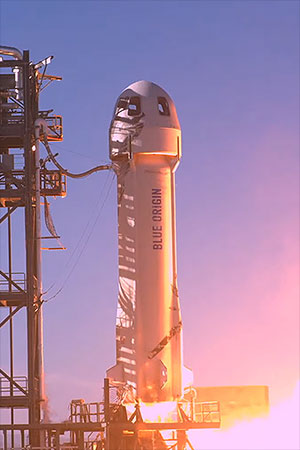 A New Shepard rocket lifts off with Chris Boshuizen, Glen de Vries, Audrey Powers and William Shatner from Blue Origin's West Texas launch site on Wednesday, Oct. 13, 2021. (Blue Origin)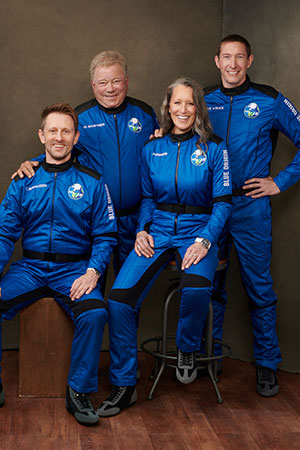 Blue Origin NS-18 crewmates (from left): Chris Boshuizen, William Shatner, Audrey Powers and Glen de Vries. (Blue Origin)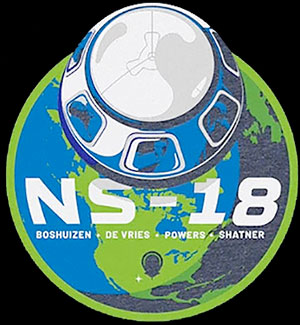 NS-18 mission patch as worn by crewmates Chris Boshuizen, Glen de Vries, Audrey Powers and William Shatner. (Blue Origin)