October 4, 2021
— William Shatner is about to go where he has never gone before — at least not in real life.

The actor, who originated the role of James T. Kirk, the captain of the starship Enterprise on the 1966 TV series "Star Trek," is set to actually launch into space on the next flight of Blue Origin's New Shepard, the company announced on Monday (Oct. 4).

"Yes, it's true; I'm going to be a 'rocket man!'" Shatner replied on Twitter. "For realsies."

At 90 years old, Shatner will become the oldest person to enter space, surpassing 82-year-old "Mercury 13" pilot Wally Funk, who was on board the first crewed flight of the New Shepard in July.

"I've heard about space for a long time now," said Shatner in a statement released by Blue Origin. "I'm taking the opportunity to see it for myself. What a miracle."

Away team

Shatner will be joined on the 10-minute suborbital flight by two paying passengers and a Blue Origin representative.

"Welcome Mr. Shatner to our flight crew! We're going to have so much fun this week!" tweeted Chris Boshuizen, who will also be on the NS-18 mission.

A former NASA engineer and devoted advocate for today's youth pursuing careers in STEM (science, technology, engineering and mathematics) fields, Boshuizen was the co-founder and chief technology officer for Planet Labs, which became the first company to commercially utilize nanosatellites. Now having launched over 450 cubesats, Planet provides daily, global mapping of our planet from Earth orbit.

"This is a fulfillment of my greatest childhood dream," said Boshuizen. "More importantly, though, I see this flight as an opportunity to inspire students to pursue careers in STEM and catalyze the next generation of space explorers. After all, our future of life in space is in their very capable hands."

Glen de Vries, vice chair of life sciences and healthcare for Dassault Systems and the co-founder of Medidata, the world's most used clinical research platform, will also fly on New Shepard. An instrument-rated private pilot, de Vries authored "The Patient Equation" (Wiley, 2020) about the digitization of health and medicine.

"I've spent my entire career working to extend people's lives. However, with limited materials and energy on Earth, extending our reach into space can help humanity continue to thrive," said de Vries. "I've been passionate about aviation and space for as long as I can remember, so this flight is truly a dream come true."

Completing the NS-18 mission "away team" is Audrey Powers, Blue Origin's vice president for mission and flight operations.

Responsible for overseeing all flight operations, vehicle maintenance and launch, landing and ground support infrastructure, Powers played a lead role in the multi-year process to certify New Shepard for human flight. A former flight controller for NASA with 2,000 hours of console time in Mission Control for the International Space Station program, Powers also served as deputy general counsel and vice president of legal and compliance for Blue Origin.

"I'm so proud and humbled to fly on behalf of Team Blue, and I'm excited to continue writing Blue's human spaceflight history," said Powers. "As an engineer and lawyer with more than two decades of experience in the aerospace industry, I have great confidence in our New Shepard team and the vehicle we've developed."

Stardate 10122021

"I cannot wait to fly with Audrey Powers, Chris Boshuizen and William Shatner on Blue Origin NS-18. What an amazing group of people to share this with!" de Vries wrote on Twitter.

The launch is scheduled for Tuesday, Oct. 12 at 8:30 a.m. CDT (1330 GMT) from Blue Origin's Launch Site One in West Texas. Designed to fly autonomously, the New Shepard — a launch vehicle named for Mercury astronaut Alan Shepard — will lift off and propel the crew capsule "RSS First Step" for a 2-minute, 45-second rocket-powered ascent to 220,000 feet (67 km).

Shatner, Boshuizen, de Vries and Powers will then coast to over 328,000 feet (100 km), the internationally-recognized boundary separating Earth from space. After floating weightless for several minutes, Shatner and his fellow newly-established astronauts will return to Earth, descending aboard the capsule under parachutes to a touchdown near where they launched.

The flight will mark Blue Origin's second crewed flight since launching with founder Jeff Bezos, his brother Mark, aviatrix Wally Funk and the company's first customer, 18-year-old physics student Oliver Daemen.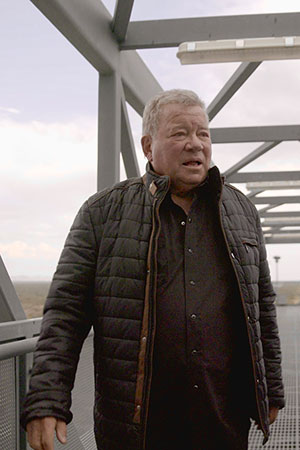 William Shatner, who played Captain Kirk on "Star Trek," tours the gantry from where he will launch on Blue Origin's New Shepard at Launch Site One in West Texas. (Blue Origin)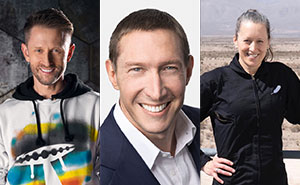 Chris Boshuizen of Planet Labs, Glen de Vries of Dassault Systems and Audrey Powers of Blue Origin will launch with William Shatner on board Blue Origin's New Shepard NS-18 mission. (Blue Origin)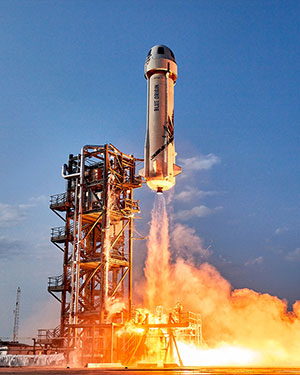 Blue Origin's New Shepard lifts off from Launch Site One in West Texas with four humans on board, on July 20, 2201. (Blue Origin)