July 1, 2021
— A woman who sought the same opportunity as NASA's Mercury astronauts will now achieve her lifelong dream flying aboard a vehicle named for the first American to launch into space.

Blue Origin announced on Thursday (July 1) that Wally Funk, one of the so-called "Mercury 13," will join the company's founder, Jeff Bezos, his brother Mark and the winner of a $28 million auction (who is still to be named) on the first crewed flight of the New Shepard launch vehicle, set to lift off on July 20. At 82 years old, Funk will become the oldest person to fly into space.

"I would say, 'Honey, that was the best thing that ever happened to me!'" said Funk in a video of her answering Bezos about what her first words would be after landing from the 10 to 12 minute suborbital spaceflight. "And I'll give you hug!"

Funk's pursuit of flying into space began when she was 21, when she joined the First Lady Astronaut Trainees (FLATs, later dubbed the "Mercury 13") — women pilots recruited by the privately-funded Lovelace Foundation to undergo many of the same tests used to screen and select the first U.S. astronauts. Funk and the 12 other women who graduated were said to have performed as well, if not better, than their male counterparts, but NASA's corps at time required test pilots with jet experience and the U.S. military did not accept women into its flight programs.

"Back in the sixties, I was in the Mercury 13 program. They asked me, 'Do you want to be an astronaut?' I said, 'Yes!'" recalled Funk. "So I got ahold of NASA four times and told them I wanted to become an astronaut but nobody would take me. I didn't think I would ever get to go up."

With her astronaut hopes on hold, Funk became the first female Federal Aviation Administration (FAA) inspector and the first female National Transportation Safety Board (NTSB) air safety investigator.

"I have been flying forever and I have 19,600 flying hours," said Funk. "I have taught over 3,000 people to fly private, commercial, instrument, flight engineer, airline transport, gliding — everything that the FAA has, I've got the license for."


As a member of Blue Origin's first crew, Funk will climb aboard the New Shepard — a launch vehicle named for Mercury astronaut Alan Shepard — for a 2-minute, 45-second rocket-powered ascent to about 220,000 feet (67 km), followed by a coast to over 328,000 feet (100 km), the internationally-recognized boundary separating Earth from space. Funk and her fellow newly-established astronauts will then descend under parachutes to a touchdown near where they launched at Blue Origin's facility in west Texas.

Funk will set the record for the oldest person to fly into space, exceeding another Mercury astronaut, John Glenn, who made his second spaceflight aboard NASA's shuttle Discovery at the age of 77 in 1998.

The July 20th Blue Origin flight will mark the 16th flight of the New Shepard, after 15 uncrewed test flights. It will be the third use of the RSS (Reusable Space Ship) "First Step" crew capsule.

Funk previously signed up with Richard Branson's Virgin Galactic, a competitor to Blue Origin, for a suborbital spaceflight on the company's SpaceShipTwo rocket plane. In 2010, it was reported that she spent $200,000 on the ticket, financing the reservation with her movie and book royalties, as well as an inheritance from her mother.

Virgin Galactic flew its first piloted spaceflight in 2018, and expects to begin flying passengers later this year.

Funk said she feels "fabulous" about being chosen to launch on the New Shepard.

"I'll love every second of it," she said. "I can hardly wait."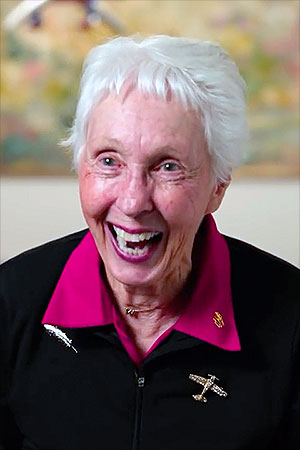 Pilot Wally Funk, 82, a member of the so-called "Mercury 13," is seen wearing a Blue Origin feather lapel pin ahead of her joining the company's first crewed flight of its New Shepard suborbital launch vehicle. (Blue Origin)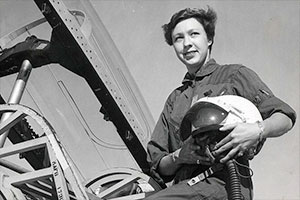 Wally Funk, seen at age 21 as a flight instructor, prior to her joining the First Lady Astronaut Trainees (FLATs), or "Mercury 13."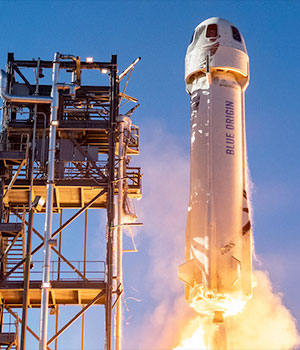 Blue Origin's New Shepard launch vehicle lifts from the company's West Texas launch site on a suborbital test flight. (Blue Origin)