July 20, 2021
— The world's richest man, his brother and the oldest and youngest people to fly into space safely landed from the first suborbital spaceflight to include a paying passenger on board.

Jeff Bezos, the billionaire founder of Amazon.com, and his brother, Mark, became the first blood relatives to launch together aboard a space-bound vehicle — a Blue Origin New Shepard rocket — on Tuesday (July 20). Riding with them was Wally Funk, an 82-year-old pilot whose gender precluded her from being considered for a spaceflight in her youth, and Oliver Daemen, 18, a Dutch student whose seat to space was paid for by his father.

"Happy, happy, happy!" radioed Jeff Bezos after making it to space. "You have a very happy crew up here!"

The four NS-16 crewmates flew on Blue Origin's 16th flight of the New Shepard and first human spaceflight. It was the third reuse of the rocket and capsule, the latter dubbed the "RSS [Reusuable Space Ship] First Step."

Lifting off at 8:12 a.m. CDT (1312 GMT) from Blue Origin's Launch Site One near Van Horn in West Texas, the New Shepard's single BE-3 engine fired for two minutes and 20 seconds, lofting the RSS First Step and the NS-16 crew to about 36 miles high (58 km). The capsule then separated and continued to coast upwards to 65.8 miles (105 km), just above the Kármán line separating Earth from space.

As the New Shepard rocket descended to a vertical landing on a pad located 2 miles north (3 km) of where it launched, the Bezos brothers, Funk and Daemen on board the capsule experienced about four minutes of weightlessness. Designed with the largest windows ever sent into space, the crew could see the curvature of Earth and the blackness of space.

Returning to their seats, the four newly-established astronauts plunged back to Earth. The RSS First Step deployed drogue chutes and then three large red and blue main parachutes to slow its descent and, at the last second, fired retro-thrusters to provide an air-cushioned soft landing. The crew touched down at 8:22 a.m. CDT (1322 GMT), 10 minutes and 10 seconds after leaving Earth for space.


Jeff and Mark Bezos, Funk and Daemen are the 584th, 585th, 586th and 587th people to fly above 50 miles (80 km) since Soviet cosmonaut Yuri Gagarin became the first in 1961. As New Shepard does not require pilots or a flight crew, no one on Tuesday's flight qualified for Federal Aviation Administration (FAA) commercial astronaut wings.

The flight may have been brief, but marked a major milestone for Blue Origin since Jeff Bezos founded the company in 2000. Though the New Shepard has flown and returned commercial science payloads on earlier suborbital flights, flying people is Blue Origin's primary suborbital business.

Blue Origin plans two more crewed flights this year, with the next slated for late September or early October. The FAA updated the company's commercial space transportation operator license earlier this month to allow it to fly passengers.

The original NS-16 crew included the winner of a $28 million auction for the first paying seat on New Shepard. The still-to-be-named high bidder chose to fly later due to scheduling conflicts, according to Blue Origin. Daemen, who also bid in the auction, had already been booked on a later flight when the NS-16 seat opened.

Blue Origin has not disclosed the amount paid for Daemen's seat or the retail price it plans to charge for future New Shepard launches.

Funk's pursuit of flying into space began when she was 21, when she joined the First Lady Astronaut Trainees (FLATs, later dubbed the "Mercury 13") — women pilots recruited by the privately-funded Lovelace Foundation to undergo many of the same tests used to screen and select the first U.S. astronauts. Funk and the 12 other women who graduated were said to have performed as well, if not better, than their male counterparts, but NASA's corps at time required test pilots with jet experience and the U.S. military did not accept women into its flight programs.

Blue Origin, under Bezos' guidance, has sought to pay tribute to the space history. In addition to naming its first launch vehicles after Alan Shepard and John Glenn, the first Americans to fly into space and orbit Earth, respectively, the company conducted its first first human spaceflight on the 52nd anniversary of the first moon landing by Apollo 11 astronauts Neil Armstrong and Buzz Aldrin.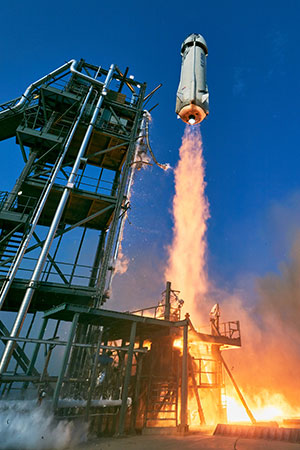 Blue Origin's New Shepard rocket lifts off with the "RSS First Step" crew capsule carrying Jeff Bezos and his brother Mark, Wally Funk and Oliver Daemen on the company's first human spaceflight, from West Texas on Tuesday, July 20, 2021. (Blue Origin)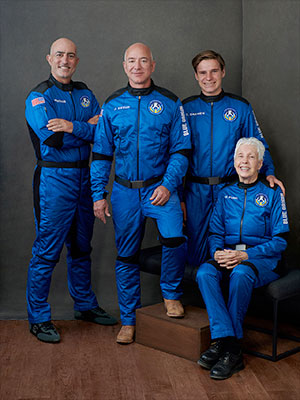 Blue Origin's NS-16 crew in their flight suits (from left): Mark Bezos, Jeff Bezos, Oliver Daemen and Wally Funk. (Blue Origin)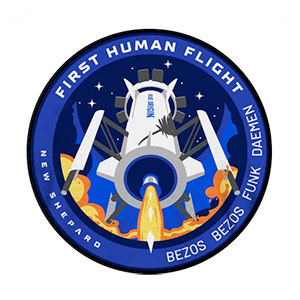 Blue Origin's "First Human Flight" patch as worn in flight by Jeff Bezos, Mark Bezos, Wally Funk and Oliver Daemen. (Blue Origin)