April 16, 2021
— NASA has chosen SpaceX to land the next American astronauts on the moon.

The space agency on Friday (April 16) announced that it had selected SpaceX to provide its first human landing system (HLS) since the Apollo lunar module 50 years ago. The $2.89 billion contract covers an uncrewed test flight and a crewed demonstration landing using SpaceX's Starship spacecraft to deliver the next man and first woman to walk on the lunar surface.

"We're all very excited to announce that we have awarded SpaceX to continue the development of our integrated human landing system," Lisa Watson-Morgan, NASA's HLS program manager, said on a call with reporters. "SpaceX's Starship is a fully reusable launch and landing system designed for travel to the moon and other future destinations."

Now undergoing prototype test flights at SpaceX's Boca Chica launch site in southern Texas, the steel-assembled Starship will launch from Earth, be refueled in orbit and then fly to the moon while four NASA astronauts do the same riding aboard an Orion spacecraft launched on a Space Launch System (SLS) rocket.

Once in lunar orbit, two Artemis astronauts will transfer from Orion to the SpaceX HLS Starship for the final leg of their journey to the surface of the moon. After about a week exploring the surface, they will board the lander for their short trip back into lunar orbit, where they will return to Orion and their colleagues before heading back to Earth.

"NASA's Apollo program proved it is possible to land humans on the moon and return them safely to Earth. But when NASA returns to the moon with the Artemis program, it will go in a way that reflects the world today, with government, industry and international partners," said Kathy Lueders, NASA's associate administrator for human exploration and operations.

Descent demonstration

"As the first human lunar lander in 50 years, this innovative human landing system will be a hallmark in space exploration history," said Watson-Morgan. "We're going to help to write that history."

SpaceX has been working with NASA to inform of its lander design and ensure it meets the agency's performance requirements and human spaceflight standards.

"NASA is providing insight throughout this development and ensuring that this system will be safe for our astronauts," Watson-Morgan said. "In addition, NASA is requiring [an uncrewed] test flight to fully check out all systems with a landing on the lunar surface prior to our formal demonstration mission."

Though the 160-foot (50-m) Starship and its 230-foot (70-m) Super Heavy launch vehicle may be capable of carrying out an entire moon landing mission on its own, under NASA's use, it will serve only as a lunar lander.

"Starship includes a spacious cabin and two airlocks with a great deal of space for our crew, as well as additional payload capability that will permit us to take experiments to the moon, return samples back and do all the important science that we want to do on this mission," said Watson-Morgan.

The timing of the crewed landing will depend in part on SpaceX's ability to keep to its Starship development schedule. Over the past several years, NASA had been working toward the goal of 2024 for its first lunar landing since the Apollo program.

"We're currently undertaking an internal comprehensive review of Artemis and its component programs to ensure they can be implemented as quickly, efficiently and effectively as possible within our existing resource constraints, while maintaining the safety standards for making sure that we can conduct the mission safely with our astronauts," said Steve Jurczyk, NASA's acting administrator. "These human-rated system developments are very complex and there is risk, but the NASA team will have the insight into the progress that SpaceX is making."

"If they're hitting their milestones, we may have a shot at 2024," said Jurczyk.

Sustainable successors

"We are humbled to help NASA's Artemis program usher in a new era of human space exploration," SpaceX said in statement posted on Twitter.

"NASA rules!" Elon Musk, SpaceX's CEO, replied. "We are honored to be part of the Artemis team."

The Starship HLS award was made under NASA's Next Space Technologies for Exploration Partnerships (NextSTEP-2), which in April 2020 awarded SpaceX and two other companies with contracts for initial lunar lander studies. With Friday's selection, NASA chose SpaceX over the proposals submitted by Dynetics and the Blue Origin "National Team," including Lockheed Martin and Northrop Grumman.

After evaluating all three HLS designs, NASA found that while SpaceX's refueling needs required a high number of launches, Blue Origin's propulsion and surface communication systems and Dynetics' mass allocation and design maturity carried more significant risks. Further, due to Congressional budget shortfalls, NASA only had enough funds to select one HLS for the demonstration mission.

"SpaceX's total evaluated price of $2,941,394,557 was the lowest among the offerors by a wide margin," Lueders wrote in a source selection summary. "Blue Origin's total evaluated price was significantly higher than this, followed by Dynetics' total evaluated price, which was significantly higher than Blue Origin's."

Blue Origin and Dynetics, though, may have another chance at an HLS contract.

"We're accelerating what we call the human lunar landing services procurement. This competition will provide regularly recurring services to the lunar surface that will enable these crewed missions on a sustainable basis," said Mark Kirasich, NASA's deputy associate administrator for advanced exploration systems. "All of us here at NASA were impressed with all of our base period partners, their unique and innovative solutions to meet our goals."

"Our hope is that we'll see all three and other companies who were not in the base period provide transportation to the moon, increasing opportunities for exploration and stimulating a lunar based economy," he said.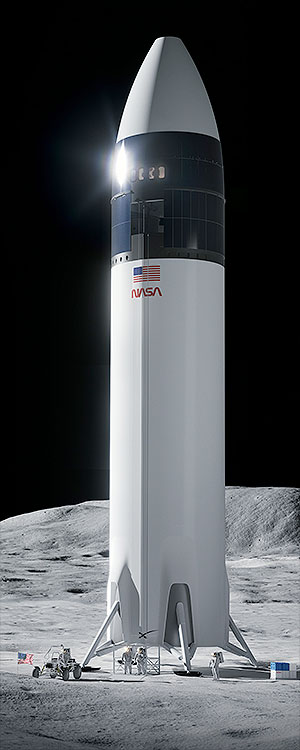 llustration of SpaceX's Starship human landing system (HLS) that will carry the next two NASA astronauts to the surface of the moon under the Artemis program. (SpaceX)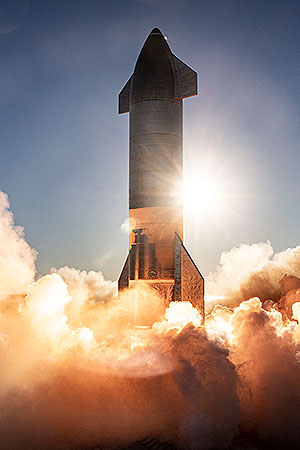 A prototype SpaceX Starship conducts a high-altitude test flight at the company's Boca Chica, Texas launch site in 2020. (SpaceX)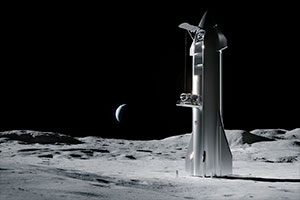 Illustration of SpaceX's Starship lunar lander unloading equipment onto the surface of the moon. (SpaceX)