April 30, 2020
— NASA has awarded contracts for spacecraft capable of landing humans on the moon for the first time since the Apollo program 50 years ago.

The space agency on Thursday (April 30) announced it has selected SpaceX, Dynetics and Blue Origin's "National Team," which includes Lockheed Martin and Northrop Grumman, to build human landing systems (HLS) in support of the Artemis program and its goal of returning the next man and first woman to the moon's surface by 2024.

"This is the last piece that we need in order to get to the moon," said NASA Administrator Jim Bridenstine in a teleconference with reporters. "This is historic, the United States of America has not had a human landing system since 1972."

The firm-fixed price, milestone-based contracts, which were awarded under the Next Space Technologies for Exploration Partnerships (NextSTEP-2) program, total $967 million for a 10-month base period.

"We are going to spend the first three months understanding the awardees' designs. All three are substantively different and so they will each have different philosophies and they each have proposed different tests," said Lisa Watson-Morgan, NASA's HLS program manager. "We are going to complete the first phase of that, culminating in a PDR [preliminary design review]-level of maturity, that will then lead to a continuation review."

"That will occur before the February [2021] timeframe, so we know quickly which one has the best shot of making 2024," Watson-Morgan said.

Blue Origin, founded by Amazon CEO Jeff Bezos, will receive $579 million for its three-stage architecture, including a descent stage powered by the company's BE-7 cryogenic engines; an ascent stage built by Lockheed Martin based on the pressure vessel for the Orion crew spacecraft; and a transfer vehicle provided by Northrop Grumman based on its Cygnus cargo module.

"This is truly a historic day," Bob Smith, Blue Origin's CEO, said on Thursday. "We are all very fortunate to humbly stand on the shoulders of Apollo. We now have the opportunity to make Artemis as inspirational as Apollo was."

Dynetics, together with its team of 25 subcontractors, has been awarded $253 million for its combined ascent and descent vehicle that features a crew cabin that sits low to the surface and modular propellant tanks that will be prepositioned to fuel the vehicle's engines at different points in the mission.

"The Dynetics team recognizes the gravity and responsibility that accompanies this opportunity," said Kim Doering, vice president of space systems at Dynetics. "We are all looking forward to helping NASA achieve the 2024 goal of returning U.S. astronauts to the lunar surface and we are really excited about enabling a long term, commercial lunar economy."

SpaceX will receive $135 million from NASA to advance its Starship spacecraft and Super Heavy rocket, which the company has been developing since 2016.

"I think we have the potential for an incredibly exciting future in space with a base on the moon and ultimately, sending people and having a city on Mars," said Elon Musk, SpaceX CEO.

The human landing systems that these three companies build will join with NASA's other Artemis program components, including the Orion, Space Launch System (SLS) rocket and Gateway platform to support a sustainable human presence on the moon. To achieve an initial landing on the moon by 2024, though, the landers may launch to the moon on commercial boosters and will likely forego use of the Gateway at first.

Although NASA has proposed other lunar landers in the decades since Apollo — most recently, the Altair moon lander as part of the since-canceled Constellation program — none reached the point of selecting contractors or awarding contracts. The Apollo lunar lander (LM), which was the first and, to date, only vehicle to land humans on the moon, was built by Grumman Aircraft (today Northrop Grumman) over a six-year period with a budget of $387.9 million ($3.2 billion in 2020 dollars).

"We have delved deeply into the LM award," said Doug Loverro, NASA's associate administrator for human exploration and operations. "There was a huge break, over a two-year break, between the preliminary design review of the LM and the critical design review of the LM and we asked the question why, because that's a very unusual amount of time for that."

"As it turns out, the answer is because they had a major change of requirements," he said. "If we don't get the requirements right up front, we will pay for it for the rest of the program and it will slow us down significantly as it did for the engineers in the 60s."

"This is why our focus is so firmly on working with the contractors, getting the requirements right and helping source technologies that we know exist," Loverro said. "We don't have to invent technologies today to make this work, we can make this work with technologies that are on the shelf. We still have to assemble them correctly, we have to design them correctly, we have to put the right requirements on them, but we have full confidence that we can go ahead and get this done in the next four and a half years."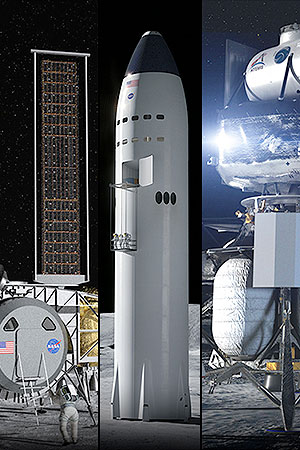 NASA has awarded contracts to Dynetics, SpaceX and the Blue Origin-led "National Team" to develop the human landing systems for the agency's Artemis program. (Dynetics/SpaceX/Blue Origin)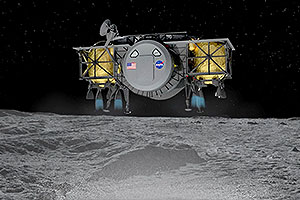 Dynetics' human landing system features modular propellant tanks to fuel the engines at different points in the mission. (Dynetics)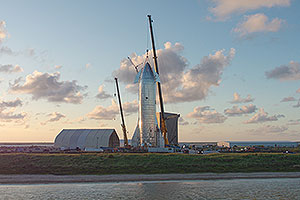 SpaceX's Starship has been in development in 2016, as seen here at the company's Boca Chica, Texas launch site. (SpaceX)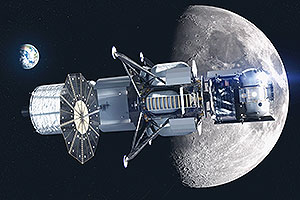 The Blue Origin-led "National" Team" vehicle includes an ascent stage from Lockheed Martin and a Northrop Grumman transfer stage, as well as Blue Origin BE-7 descent engines. (Blue Origin)