February 27, 2013
— A multimillionaire, inspired by his own self-funded trip to space, announced Wednesday (Feb. 27) his new foundation's plans to pursue a manned mission to Mars.

Dennis Tito, who in April 2001 became the first "space tourist" by paying his way aboard a Russian spacecraft to fly to the International Space Station, has established the Inspiration Mars Foundation, a new nonprofit organization aimed at launching two private United States' citizens — a married man and woman — on a roundtrip mission to flyby the Red Planet.

The 501-day journey is a possibility due to a rare planetary alignment that will occur in five years. The opportunity will not present itself again until 2031.

According to the Foundation's plan, the two crew members will fly on what is known as a "fast, free-return" mission, using Mars' own gravity to swing the spacecraft back to Earth. At closest approach, the capsule would pass within 100 miles of the Red Planet on the side facing away from the Sun.

The foundation's target launch date is Jan. 5, 2018.

Rather than pursue this mission as a means to generate a profit — the primary funding for the mission is intended to come from private, charitable donations — or further the cause of space tourism, Tito says the mission will offer a platform to advance scientific, engineering and education opportunities, while inspiring today's youth.

"Human exploration of space is a critical catalyst for our future growth and prosperity," Tito remarked in a press release. "This is 'A Mission for America' that will generate knowledge, experience and momentum for the next great era of space exploration. It will encourage and embolden all Americans to believe, again, in doing the hard things that make our nation great, and inspire the next generation of explorers to pursue their destiny."

Keeping it simple

"The beauty of this mission is its simplicity," Tito said.

As explained by Inspiration Mars, the architecture for the flyby lowers the risk of such an endeavor, with no critical propulsive maneuvers after leaving Earth vicinity, no entry into the Martian atmosphere, no rendezvous and docking, and represents the shortest duration roundtrip mission to Mars. The 2018 launch opportunity also coincides with the 11-year solar minimum providing the lowest solar radiation exposure.

The proposed spacecraft for the mission will consist of a modified capsule launched out of Earth orbit using a single propulsive maneuver to achieve the trajectory to Mars. An inflatable habitat module will be deployed after launch and detached prior to re-entry.

Closed-loop life support and operational components will be located inside the vehicle, designed for simplicity and "hands-on" maintenance and repair.

The Foundation said they are in discussions with several U.S. commercial aerospace companies about prospective launch and crew vehicles and systems.

"Human space exploration technologies and operations by NASA and the space industry are converging at the right time to make this mission achievable," Taber MacCallum, Inspiration Mars chief technology officer, said. MacCallum also serves as the head of Paragon Space Development Corp. and was a team and crew member of Biosphere 2.

"Experts have reviewed the risks, rewards and aggressive schedule, finding that existing technologies and systems only need to be properly integrated, tested and prepared for flight," MacCallum said.

Inspiration Mars serves as the primary contractor for the flight, overseeing planning, training, system development, processing and operations. The mission's subcontractors include Paragon and Applied Defense Solutions.

Dr. Jonathan Clark with the Center for Space Medicine at Baylor College of Medicine in Houston and recently the medical director for Red Bull Stratos, the supersonic free-fall dive, is also a team member.

NASA onboard

The foundation has also formed a partnership with NASA through a reimbursable Space Act Agreement between the agency's Ames Research Center in northern California and Paragon.

"With the support of NASA and evolving team of industry partners, we intend to do everything possible to take advantage of this unique opportunity for America," Tito commented. "We are engaging the best minds in industry, government and academia to develop and integrate the space flight systems and to design innovative research, education and outreach programs for the mission."

The Space Act Agreement between Paragon and Ames is for thermal protection system and technology testing and evaluation. The Foundation said it also seeks to tap into NASA's knowledge, experience and technologies to fine-tune or develop some of the more challenging elements of the proposed mission, including environmental controls, radiation protection and crew health plans.

The Inspiration Mars Foundation is also seeking additional government partners to offer their expertise, as well as access to infrastructure and other technical assistance as part of a public-private partnership.

Tito said the mission aligns with emerging national space priorities, and will contribute research to accelerate next-generation systems and their missions. NASA is currently in the early stages of planning to send its astronauts on missions beyond low Earth orbit, with the ultimate goal of landing crews on Mars.

"The [Inspiration Mars Foundation] mission will help create public awareness, enthusiasm and momentum for a long-term commitment and vision for space exploration beyond low-Earth orbit... all the way to Mars," Tito said. "Clearly, there are risks associated with the mission, as is true of every space exploration mission. But these are exactly the kinds of risks that America should be willing to take in order to advance our knowledge, experience and position as a world leader."

"We believe the risks and challenges we've identified are well within the scope of our collective experience and can be overcome to achieve a safe and successful mission," Tito said.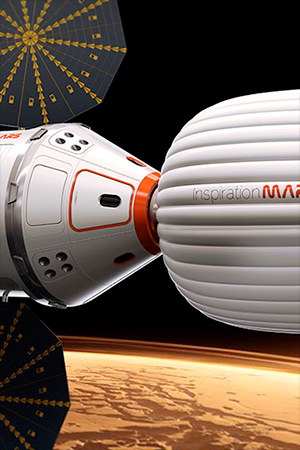 Artist's concept of the Inspiration Mars Foundation's spacecraft for a 2018 manned mission to Mars. (Inspiration Mars Foundation)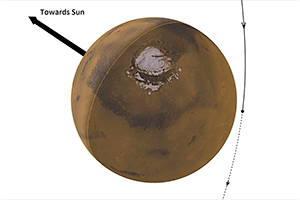 At its closest approach, the Inspiration Mars' mission will pass within 100 miles of the Red Planet's surface. (Inspiration Mars)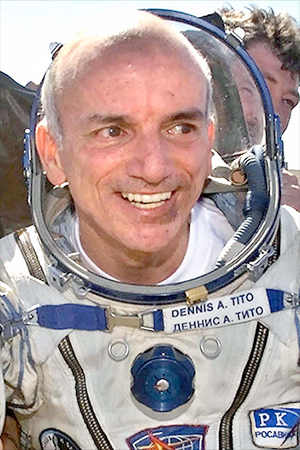 Dennis Tito, as seen Oct. 31, 2001, after returning from his self-funded mission to the International Space Station. (Roscosmos)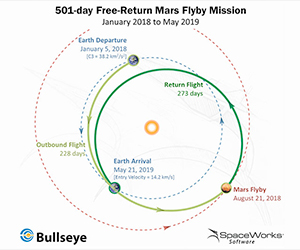 Diagram of the basic trajectory that the Inspiration Mars mission will follow from Earth to Mars and back in 2018. (Inspiration Mars)