advertisements

'The Astronaut Wives Club': Space history vs. Hollywood in Episode 7 'Rendezvous'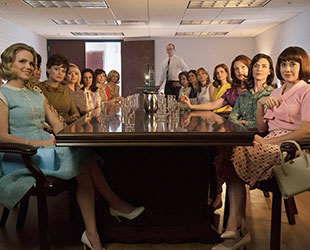 The "AstroWives" are briefed at NASA during "Rendezvous," the seventh episode of ABC's "The Astronaut Wives Club."
(ABC)
July 31, 2015
– The conceit behind "The Astronaut Wives Club" is that the real events of America's space program play out as a setting for the show's characters — women who are (loosely) based on the actual spouses of NASA's Mercury, Gemini and Apollo spacemen.

But in "Rendezvous," the seventh episode of ABC's ten-part series, the real space history demands to be front and center, and the show's need to push it to the background results in it missing pivotal parts of the actual AstroWives' experiences.

The problems are even caught in ABC's synopsis for the episode.

"As the Gemini missions are being successfully launched and the Apollo program kicks into high gear, the pressure on the [astronaut] wives grows exponentially. Gemini wife Marilyn Lovell hides an unexpected pregnancy and other wives face an even greater challenge – becoming the first space widows."

There are at two historical errors in those two sentences. One undermines the reason for the episode's title, and the other erases an actual wife's very real loss.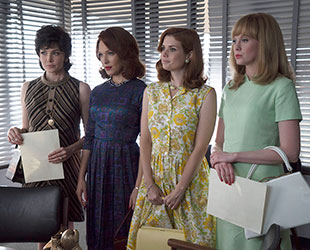 Marilyn Lovell (left, Holley Fain), Marge Slayton (Erin Cummings), Betty Grissom (JoAnna Garcia Swisher), Jo Schirra (Zoe Boyle).
Episode 7 of "Astronaut Wives" begins in the "summer of 1965" and concludes on January 27, 1967, but the events it portrays span 1963 through 1968.

Post-mission debriefing: Here's a look at where Episode 7 "Rendezvous" adhered to the real space history ("A-OK!") and where it veered off course ("ABORT!").

"Surprise visit to the Paris Air Show"

The wives listen to astronaut Ed White (Matt Lanter) recount his spacewalk on Gemini 4. Jo Schirra (Zoe Boyle) whispers that what she really wants to hear about is his and Pat's surprise trip to France.

A-OK! In what amounts to a throw away comment to set up an apparently fictional story about Betty and Gus Grissom (JoAnna Garcia Swisher and Joel Johnstone) planning a trip to Paris, the show tells of the real-life last-minute trip to the City of Light by the Gemini 4 crew and their wives.

Just 10 days after they splashed down from space, Jim McDivitt and Ed White, along with their wives Judy and Pat, traveled to the White House to meet with President Lyndon Johnson. It was once there, that they learned they would become the first U.S. astronauts to make an appearance overseas with a visit to the Paris Air Show.

"My wife was concerned about not having a dress in case she needed it in Paris," McDivitt recalled in "Forever Flying," pilot Bob Hoover's autobiography. "While this is hard to believe, Mrs. Johnson loaned both of our wives some of her clothes."

With rushed passports in hand, the McDivitts and Whites were whisked to Andrews Air Force Base at "two or three in the morning" and then were off to Paris aboard Air Force II.



"First astro-baby born while daddy's in space."

Marilyn Lovell (Holley Fain) finds herself pregnant with her fourth child at a possibly inopportune time: she is due at about the same time her husband Jim (Matty Ferraro) is slated to launch on his first flight, Gemini 7. She tries to hide the pregnancy as long as she can, not just from the other wives, but from NASA and her husband.

A-OK! Gemini 7 launched Frank Borman and Jim Lovell on a two-week flight on Dec. 4, 1965. Jeffrey Lovell, Jim and Marilyn's fourth child, "launched" on Jan. 14, 1966.

"When I discovered that I was pregnant, Jim was in training as a back-up pilot for the Ed White - Jim McDivitt flight and we strongly suspected he would get a flying assignment for Gemini 7 scheduled in December," Marilyn described in LIFE magazine. "I quickly figured out that the baby might be due just about the time of the December flight — and the last thing I wanted to do was worry Jim."

"The Astronaut Wives Club" unfolds this story after the flight of Gemini 4, but in reality, it was the night before White and McDivitt's June 3, 1965 flight that Marilyn revealed to Jim she was expecting.



"A comfort to have Donn home."

The wives learn that Harriet Eisele (Elaine Carroll) is struggling to take care of her and Donn's (Ryan Doom) youngest son Matt, who was born with Down Syndrome and was diagnosed with cancer. Donn is absent though, spending time at the Cape.

A-OK! ...and ABORT! The episode compresses the timeline and in doing so conflates different issues.

Harriet's and Donn's third child, Matt, was born with Down Syndrome and four years later (in 1965) was diagnosed with Leukemia. The show depicts Donn having an affair because he "can't stand to watch Matt in pain."

According to the real Harriet in the 2007 book "In the Shadow of the Moon" (Burgess, French), Donn indeed struggled with his son being ill. "Donn spent the night in the hospital with Matt once," she said. "He told me the next morning he was so unsettled by Matt's discomfort that he couldn't remain in the room. I didn't ask him to do that again."

But Louise Shepard and Trudy Cooper, as shown in the episode, did not confront Donn; that came later and was done by his fellow astronauts. And though he had other affairs (according to Harriet), he didn't meet Susie, the single mother Donn is shown living with at the Cape (and who in real life he would later go on to marry) until June 1968. Matt died in April of that year.



"Elliot See and Charlie Bassett are dead"

Gemini astronauts die in a jet crash. NASA sends Marilyn Lovell and Jane Conrad (Haley Strode) to stay with Marilyn See (Nora Zehetner) until the space agency can figure out who to send to break the news.

A-OK! ...and ABORT!

The show's on-going habit of changing the timeline of some events and omitting others altogether catches up with them here.

Elliot See and Charles Bassett were killed on Feb. 28, 1966 — after the flight of Gemini 7 and seven weeks after Marilyn gave birth to Jeffrey. See and Bassett were assigned to launch on Gemini 9 and were flying on a T-38 jet to St. Louis to train at the plant where their spacecraft was being assembled when they crashed into McDonnell Aircraft Building 101 near Lambert Field.

An investigation attributed the crash to pilot error caused by poor visibility due to poor weather (the show says, "they were flying in some bad weather and crashed").

The episode's problem here is that it treats See's and Bassett's loss as the first fatalities in NASA's astronaut corps (ABC's synopsis, as noted earlier, describes their wives as the "first space widows"). But the fact that they were not, informs why, as the show correctly portrays, NASA was concerned the press would reach Marilyn and Jeannie first.

Ted Freeman, who gets no mention in this episode or others of "Astronaut Wives," was selected as an astronaut with NASA's third group of candidates, in the same class as Bassett. He was tragically killed on Oct. 31, 1964 when the T-38 training jet he was flying was struck by a goose during his approach to Ellington Field in Houston.

Freeman's wife, Faith, first learned of her husband's death by a reporter showing up on her front door. It was that incident, and not the later deaths of See and Bassett as the show depicts, that resulted in NASA changing how it informed the wives.

As an aside, Marilyn Lovell recalls in her husband's autobiography that it was her alone who stayed with Marilyn See until astronaut John Young — not Dr. Charles Berry as the episode portrayed — arrived to break the news of Elliot's death. Afterwards, as more of the wives came by to console Marilyn See, Marilyn Lovell went to pick up See's children from school. In Lily Koppel's book, on which the series is based, Jane is described as being there, too.



"Rendezvous."

In quick-paced montage of archival NASA footage, the Gemini program flies by, noting along the way that Gemini 6 and Gemini 7 achieved the "first space rendezvous in history."

A-OK! Setting aside the already mentioned issues with the episode timeline, the first rendezvous was achieved on Dec. 15, 1965 by the Gemini 6 crew of Wally Schirra and Tom Stafford and Gemini 7 crew of Frank Borman and Jim Lovell.

But to return to ABC's synopsis for "Rendezvous" and the troubles with trying to summarize an entire program in a quick montage, it is worth noting that the space capsules only met up in space because Gemini 6 did not launch successfully as planned.

Schirra and Stafford's original mission had been to rendezvous and dock with an unmanned target. But that vehicle was lost in a launch failure on Oct. 25, 1965, forcing NASA to replan Gemini 6, pushing its liftoff to after Gemini 7 launched.



"I bought the bank."

After Louise Shepard (played by Dominique McElligott) gets a call from the bank, she frets she and Alan (Desmond Harrington) are in financial trouble. Alan allays her fears, revealing his investments paid off and he bought the bank.

A-OK! The real Alan Shepard (with two partners) did buy the Baytown National Bank, although it was in 1963, two years before this episode's events are set. The purchase was funded through his contract with LIFE and the share he received (with the other Mercury astronauts) from divesting their ownership in the Cape Colony Inn, the luxury motel where the press stayed while at the Cape.



"There's been an accident."

Jo Schirra shows up early at Betty's home with the news from Wally that something has gone wrong with the Apollo 1 plugs-out test that Gus, Ed White and Roger Chaffee are conducting. Dr. Berry arrives soon after, confirming that the three have died.

A-OK! Gus, Ed and Roger were killed on Jan. 27, 1967 as a result of a fire breaking out inside their Apollo command module during a "routine" test on the launch pad.

In the immediate aftermath of the tragedy, Deke Slayton dispatched his wife Marge and Dr. Berry to tell Betty (other astronauts were sent to inform Pat White and Martha Chaffee). By the time Berry got to the Grissom residence, Betty already knew, as a result of Jo coming over (according to accounts by Slayton and Schirra in their respective books).

In "Rendezvous," Grissom is quoted as calling the command module a lemon. In real-life, Gus did one better — he hung a real lemon from the spacecraft during its construction.




"The Astronaut Wives Club" collectSPACE reviews:


© 2022 collectSPACE.com All rights reserved.