advertisements

'The Astronaut Wives Club': Space history vs. Hollywood in Episode 6 'In the Blind'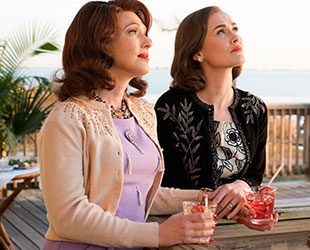 Marge Slayton (Erin Cummings) and Louise Shepard (Dominique McElligott) watch Gemini-Titan 3 launch during "In the Blind," the sixth episode of ABC's "The Astronaut Wives Club."
(ABC)
July 24, 2015
– It was out with the old (astronauts) and in with the new (spacecraft) in "In the Blind," the sixth hour of ABC's ten-part series "The Astronaut Wives Club."

In the episode, which aired Thursday night (July 23), Alan Shepard, John Glenn and Scott Carpenter, along with their wives Louise, Annie and Rene, struggled to make a life for themselves after returning from space, while Ed White and Ed Dwight sought to find their place in it.

"John Glenn has his sights set on a political career and hits the campaign trail with wife Annie and Rene Carpenter by his side as he runs for the Ohio senate," ABC wrote as its episode synopsis, "while Alan Shepard quietly grapples with a personal matter that could ground his career."

"In the Blind" opens in July 1964 and closes on March 23, 1965, the latter being the date of the liftoff of Gemini-Titan 3, the first crewed flight of NASA's two-seater spacecraft. But like earlier episodes, the show rearranges the timeline, pulling in real events that took place in 1962 through mid-1963 and the beginning of 1964.


Pat White (left, Alexa Havins) and Betty Grissom (JoAnna Garcia Swisher) on ABC's "The Astronaut Wives Club."
(ABC)
Though she has not (as of yet, at least) been portrayed in the series, it merits mentioning that "In the Blind" aired the day after the death of Joan Archer, Apollo astronaut Buzz Aldrin's first wife. The two were married between 1954 and 1972 and had three children together.

Post-mission debriefing: Here's a look at where Episode 6 "In the Blind" accurately portrayed space history ("A-OK!") and where it veered off course ("ABORT!").

"My friend Rene."

Rene Carpenter (portrayed here by Yvonne Strahovski) joins the campaign to elect John Glenn (Sam Reid) to the Senate, speaking for Annie (Azure Parsons) because she stutters. Later, after John is injured, Rene delivers a stump speech for the aspiring astronaut-turned-politician.

A-OK! ...and ABORT! The real Rene Carpenter did accompany Glenn on his first bid for a Senate seat representing Ohio. And Rene and Annie did attempt to carry on his campaign by giving speeches after he was hurt. But the timeline and details of Glenn's injury as shown on "Astronaut Wives" are incorrect.

"It has been eight months since President Kennedy was taken from us," Rene says. That would set the campaign in July 1964, but by then the actual John Glenn was already out of the race.

On Feb. 27, 1964, Glenn hit his head on a bathtub after he slipped on a throw rug while he was trying to reattach a medical cabinet's door (the show says he was trying to repair a "closet door").

Glenn suffered a minor concussion, but his doctors advised him it would take a year for him to recover. As such, on March 31, 1964, he dropped out of the election.



"A horrible woman."

Betty Grissom (portrayed by JoAnna Garcia Swisher) receives a letter sent from a crazed admirer of her husband. The same woman shows up at NASA's front gate posing as Betty to gain access to Gus (Joel Johnstone). In response, the astronaut is assigned a secret service detail.

A-OK! (Sort of.) Lily Koppel, whose 2013 book was the basis for the series, writes that Betty did get a threatening letter and Gus was the target of a death threat, the latter resulting in him being followed by a secret service agent.

But Koppel doesn't claim that the letter's author and death threat were by the same person and there is no account in her book about anyone showing up at NASA. The letter is also worded differently: where as the show's version is directed at Betty, the real-life mail addressed Gus: "How could a good fellow like you ... have a no-good, two-timing wife?"

(The real Betty, by her own account, turned a blind eye to Gus's extramarital activities. "I'm not saying that Gus didn't have girlfriends, but... I just tried not to think about those possibilities.")



"That colored fellow Eddie Dwight."

Gus asks to meet with trainee Ed Dwight, raising Dwight's hopes for a future spaceflight. The meeting however, turns out to be Grissom only wanting Dwight to meet with a black youth who wants to be an astronaut.

ABORT! Air Force Capt. Edward J. Dwight Jr. was never recruited as a NASA astronaut candidate, as the episode implies. He did however, graduate from the Aerospace Research Pilot School at Edwards Air Force Base in California, from which numerous astronauts hailed. His appointment was reportedly politically driven by the Kennedy administration to demonstrate that the Air Force and space program were not subject to discrimination.

Dwight was touted by the media as the nation's first black astronaut, and for a while toured the country to deliver motivational speeches to students.

According to a 1965 article in Ebony magazine (as shown in the episode), Dwight was subject to many instances of racism at the school, which is perhaps mildly suggested by what seems to be the show's invented encounter with Grissom (Ebony mentions Dwight speaking highly of Grissom but doesn't say the two met).

After JFK's assassination, Dwight was reassigned from the school and he resigned from the Air Force in 1966. Today, he is a respected sculptor.



"Sealab is an opportunity."

Scott (Wilson Bethel) and Rene Carpenter meet with NASA Administrator James Webb (Terry Dale Parks) to request a longer leave to continue work on Sealab, suggesting it has applications to NASA. Rejected, Scott whistles his resignation.

ABORT! While it is true that Carpenter took a leave of absence to work on the Navy's Sealab program, his departure from NASA wasn't solely driven by a desire to be an aquanaut (or as the show mentions, because flight director Chris Kraft would "never let me get a Gemini mission").

Carpenter, while in Bermuda for Sealab, injured his left arm in a motorbike accident in July 1964, which left him grounded for spaceflight assignments. Still, he remained with NASA until 1967, helping develop underwater training procedures for spacewalks.



"Ménière's."

Alan Shepard (portrayed by Desmond Harrington) struggles with bouts of vertigo, trusting his wife Louise (Dominique McElligott) to keep his condition secret lest he be grounded by NASA. He is outed however, when he falls ill during a speech.

A-OK! Though the episode's timeline and specifics aren't accurate, Alan Shepard was in fact grounded by Ménière's disease, a disorder of the inner ear.

The show has Shepard's grounding in March 1965, the same month he and Tom Stafford are slated to launch as the crew of the first Gemini mission. In reality, Shepard and Stafford were replaced by Gus Grissom and John Young in April 1964 and, in fact, Shepard's grounding began even earlier than that.

The episode depicts Shepard first falling ill after a round of golf. That apparently occurred, but it was several years earlier. The speech where his secret was outed was delivered in mid-1963. Shepard was grounded by October of that same year.




"The Astronaut Wives Club" collectSPACE reviews:


© 2023 collectSPACE.com All rights reserved.