advertisements

'The Astronaut Wives Club': Space history vs. Hollywood in Episode 5 'Flashpoint'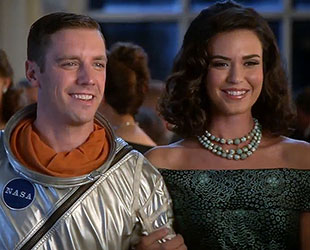 Gordo and Trudy Cooper (Bret Harrison and Odette Annable) in the fifth episode of ABC's "The Astronaut Wives Club."
(ABC)
July 17, 2015
— In a bit of fortuitous timing, the fifth hour of ABC's "The Astronaut Wives Club" opened on Thursday night (July 16) with a large sign reading "New Horizons."

It was only coincidence though, that the show's broadcast came just two days after NASA's New Horizons probe flew by the distant dwarf planet Pluto. In the "Astronaut Wives" episode "Flashpoint," the sign was referring to the Gemini program set 50 years ago — included, perhaps, as a bit of foreshadowing for the episode's primary theme of the role of women in the 1960's space program and in society.

"The Astrowives fight their own battles in their marriages and the world at large," ABC wrote in its synopsis. "Trudy [Cooper, played by Odette Annable] learns of attempts to quash a budding astronaut training program for women, and John Glenn [Sam Reid] considers a run for office."

The events depicted in "Flashpoint" span all the way from July 1962 through November 1963, although not always in the order they took place in real life. The halfway point for the ten-part "Astronaut Wives Club," the episode includes the final flight of the Mercury program.


Gordo (Bret Harrison) and Trudy (Odette Annable) embrace each other after he buzzes NASA on "Astronaut Wives Club."
(ABC)
Post-mission debriefing: Here's a look at where Episode 5 "Flashpoint" was authentic to space history ("A-OK!") and where it veered off course ("ABORT!").

"I am going to get myself a job."

Rene Carpenter approaches newspaper editor Cal Butterfield (Gary Grubbs) about contributing a column. She lands an interview (at a bar), where he requires she writes 20 sample articles before he will even consider her for anything more than an (alternate) recipe column.

ABORT! Butterfield is a fictional character but he is not a stand-in for a real-life counterpart unlike Max Kaplan (Luke Kirby) is for a few LIFE reporters. The real Rene Carpenter was never treated so shoddily.

Per Rene's and Scott's daughter Kris Stoever, Field Enterprises, owner of the Chicago Sun, approached Rene ("not in a bar") to author a syndicated column ("A Woman, Still") that ran three times a week. She was asked for only three sample articles and then "got the contract."



"FLATs."

Trudy Cooper's friend, pilot Dot Bingham (Mercedes Mason) shows up in Houston with news: she is one of 13 women who have passed some of the same screening tests that the Mercury men did to be chosen as astronauts.

A-OK! The First Lady Astronaut Trainees (FLATs), who later were dubbed by a Hollywood producer as the "Mercury 13," grew out of Dr. William "Randy" Lovelace's personal interest in women's capabilities for spaceflight. The short-lived program, which was privately-funded, put 20 female accomplished pilots through the tests, out of whom 13 passed the same trials as the Mercury 7.

The series' Bingham appears to be based on Jerrie Cobb, one of the "Mercury 13" and a record setting aviatrix, although its not clear if she was social with Trudy (Lily Koppel's book, on which the ABC series is based, makes no mention of the FLATs).



"Can't find that type of women."

Bingham speaks before Congress in support of the FLATs joining the astronaut corps. She is followed by John Glenn and Scott Carpenter, who maintain that astronauts need to be test pilots, a status women cannot qualify for under the military's rules.

A-OK! ...and ABORT! Jerrie Cobb, Janey Hart (a fellow FLAT), aviator Jacqueline Cochran, NASA's deputy administrator George Low, John Glenn and Scott Carpenter testified before Congress on July 17 and 18, 1962, a year before Gordon Cooper flew on the final Mercury flight. The hearing was not a direct appeal to add Cobb and the others to NASA's ranks, but rather to allow Lovelace to continue with his third phase of its tests, which required the use of military equipment and jets. The U.S. Navy saw no reason to support a private effort unless NASA was involved.

The episode does not show (or infer) that Cochran's testimony wasn't in favor of the FLATs and depicts Glenn and Carpenter as seemingly protecting their own interests, rather than stating, as they did, what was NASA policy at the time.

In his real-life testimony, Glenn said, "The fact that women are not in this field is a fact of our social order. It may be undesirable... It obviously is, but we are only looking, as I said before, to people with certain qualifications. If anybody can meet them, I am all for it."



"Who the hell was that?"

After the hearing, Gordo Cooper (Bret Harrison) jumps into a jet and buzzes the headquarters building at the Manned Spacecraft Center in Houston.

ABORT! Cooper did buzz NASA, but it was not in Houston nor was it in response to the hearing about women in the space program.

As the episode correctly depicts, Cooper was upset over the addition of another port on his spacesuit put there by the medics. But instead of being home with Trudy, it was the day before his launch and the change violated a flight rule.

"Yeah, I was a little mad that day," Cooper said in 1998. "That was the day before launch, and we had a firm ground rule that we didn't put anything new into the spacecraft, or into the pressure suit at the last minute that you could not adequately test."

"So, being a little angry at the time when I went out to get my fighter ready to go, I came back over the Cape and buzzed the Cape fairly low."



"Manual landing."

Glenn calls Trudy from mission control to tell her that there is a problem on board Cooper's Mercury capsule and that her husband is going to have to manually fly the re-entry, a first at that time.

A-OK! Setting aside that Glenn was on a tracking ship near Japan during Mercury-Atlas 9, Cooper did in fact become the first astronaut in history to fly a manual entry after a short circuit cut the electricity flowing to his "Faith 7" capsule's control systems.

"I had eyeballs out the window for my attitude — my pitch, roll, and yaw attitude," Cooper told NASA in 1998. "I had a wristwatch for timing. And I had to activate each and every one of the relays. I had to manually fire the retros [thrusters], while manually flying the spacecraft."

"So, everything had to be done manually."

In spite of the problems, Cooper's splashdown was the most precise of the Mercury project. He landed just four miles (6 km) from his prime recovery ship.
"The Astronaut Wives Club" collectSPACE reviews:


© 2023 collectSPACE.com All rights reserved.