advertisements

'The Astronaut Wives Club': Space history vs. Hollywood in Ep. 3 'Retroattitude'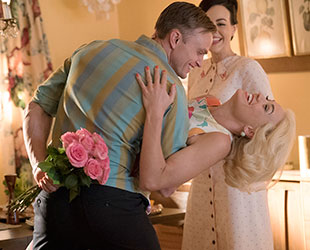 Scott and Rene Carpenter (Wilson Bethel and Yvonne Strahovski) dance through "Retroattitude" on "The Astronaut Wives Club."
July 3, 2015
— The original Mercury 7 spouses on ABC's "The Astronaut Wives Club" have spent their last week in Virginia — and their final week as the only astronaut wives — in "Retroattitude," the third episode of the 10-part series based on Lily Koppel's book about the real women behind the United States' first spacemen.

Where as the first two episodes of "Astronaut Wives Club" spanned multiple years and spaceflights, this week's hour focused on the events in mid-1962, as NASA launched its second manned orbital mission, planning got underway for the two-man Gemini project and the entire program picked up and moved to Houston.

"It's Scott Carpenter's turn to go up, and as the world — and the Astronaut Wives ready themselves for his launch, Rene [Carpenter] receives the opportunity to tell her own story, in her own words, in LIFE Magazine," ABC wrote in its "Retroattitude" synopsis. "Meanwhile, tensions flare as Deke [Slayton] deals with some troubling news of his own that questions his future as an astronaut, but all the while, the women come together to support each other."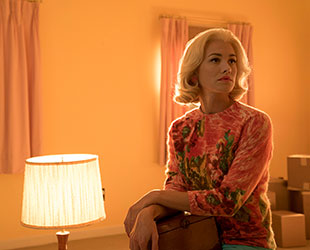 Yvonne Strahovski is Rene Carpenter on "Astronaut Wives Club"
Carpenter launched aboard Aurora 7 on the Mercury-Atlas 7 mission on May 24, 1962. Less than two months later, on July 4 – Independence Day – the Carpenters, together with the other six astronaut families, arrived in Texas.

Post-mission debriefing: Here's a look at where Episode 3 "Retroattitude" remained faithful to space history ("A-OK!") and where it veered off course ("ABORT!").

"Arrhythmia."

Previously on "The Astronaut Wives Club"... Deke (Kenneth Mitchell) broke the news to Marge (Erin Cummings) he had been grounded, but why? Was it his irregular heartbeat, or could politics be at play?

A-OK! On March 15, 1962, Slayton was informed of NASA's decision: he would not be following Glenn into space aboard a Mercury capsule he planned to christen "Delta 7." It wasn't a secret Slayton had an atrial fibrillation (irregular heart rhythm), but a panel of doctors, siding with caution, recommended flying another astronaut without a health problem.

As Slayton noted in his autobiography, there were indeed rumors that his grounding was retribution for John Glenn defending his wife Annie's decision not to meet with President Lyndon Johnson (as played out in last week's episode). But he didn't put much faith in that. "I think the decision was political, but not for that reason."

"...NASA knew there would be medical monitors at the tracking stations all over the world who wouldn't know how to react," he reasoned. "NASA would be opening itself to a lot of medical second-guessing."



"Deke picked a fight"

Slayton's backup was Wally Schirra (Aaron McCusker), but NASA chose Scott Carpenter (Wilson Bethel), Glenn's backup, to fly instead. "Not to mention he's your best friend. Did you push for him?" Slayton angrily accuses Glenn.

ABORT! The episode shows Slayton getting upset and Schirra "trusting the process," but according to several accounts, it was the other way around.

"Wally really did not like it," Walt Williams, NASA's director of operations during Mercury, said. "I kept telling him to be patient, something better coming along, but it didn't do much good."

It was also not in Slayton's character to lash out.

"Even when there were disagreements, [Slayton] was always a gentleman," recalled Dee O'Hara, the Mercury astronauts' nurse. "He never did anything malicious."

"He never showed any bitterness that I saw," said O'Hara.



"It's a simple question."

Scott and Rene (Yvonne Strahovski) meet the press and she is asked, "Do you plan to pray for your husband's safe return?" She replies, "I think it would be presumptuous of us to pray for anything having to do with the mission," resulting in a frenzy of questions about her and her husband's beliefs, or lack thereof.

A-OK! In "For Spacious Skies," Carpenter and his daughter Kris Stoever recount the media's interest in Rene's prayers and her reluctance to share them.

"Certainly they prayed," they wrote. "But what they prayed for was private, and the space program was a public, civilian, scientific endeavor in which they had a different kind of faith."

As the episode also refers, Rene had struggled with her faith since the death of her and Scott's infant son eleven years earlier, which is why she replied it would be presumptuous to pray for the flight.



"250 miles off course."

A TV news anchor reports "there is grave concern for the safety of astronaut Carpenter" after there is no sight of Scott where his Mercury capsule was planned to land. Fearing the worst, Rene is relieved when some time later word comes that Scott has been found.

A-OK! Carpenter tried to identify what the "fireflies" were that Glenn first saw, and that activity, atop a busy science schedule, was perceived by some on the ground as distracting Carpenter from his reentry checklist. But it was a problem with the alignment control system that forced him to take over manual control of his attitude and fire the retrorockets.

Combined with the retrorockets under-thrusting, he overshot the target landing site by 250 miles. In the 55 minutes that it took to locate him, newscasters speculated that Carpenter had been lost, increasing concern for his safety.



"As strong as the rocket engines"

Rene pens her own account of Scott's flight and her experiences for LIFE magazine.

A-OK! ...and ABORT! The June 1, 1962 issue of LIFE magazine featured Rene on the cover and her own words — not that of a ghostwriter, like some of the other wives — inside its pages.

Those words however, are not the same as Rene delivers in the closing scene of "Retroattitude." For example, the show includes the line, "We are now more polished, more precise, and more protected when we present our pleasant faces to the world. And when it counts, we are as strong as the rocket engines that propel our men into space."

Where as the real Rene Carpenter wrote: "Wearing better clothes now, cuticles carefully removed, we present gallant faces to the world, and inside we are as tough as the heat shield that arcs behind our husbands' backs."

On "Astronaut Wives Club," Rene writes, "People ask me, 'How do you handle it? The worrying, the waiting,' and I tell them it's not the first time, and it won't be the last. What I do not say is that a part of me relishes it. An easy life would be a boring one and mine is anything but."

While in LIFE, the real-life Rene wrote, "People are always asking me, 'How do you stand this?' I can only answer, 'I've been there before.' I thrive on it. How dull if life were easy, and how fortunate to be in love with a man who loves the world."
"The Astronaut Wives Club" collectSPACE reviews:


© 2022 collectSPACE.com All rights reserved.