May 17, 2017
– Viktor Gorbatko, one of the first Soviet-era cosmonauts and a veteran of three flights into space, died on Wednesday (May 17). He was 82.

"Roscosmos expresses deep condolences to the relatives and friends of Viktor Vasilyevich," the space agency wrote in a statement posted to its website.

The cause of death was not stated. TASS, the state-owned news agency, reported Gorbatko died in the intensive care unit of a Moscow hospital after falling ill in recent weeks.

In March 1960 at the age of 26, Gorbatko was selected to train alongside Yuri Gagarin and 18 other air force pilots as the Soviet Union's first cosmonaut group. With Gorbatko's death, only three of the original 20 cosmonauts remain — Valery Bykovsky, Alexei Leonov and Boris Volynov.

Despite his early selection, Gorbatko's first spaceflight did not come until nine years later — eight years after Gagarin became the first human to fly in space and three months after the United States beat the Soviet Union in the race to land astronauts on the surface of the moon.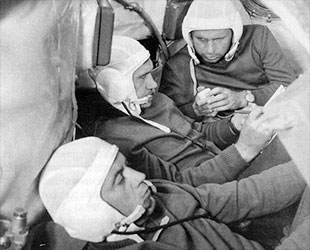 Anatoly Filipchenko, Vladislav Volkov and Viktor Gorbatko train for their Soyuz 7 mission in October 1969.
(Roscosmos/Spacefacts.de)
Launching on Oct. 12, 1969 as the research engineer on board Soyuz 7, Gorbatko and his two crew mates, Anatoly Filipchenko and Vladislav Volkov, embarked on a four-day, 22-hour mission that was intended to be the Soviet answer to the moon landing: having two crewed spacecraft dock in Earth orbit as a third hovered nearby to capture the feat in photographs.

"Such a flight would not only demonstrate the capacity of the Soviet space program to perform complex operations in space, but also provide a long overdue public relations extravaganza," wrote historian Asif Siddiqi in "Challenge to Apollo: The Soviet Union and the Space Race," published by NASA in 2000.

The mission was also touted as a chance for engineers to refine their rendezvous and docking techniques and gain a greater understanding on controlling multiple spacecraft in orbit in preparation for future space stations, Siddiqi wrote.

Gorbatko and the Soyuz 7 crew did join the Soyuz 6 and Soyuz 8 crews in orbit, but technical difficulties prevented Soyuz 7 from docking with Soyuz 8 and kept the Soyuz 6 crew at a greater distance away than planned. Gorbatko, Filipchenko and Volkov did conduct detailed observations of the Earth, identifying raw mineral reserves in geological target areas.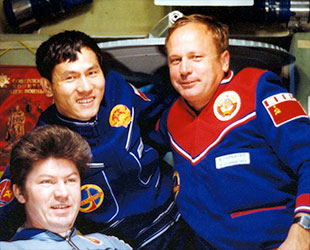 Viktor Gorbatko (right) with Phạm Tuân and Valeri Ryumin onboard the Salyut 6 space station in 1980.
(Roscosmos/Spacefacts.de)
Gorbatko returned to space twice more, on Soyuz 24 in February 1977 and Soyuz 37 in July 1980. On his second flight, he and Yuri Glazkov completed a 18-day mission to Salyut 5, marking the final visit to the space station before it was de-orbited six months later. Gorbatko and Glazkov conducted biological and materials experiments, as well as reconnaissance activities.

On his third and final spaceflight, Gorbatko launched with Phạm Tuân, the first Vietnamese citizen and first Asian in space. The 8-day Intercosmos flight marked the 13th crew to visit the Salyut 6 station. Gorbatko and Tuân returned to Earth on the Soyuz 36 spacecraft on July 31, 1980.

In total, Gorbatko logged just over a month in space — 30 days, 12 hours and 47 minutes — in flying three missions.

Viktor Vasilyevich Gorbatko was born on Dec. 3, 1934, in the village of Ventsy-Zarya in Krasnodar Krai. Inspired to become a pilot by the stories he heard from his siblings of World War II aviators, he joined the Soviet Army in 1952 and one year later, graduated from the 8th Military Aviation School in the Ukrainian town of Pavlograd.

Gorbatko then went to the Bataysk Military Aviation School and graduated as a lieutenant in the Soviet air force.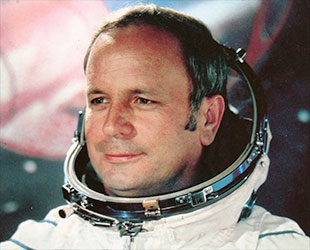 Soviet-era cosmonaut Viktor Gorbatko.
(Roscosmos/Spacefacts.de)
Between his first and second flights into space, on June 9, 1970, Gorbatko became one of the first people in the world to play chess against opponents in space, facing Soyuz 9 crew members Andrian Nikolayev and Vitaly Sevastyanov. Gorbatko was subsequently named an honorary member of the Soviet Central Chess Club.

In addition to his own space missions, Gorbatko served on the back-up crews for Voskhod 2, which achieved the first spacewalk, and four Soyuz flights (5, 21, 23 and 31).

He left the cosmonaut team two years after his last space flight on Aug. 28, 1982 to become the deputy president of the committee for sports in the Soviet Ministry of Defense. Later, he taught at the Air Force Engineering Academy and served as general director of AA & AL in Moscow.

Twice named Hero of the Soviet Union and awarded with three Orders of Lenin, Gorbatko was bestowed numerous medals by his own nation and others, including Vietnam.

Gorbatko was married twice and had two daughters, Irina and Marina, with his first wife, who died in 1997.

A memorial service and funeral will be held on Friday (May 19) at a cemetery in Mytischi, according to Roscosmos.