Soyuz 24 cosmonaut Yuri Glazkov, 69, dies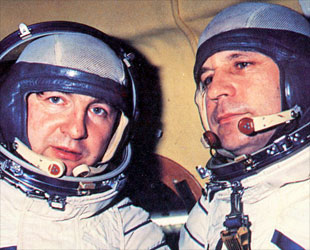 Soyuz 24 crew: Yuri Glazkov and Viktor Gorbatko (SpaceFacts)

December 9, 2008 — A cosmonaut who flew on the first mission to purge and replace the atmosphere on-board a space station, Yuri Glazkov, 69, died Tuesday, Dec. 9, according to Russia's federal space agency, Roscosmos.

Glazkov, along with mission commander Viktor Gorbatko, launched on Soyuz 24 on Feb. 7, 1977 on an 18-day flight to the Salyut 5 space station. Flying under the call sign "Terek" after a river in the Caucasus region, the two crew mates successfully docked with the outpost one day later beginning more than two weeks of work aboard Salyut 5.

Foremost among their objectives, Gorbatko and Glazkov entered the station wearing breathing masks and began testing the purity of the atmosphere. Salyut 5's previous crew was forced to leave early due to psychological and medical concerns that were at least in part suspected to be the result of toxic fuel leaking into the cabin air supply.

Gorbatko and Glazkov found the atmosphere to be clean but the decision was made by ground controllers to still have them test the procedure for completely replacing the station's air. The process, which involved venting the air out the airlock while pumping compressed air from Soyuz 24 was successful but as a result canceled the mission's planned spacewalk.

During the flight, Glazkov caught a cold but also devised a remedy, which he described during a 1998 oral history conducted with NASA Johnson Space Center in Houston.

"This is a very simple, a very simple cure," he recalled. "You put your nose to the window and the solar rays cure your cold. It's very simple and I suggest to anybody who has a cold, try to fly up there."

The two cosmonauts spent the rest of their time on-board Salyut 5 conducting materials science experiments and conducting Earth reconnaissance. Landing on Feb. 25 on the steppes of Kazakhstan, Gorbatko and Glazkov were praised for their mission's accomplishments by the space program's leaders and earned the title "Hero of the Soviet Union".

His only space flight, Glazkov logged 17 days, 17 hours and 25 minutes during the Soyuz 24 mission.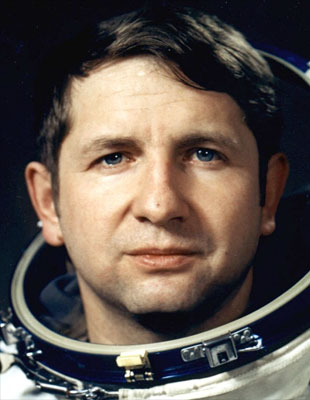 Cosmonaut Yuri Glazkov (SpaceFacts.de)

Yuri Nikolayevich Glazkov was born in Moscow on Oct. 2, 1939. Graduating from the Kharkhov Higher Air Force Engineering School in 1962, Glazkov served as a flight engineer in the Soviet Air Force before being selected for cosmonaut training with the third group of candidates in Oct. 1965.

Trained as a pilot and parachutist, earning an instructor's rating in the latter, Glazkov received his candidate of technical sciences degree three years before his space flight. He later earned a doctorate degree in the technical sciences in 1991.

In addition to his own mission, Glazkov was a spacecraft communicator for the joint flights of Soyuz 6, 7 and 8, which included his future crew mate Gorbatko. Together they also served as back-up crew to the Soyuz 23 flight. Glazkov also supported the Salyut 3 and Salyut 4 flights.

After returning from space, Glazkov trained other crews for their missions, serving as deputy director of flight activities. In 1989, he was appointed as the first deputy chief of the Gagarin Cosmonaut Training Center in Star City, a position he held until his retirement in May 2000.

As deputy chief, Glazkov took part in the first phase of the International Space Station, training U.S. astronaut Norm Thagard to become the first American to launch on the Soyuz and live on the space station Mir.

"I do believe that [the International Space Station] is the transfer of our achievements of the 20th century into the 21st century, especially for our kids," Glazkov expressed in 1998.

Glazkov authored several books, including a technical guide to spacewalking, "Outside Orbiting Spacecraft" in 1977 and a general book about space exploration, "The World Around Us" in 1986. He also wrote science fiction including "The Black Silence", which was illustrated by fellow cosmonaut Vladimir Dzhanibekov.

Glazkov is survived by his wife Lyubov, and two children.

© 2017 collectSPACE.com All rights reserved.
Questions? E-mail contact@collectspace.com