April 12, 2010
— A Soviet cosmonaut who twice set long duration spaceflight records, Vitaly Sevastyanov, 74, died April 5 after a long illness.

"Vitaly Sevastyanov was one of the legendary generation of pilots and cosmonauts," said Russian President Dmitry Medvedev in a telegram sent to Sevastyanov's daughter, Natalia. "A brave, dedicated man, twice Hero of the Soviet Union, he did a great deal for developing our nation's cosmonautics and aviation sector."

A member of Chief Designer Sergei Korolyov's bureau that built Vostok, the spacecraft that carried the first man into space 39 years ago Monday, Sevastyanov began training as a cosmonaut himself in January 1967 after he served on the review board that approved others for spaceflights.

His own first flight was four years later on Soyuz 9. Lifting off at night — one of several firsts that Soyuz 9 set — with Andrian Nikolayev, the third Soviet cosmonaut in space, Sevastyanov spent 17 days, 17 hours making 286 orbits of the Earth, breaking a five-year record for time in space and setting the stage for future space station crews to live onboard for extended stays.

Ten days into the flight, Sevastyanov took part in another first, playing chess with fellow cosmonaut Viktor Gorbatko who was on the ground.

"[Sevastyanov] was actively engaged in public activities," remarked Medvedev, "making special efforts to promote achievements in Russian science and educate younger generations."

Weakened by a lack of exercise countering the effects of long duration spaceflight, Nikolayev and Sevastyanov had to be carried from their spacecraft after landing.

Sevastyanov would walk away from his second flight even though it was more than three times as long. Paired with Pyotr Klimuk for the 63-day Soyuz 18 mission in 1975, Sevastyanov served as the flight engineer for the second expedition to the Salyut 4 space station.

Again tasked with studying the effects of living in space, Sevastyanov took part in biomedical research, including an exercise regime, designed to better address the crew's re-adaptation to gravity upon landing. He and Klimuk also grew plants aboard the station and observed the Earth.

In space during the first joint-U.S.-USSR spaceflight, the Apollo-Soyuz Test Project, Sevastyanov helped tie the record at the time for the most people simultaneously off the planet at seven.

Over the course of his two missions, Sevastyanov logged 80 days, 16 hours and 18 minutes in space.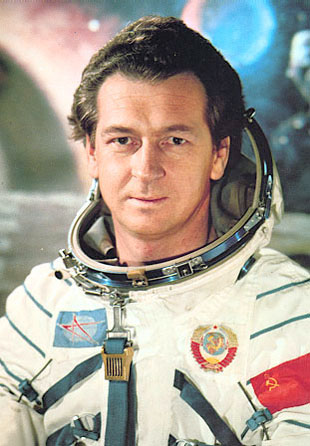 Cosmonaut Vitaly Sevastyanov.
(Roscosmos)
Born on July 8, 1935, Vitaly Ivanovich Sevastyanov went to the Moscow Aviation Institute where he graduated in 1959 an aeronautical engineer. Six years later, after he joined the Korolyov spacecraft design bureau, he earned his candidate's degree from the same institute.

Following his appointment as a cosmonaut, he trained for the Soviet lunar landing program and served on the back- up crews for four Soyuz missions.

Before retiring from the Russian space program in 1993, Sevastyanov worked for RSC Energia in mission control and contributed to the design of space shuttle Buran, which flew only once, unmanned, in 1988.

The host of "Man, Earth, Universe," a popular television program on space exploration in the 1980s, Sevastyanov was president of the Soviet Chess Federation from 1977 to 1986 and from 1988 to 1989.

In 1993, Sevastyanov was elected to the Duma, Russia's Parliament, and served one term until 2007.

The author of over 200 scientific papers, Sevastyanov is also credited with a number of inventions and discoveries.