advertisements

Third cosmonaut Andrian Nikolayev dies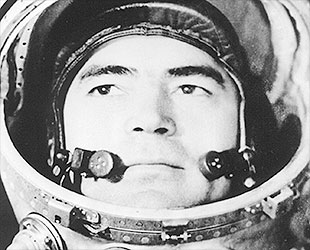 Vostok 3 pilot Andrian Nikolayev.
(Roscosmos/Spacefacts.de)
July 4, 2004
— The third Soviet cosmonaut to fly in space and the commander of a record-setting long-duration 1970 mission, Andrian Nikolayev died Saturday in the Chuvash Republic where he was judging sport games.

According to Interfax, Nikolayev suffered a heart attack that lead to his death at a hospital. He was 74.

Andrian Grigoryevich Nikolayev was born not far from where he died in the Chuvash village of Shorshely on the fifth day of September, 1929. His father was a farmer and his older brother a lumberjack, so Nikolayev followed the family tradition, attending the Marinsky-Posad Forestry Institute. From December 1947 until he was drafted into the army in 1950, he was a lumberjack and the foreman of a logging operation.

As a soldier, Nikolayev was trained as an aircraft gunner and radio operator, and then earned a chance to become a pilot. He graduated from the Chernigov Higher Air Force School in 1954, and served in the Moscow district.

Nikolayev was selected as a cosmonaut in March 1960, with a group that included Yuri Gagarin. During medical testing before and after joining the cosmonaut ranks, he consistently surprised Soviet doctors with his ability to endure silence, isolation and temperature extremes. Of Nikolayev Gagarin was quoted as saying, "He is the most unflappable man in a crisis I know."

Nikolayev set endurance records on both of his flights into space. He was pilot of the four day Vostok 3 mission in August 1962, the third Soviet manned space flight and the first to fly at the same time as another crewed vehicle (Vostok 4) was in orbit. At that time, the U.S. record for time in space totaled nine hours.

In 1970, Nikolayev commanded the Soyuz 9 mission. He and flight engineer Vitaly Sevastyanov lived in space for almost 18 days on a flight dedicated to studying the long-term effects of microgravity on human health.

Between his two flights, Nikolayev served as commander of the cosmonaut team and graduated from the Air Force Engineering Academy. After Soyuz 9, he became the first deputy director at the Gagarin Cosmonaut Training Center in Star City.

Nikolayev authored several books, including Meeting in Orbit (1966) and Space, A Road Without End (1974), both autobiographies.

In 1963, Nikolayev married Valentina Tereshkova, the first woman in space, and they had a daughter, Yelana. The two divorced in 1982.

Biographical information used in this article was adapted and excerpted with permission from Who's Who in Space: The First 25 Years by Michael Cassutt.

© 2023 collectSPACE.com All rights reserved.