May 13, 2013
— The first Canadian commander of the International Space Station returned to Earth on Monday (May 13), joined by his American and Russian crewmates who spent the past five months living aboard the orbiting outpost.
Canadian Space Agency
astronaut Chris Hadfield
, NASA's Tom Marshburn and Roman Romanenko with the Russian space agency Roscosmos landed in southern Kazakhstan on board Russia's Soyuz TMA-07M spacecraft. The 9:31 p.m. CDT (0231 GMT; 8:31 a.m. local time, May 14) "soft" touchdown occurred two-and-a-half hours after the trio left their
home on orbit of 144 days
.
"We can see the entire ISS and the solar arrays like arms stretched out to embrace us for the final goodbye," the crew radioed as their Soyuz undocked and slowly backed away from the station's Rassvet module at 6:08 p.m. CDT (2308 GMT).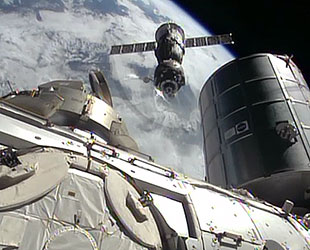 Soyuz TMA-07M backs away from the International Space Station after being docked there for 144 days, May 13, 2013. (NASA TV)
Their departure marked the end of the space station's 35th expedition. On Sunday, Hadfield turned over command of the orbital complex to Roscosmos' Pavel Vinogradov, who with cosmonaut Alexander Misurkin and NASA astronaut Chris Cassidy will
begin Expedition 36
.
"I had three objectives," Hadfield said during the handover ceremony on Sunday. "Number one was the health of the crew, to maintain a healthy group of people here on board. Second was the health of the spaceship itself; to spend our months here and at the end of it be able to provide the next crew, the oncoming astronauts and cosmonauts, with a functioning and healthy spaceship. And third was to use this international orbiting laboratory, this orbiting research vessel for what it is for and to get as much science and utilization done as possible."
"I can very proudly say that all three were accomplished in spades," he said.
If Hadfield had a fourth objective, it seemed to be a desire to connect with his fellow Canadians — and many others around the world — through his music, videos and tweets sent down from orbit.
Soon after arriving on the space station on Dec. 21, 2012, Hadfield began sharing daily highlights of his life in space through photos posted on Twitter. Hadfield also used the station's on board acoustic guitar to perform original songs and popular covers, including
recording the first live duet
between musicians in space and on the ground, and, just before landing releasing his version of David Bowie's song "Space Oddity" as a music video edited with the help of his son.
Hadfield also helped debut Canada's new
space robotics-themed $5 bank note
and sent the command to reveal the museum display of the
original Canadarm robotic arm
that was used on the space shuttle.
During their five months working on the orbiting laboratory, Hadfield, Marshburn and Romanenko conducted about 140 science experiments. In the process, they set a record for devoting the most time in one week to science, 71 hours, since the station's first residents arrived and began science operations in 2000.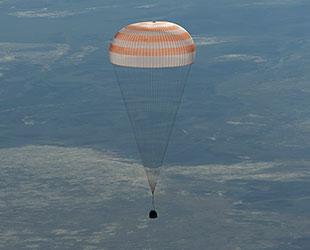 Soyuz TMA-07M descends under a parachute to a soft landing in southern Kazakhstan on May 13, 2013. (NASA/Carla Cioffi)
This expedition marked the third mission for Hadfield and the second time to space for Marshburn and Romanenko.
After brief medical checks at their landing site and a flight to the nearby Kazakh city of Karaganda, the trio will part ways. Romanenko, the son of a Soviet cosmonaut, will be flown to Star City near Moscow to begin his rehabilitation. Meanwhile, Hadfield and Marshburn will board a NASA jet for Houston's Johnson Space Center to do the same.