December 19, 2012
— The son of a cosmonaut, a former emergency room doctor and a guitar-playing Canadian are now on their way to the International Space Station (ISS) to spend five months on board the orbiting laboratory.

Rocketing into the evening sky above the desert steppe of Kazakhstan, Roman Romanenko with the Russian space agency Roscosmos, NASA astronaut Thomas Marshburn and the Canadian Space Agency's Chris Hadfield lifted off at 7:12 a.m. EST (1212 GMT; 6:12 p.m. local) on Russia's Soyuz TMA-07M spacecraft. The trio's Soyuz FG booster departed from "Gagarin's Start," the same launch pad at the Baikonur Cosmodrome that was used for the world's first manned spaceflight in 1961.

The international crew will orbit the Earth for two days to catch up with the space station. They are set to dock to the outpost's Russian Rassvet module on Friday morning (Dec. 21). Once aboard the ISS, Romanenko, Marshburn and Hadfield will be greeted by NASA astronaut and ISS Expedition 34 commander Kevin Ford and Russian flight engineers Oleg Novitskiy and Evgeny Tarelkin, who have been in space since October.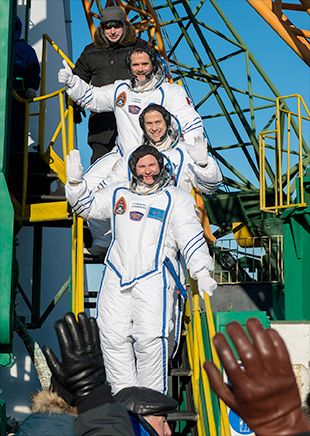 The Soyuz TMA-07M crew waves before boarding their rocket for launch. From top: Chris Hadfield, Thomas Marshburn and Roman Romanenko, wearing cold weather oversuits.
(NASA/Carla Cioffi)
The six crewmembers will work together until March, when Ford, Novitskiy and Tarelkin will return to Earth on their Soyuz, TMA-06M. Hadfield will take over command of the space station, beginning Expedition 35 and becoming the first Canadian to lead a space crew and only the second non-Russian, non-American commander of the station.

Three new ISS Expedition 35 crewmates, NASA astronaut Christopher Cassidy and Roscosmos cosmonauts Pavel Vinogradov and Aleksandr Misurkin, will fly to the station shortly after the TMA-06M's crew departure.

In addition to Soyuz capsules, Hadfield, Marshburn and Romanenko will also oversee the arrival and departure of three Russian Progress cargo spacecraft, the berthing of Europe's "Albert Einstein" Automated Transfer Vehicle-4 (ATV-4), and the second of the NASA-contracted Space Exploration Technologies (SpaceX) Dragon spacecraft to deliver supplies to the station.

The first of Orbital Science Corporation's Cygnus cargo delivery flights for NASA may also arrive before the three crewmates depart in mid-May 2013.

One other mission highlight for the TMA-07M crew will be a planned spacewalk performed by Romanenko, together with Vinogradov, which is planned for April.

Men in space

Hadfield, Marshburn and Romanenko, who during training posed in black suits and sunglasses for a parody poster of the "Men in Black" labeled "Men in Space," launched with a small clown doll as the customary talisman and "zero-g indicator."

"This small clown doll will hang in our Soyuz by a string. When it starts floating weightless, we are safely in orbit," Hadfield wrote on Twitter. "It was chosen by Roman's nine year old daughter, for a character named 'Klyopa' on the Russian TV show called 'ABCD-E.'"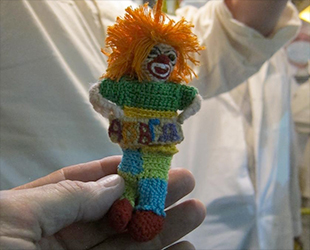 A small clown doll, chosen by cosmonaut Roman Romanenko's daughter, served as the TMA-07M talisman.
(CSA/Chris Hadfield)
Not that any of the three space travelers are strangers to being weightless.

Romanenko commanded Soyuz TMA-15 and served as a flight engineer during ISS Expeditions 20 and 21 in 2009. This, his second flight, will add to his 188 days in orbit.

A major in the Russian Air Force, Romanenko is Russia's second, second-generation cosmonaut. His father, Colonel Yuri Romanenko, spent more than 430 days in space in the course of flying on three missions.

Marshburn was an emergency room doctor and a NASA flight surgeon before becoming an astronaut. His first flight into space was in 2009 aboard space shuttle Endeavour's STS-127 mission to install the final components of the Japanese Kibo laboratory for the space station.

An avid mountain climber, Marshburn also served as an aquanaut during NASA's NEEMO 14 mission in May 2010 on the Aquarius underwater laboratory, living and working submerged in the ocean for two weeks.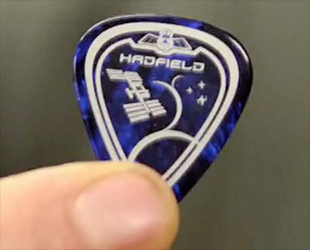 A close-up of the custom guitar pick that astronaut Chris Hadfield is flying to the International Space Station.
(Larrivée Guitars)
Hadfield, who commanded the NEEMO 14 mission, is now on his third trip into space. A veteran of two flights on the U.S. space shuttle, he became the first Canadian to walk in space in 2001 while helping to install the Canadarm2 robotic arm for the space station.

A guitarist for two bands, including the all-astronaut band "Max Q," Hadfield plans to play the acoustic guitar already aboard the orbiting complex. His personal mission patch for this flight is in the shape of a guitar pick and he has several picks with his emblem on them packed aboard the Soyuz.