April 29, 2006
— Canada's national mint is recognizing the 5th anniversary of the country's major contribution to the International Space Station (ISS) and the astronaut who installed it with the issue of commemorative coins.

The second release in the Royal Canadian Mint's (RCM) Canadian Achievements series, the new coins celebrate the April 22, 2001 spacewalk by Canadian Space Agency astronaut Chris Hadfield as he attached the Canadarm2 robotic manipulator to the ISS. Working from the Space Shuttle Endeavour, Hadfield was the first from the nation to walk in space and his work was helped by the original Canadarm.

The RCM coins, to be "launched" on May 15, will be sold in two editions.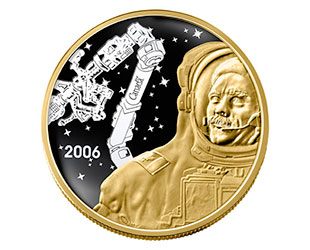 The first, a 300-dollar face value, 14-karat gold proof coin depicts Hadfield on his record-setting spacewalk with a two-color laser design of the Canadarm2 in space as his background.

The gold edition is limited to 1,000 40mm-diameter coins and sells for $1,089.95 CND (approximately $976 U.S.).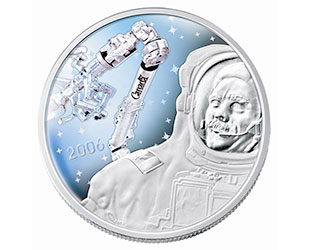 Of lesser price and greater mintage is the sterling silver proof coin, which bears a 30-dollar face value. This silver rendition of the gold design features a selective hologram of the robot arm in space.

The RCM is minting 20,000 of the silver coins and selling them for $79.95 CND (approximately $72 U.S.).

Both versions feature the portrait of Her Majesty Queen Elizabeth II by Susanna Blunt on the obverse. The design on the reverse is by artist Cecily Mok.

The coins are presented in maroon-colored display cases protected by "black beauty" boxes. Serialized certificates are included with each coin.

The coins are available directly from the RCM by calling 1-800-267-1871 in Canada, or 1-800-268-6468 in the US, by visiting the Mint online at www.mint.ca, by visiting the Mint's boutiques in Ottawa and Winnipeg, or through the Mint's network of dealers and distributors.

Launched on STS-100, Canadarm2 is a "bigger, better, smarter version" of the space shuttle's robotic arm, per NASA's description on its website. Capable of handling large payloads and assisting with docking the orbiter, the Space Station Remote Manipulator System, or SSRMS (as Canadarm2 is formally titled) can be attached to ports spread throughout the space station's exterior surfaces.

Prior to Endeavour's 2001 mission, Hadfield flew as the first Canadian mission specialist on STS-74, becoming the first Canadian to operate the Canadarm in orbit, and the only Canadian to ever board the Russian Mir station. He is currently Chief of Robotics for the NASA Astronaut Office at the Johnson Space Center in Houston, Texas.