March 28, 2013
— Three crew members arrived on board the International Space Station on the same day that they launched, setting a new speed record for the time between lifting off and docking at the orbiting laboratory.

Veteran Russian commander Pavel Vinogradov, first-time cosmonaut Aleksandr Misurkin and former Navy SEAL-turned-astronaut Chris Cassidy flew their Soyuz TMA-08M spacecraft to a link up with the outpost's Poisk docking module at 10:28 p.m. EDT on Thursday (March 28; 0228 GMT Friday). The trio's arrival came just five hours and 45 minutes after they departed the Baikonur Cosmodrome in Kazakhstan at 4:43 p.m. EDT (2043 GMT; 2:43 a.m. local time March 29).

The same-day delivery was a first for crews destined for the International Space Station. Although earlier U.S. and Soviet missions flew similar "fast track" paths to orbiting targets, for the past 13 years all the crews heading to the ISS followed a two-day approach. The expedited, four orbit rendezvous used the Soyuz's onboard computers, as well as support from ground control, to execute a compressed schedule of engine firings, bringing the crew to the space station in record time.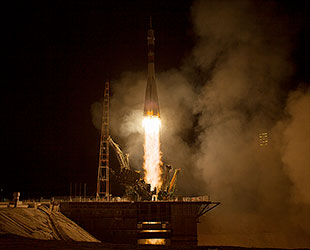 Soyuz TMA-08M launches from the Baikonur Cosmodrome for its six hour flight to the space station.
(NASA/Carla Carla Cioffi)
Welcoming the Soyuz crew members on board the outpost was the space station's first Canadian commander Chris Hadfield, who with flight engineers Thomas Marshburn of NASA and Roscosmos cosmonaut Roman Romanenko, has been on the ISS since December. The six astronauts and cosmonauts will work together as the space station's 35th expedition crew prior to Hadfield, Romanenko, and Marshburn departing for Earth in May, leaving Vinogradov, Misurkin and Cassidy to begin Expedition 36.

During their five months on the ISS, Vinogradov, Misurkin and Cassidy will be involved with more than 180 science investigations, as well as receive supplies and new crew members from a complete complement of the international vehicles that visit and service the orbiting laboratory. As many as seven spacewalks are also possible during their time in orbit.

"There are quite a few spacewalks and visiting vehicles that'll occupy the schedule," Cassidy said on Wednesday, a day before launching. "But the nice thing about that is our time horizon — instead of being five months long, it becomes one week or two weeks until we look for the next major event."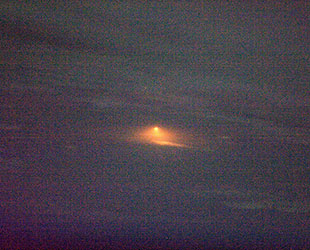 In what is believed to be a first, Chris Hadfield caught this view from on the space station of Soyuz TMA-08M launching.
(CSA)
One of those events will be Vinogradov's birthday on Aug. 31. Turning 60 in space, he is the oldest Russian to fly in space.

"I don't think being the oldest is a big achievement," said Vinogradov, who could be considered young compared to John Glenn, who at 77 became the oldest person to fly in space in 1998. "I love my profession and I can't imagine doing anything else. So for as long as I can, for as long as I have enough health, I will stay in this profession."