March 28, 2013
— Two Russian cosmonauts and a U.S. astronaut embarked for the International Space Station on Thursday (March 28), taking the 'express lane' to the ISS for the first time in history.

Veteran Russian commander Pavel Vinogradov, first-time cosmonaut Aleksandr Misurkin, and former Navy SEAL-turned-NASA astronaut Christopher Cassidy launched on Russia's Soyuz TMA-08M spacecraft from the Baikonur Cosmodrome in the desert steppe of Kazakhstan at 4:43 p.m. EDT (2043 GMT; 2:43 a.m. March 29, Baikonur time) atop a Russian Soyuz FG booster.

Following a computer-orchestrated, expedited timeline of thruster firings, the trio is scheduled to rendezvous and dock at the space station in just six hours, bypassing the usual two days it took prior crews to arrive at the orbiting outpost. They are the first crew to fly this fast track to the International Space Station, though earlier U.S. and Soviet missions followed short-duration trajectories to their orbital targets.

"We are the first crew that is going to use the expedited plan, launch and docking, but in '69, '68 and the '70s there were missions, like, for example, the Gemini program and Soviet spacecraft that docked according to this plan," said Vinogradov in a pre-launch press briefing.

More recently, Russia has launched its Progress resupply ships on the same four-orbit path to the space station.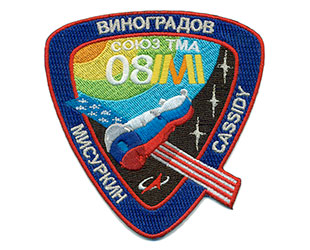 Soyuz TMA-08M crew mission patch.
(Spacefacts.de/Roscosmos)
If all proceeds to plan, Soyuz TMA-08M will pull up to the space station's Poisk docking module at 10:32 p.m. EDT (0232 GMT), a short five hours and 49 minutes after lifting off.

After opening hatches, Vinogradov, Misurkin and Cassidy will be welcomed on board the space station by Expedition 35 commander Chris Hadfield, Russian cosmonaut Roman Romanenko and NASA's Tom Marshburn, who have been at the outpost since December. In May, the Soyuz TMA-08M trio will transition to become the Expedition 36 crew as Hadfield, Romanenko and Marshburn depart for Earth.

Getting comfortable

Executing the expedited rendezvous has more to do with a compressed schedule of engine burns then in does new technology. Assisted by the ship's onboard computers and ground control, the Soyuz TMA-08M crew will fly the same basic path as the longer two-day approach but in a quicker order.

"From a technical point of view, we feel pretty comfortable with this," Cassidy said the day before launching. "All of the procedures are very similar to what we do on a two-day process and we have trained it a number of times, so that part we are very comfortable with."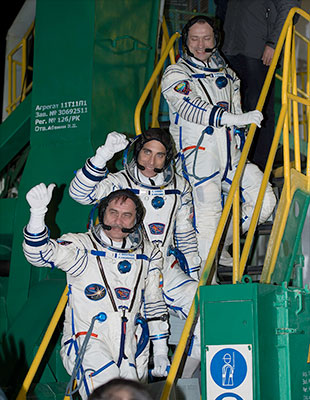 Soyuz TMA-08M crewmates (from top) Alexander Misurkin, Chris Cassidy and Pavel Vinogradov before launch.
(NASA/Carla Cioffi)
Of less comfort is having to stay in their Sokol pressure spacesuits and in or near their seats for the full six hours. Cassidy, who describes himself as being just "a little bit" taller than is comfortably seated in the cramped Soyuz, will have the chance to stretch his legs by opening the Soyuz's orbital module, or БО ("bae-oh") in cyrillic, but it requires some choreography on the part of the crew.

"For those of you who haven't had the opportunity to see the Soyuz, it requires a coordination between the three of us to close and open the hatch and get up to the БО. And we have a very few opportunities when we know we can take advantage of that and have the time to get in there," Cassidy said.

Those few instances will also provide the chance for the crew to use the bathroom, if need be, by partially doffing their spacesuits. For each engine burn however, they will need to be back in their seats.

Same-day delivery

The shorter time in flight will add to the crew's comfort, Vinogradov said, by delivering them to the space station before they begin to feel any ill effects of weightlessness, such as space adaptation sickness.

"One of the advantages is that the crew does not have enough time to be negatively influenced by zero-g," said Vinogradov. "Of course, it will show itself and we will have the side effects, but within the first four or five hours we are going to be fully operational and without any negative side effects."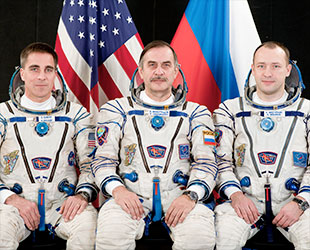 Soyuz TMA-08M crew portrait, from left: Chris Cassidy of NASA, Pavel Vinogradov and Alexander Misurkin of Roscosmos.
(GCTC)
More importantly, the briefer flight time will allow for "short life" science experiments to begin more quickly.

"You can't overestimate the benefits of such an expedited launch for the scientists and researchers who are working on the biological and medical problems," the Soyuz TMA-08M commander said.

And then there are the practical benefits, Vinogradov said.

"Within such a short period of time, the ice cream [aboard] will probably not melt," he added with a smile.