April 24, 2017
— Peggy Whitson has made space history, again.

Currently orbiting Earth as commander of the International Space Station, Whitson on Monday (April 24) flew past the record for the most days in space by an American. At 1:27 a.m. EDT (0527 GMT), she broke the previous total of 534 days, 2 hours and 48 minutes set by NASA astronaut Jeff Williams at the end of his fourth spaceflight in September.

Whitson's cumulative, and still counting, time off the planet is just her latest record set while in space. She has broken (or added to) four other records on this, her third trip to the space station.

"Commander Whitson, you have broken the record for the most total time spent in space by an American astronaut, 534 days and counting," said President Donald Trump in a call on Monday from the Oval Office in the White House to orbit. "That is an incredible record to break, and on behalf of our nation and, frankly, on behalf of the world, I'd like to congratulate you. That is really something."


"It is actually a huge honor to break a record like this, but it is an honor for me to be representing all the folks at NASA who make this spaceflight possible and make me setting this record feasible," replied Whitson, who floated under a banner that congratulated her on becoming the "New U.S. High-Time Space Ninja."

By the time Whitson returns to Earth in September, she will have logged more than 665 days in space over the course of her three space station missions. She previously spent 185 days as a flight engineer and NASA science officer as part of the orbiting laboratory's Expedition 5 crew in 2002 and 192 days as commander of Expedition 16 in 2007.

As of Monday, Whitson had logged 158 days as a member of Expedition 50 and as commander of Expedition 51 since launching to the station in November. Originally scheduled to land in July, NASA recently extended Whitson's mission, continuing her stay to Expedition 52 for another 132 days.

At the end of this mission, she will rank eighth in the world for total time in space, behind seven Russian cosmonauts. Gennady Padalka, who tops the list at 878 days, is retiring from the cosmonaut corps this week, ending his own hope for a sixth spaceflight to exceed 1,000 days off the planet.

Whitson is only the third NASA astronaut to spend more than 500 days in space, out of a total of 20 (the others are all cosmonauts, including her Expedition 51/52 crew mate Fyodor Yurchikhin, who will land with just a few more days than Whitson, ranking him seventh on the list). In addition to Whitson and Williams, now-former astronaut Scott Kelly logged a total of 520 days in orbit and still holds the record for the longest single mission by an American at 340 days.

Whitson's time adds to her own list of space records. Even before this mission, she held the title for the most time in space by a woman. When she launched in November, she also became the oldest woman to fly into space (56 at the time of her liftoff, now 57).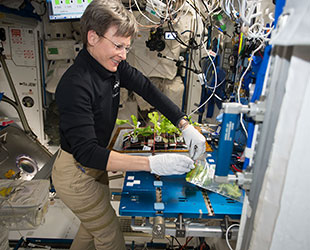 NASA astronaut Peggy Whitson harvests cabbage from the Veggie facility on board the International Space Station.
(NASA)
And by commanding Expedition 51, she is the first woman to lead the space station twice.

On March 30, Whitson set two more records becoming the most experienced woman to walk in space. She now has gone out on more extravehicular activities (EVA) and spent more time outside a spacecraft (or space station) than any other female astronaut or cosmonaut in history — 50 hours and 40 minutes over the course of eight spacewalks. (And she is slated to add to that on May 12 with another EVA.)

Selected by NASA with its 1996 astronaut group, Whitson became the first woman and first non-pilot to be appointed to Chief of the Astronaut Office at NASA's Johnson Space Center from 2009 to 2012.

"I would definitely like to go to the moon or Mars or some other destination," Whitson said in a media interview from orbit on April 13. "Space Station has been phenomenal but I would like to take some of the next steps. I'm not sure if I will last that long, but I'll give it my best."