March 11, 2015
— A U.S. astronaut and two cosmonauts from Russia returned to Earth on Wednesday night (March 11), after 167 days aboard the International Space Station.

NASA astronaut Barry "Butch" Wilmore, who commanded the space station's Expedition 42, landed with Alexander Samokutyaev and Elena Serova of Roscosmos. The three touched down in Russia's Soyuz TMA-14M spacecraft on the snow-covered steppe of Kazakhstan, southeast of the remote town of Dzhezkazgan.

The parachute and retro-thruster-assisted landing at about 9:07 p.m. CDT (0207 GMT; 8:07 a.m. local time on March 12) came three hours after the trio undocked Soyuz TMA-14M from the zenith, or space-facing, port of the station's Russian Poisk module. The crew's departure at 5:44 p.m. CDT marked a formal end to Expedition 42 and the start of Expedition 43.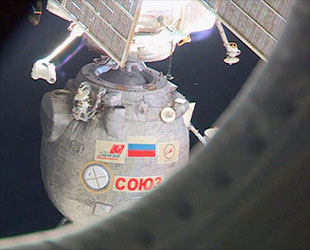 Soyuz TMA-14M undocks from the International Space Station for its return to Earth on Wednesday, March 11, 2015.
(NASA/ESA)
"Increment 41 and 42 flew by like it was like one minute," Samokutyaev said during a brief farewell ceremony before boarding the Soyuz and closing the hatch. "A lot of things were achieved, a lot of new friends were made."

"I would like to ask the crew remaining here, in our home for the last six months, to take care of our beautiful space station and continue to be friends for life," he added.

On Tuesday, Wilmore handed off command of the orbiting laboratory to fellow NASA astronaut Terry Virts, who with cosmonaut Anton Shkaplerov and Samantha Cristoforetti of the European Space Agency (ESA), will remain on the space station through May.

"It has been a great expedition together," Virts remarked, addressing his departing crewmates. "It has been a great six-month adventure you have had here in space and we'll see you in two months."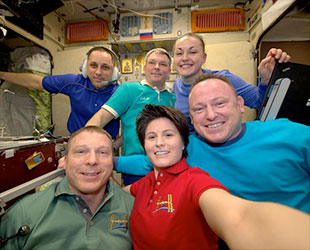 The Expedition 42 crew takes one last selfie together in space. In front: Terry Virts, Samantha Cristoforetti, Butch Wilmore. Back: Anton Shkaplerov, Alexander Samokutyaev, Elena Serova.
Later this month, on March 27, another Soyuz will arrive at the station with three new crewmembers for Expedition 43, including Scott Kelly and Mikhail Kornienko, who'll be the outpost's first yearlong residents.

Wilmore, Samokutyaev and Serova launched to the space station on Sept. 25, 2014 from the Baikonur Cosmodrome in Kazakhstan.

The mission marked the second spaceflights for Wilmore and Samokutyaev. Wilmore has now logged 178 days off the planet, including an 11 days on space shuttle Atlantis in 2009. Samokutyaev previously served 164 days on the station during Expeditions 27 and 28 in 2011, bringing his total days in space to 331.

This was Serova's first spaceflight. She is only the fourth Russian woman to fly in space and the 58th female space explorer worldwide.

Together, Wilmore, Samokutyaev and Serova travelled 71 million miles in orbit while conducting hundreds of science experiments. In November, Wilmore became the first to use a 3D printer in space, ultimately producing 14 unique objects to be used in assessing additive manufacturing in microgravity.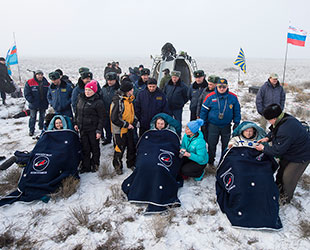 Astronaut Butch Wilmore (at right) and cosmonauts Elena Serova and Alexander Samokutyaev sit in chairs outside the Soyuz TMA-14M spacecraft just minutes after they landed.
(NASA/Bill Ingalls)
Both Wilmore and Samokutyaev also ventured outside the space station on spacewalks. Wilmore made four outings, including a series of three extravehicular activities (EVAs) with Virts to configure the complex for new docking ports. Samokutyaev conducted one spacewalk with Expedition 41 commander Max Suraev to remove and jettison spent hardware and photo document the exterior of the Russian segment of the station.

The crew also helped receive three cargo spacecraft with several tons of scientific experiments, food, fuel and other supplies. In January, the trio helped grapple and connect a SpaceX Dragon capsule on the company's fifth contracted commercial resupply mission to the station. The Dragon returned to Earth in February with science samples. Two Russian Progress cargo freighters docked to the station in October and February. And the fifth and final European Automated Transfer Vehicle, bearing the name of Belgian physicist Georges Lemaître, considered the father of the Big Bang theory, departed the station in February.

Now back on the Earth and following brief medical exams, Wilmore, Samokutyaev and Serova were to be taken to the Kazakh town of Karaganda. From there, Wilmore will be flown home to Houston while Samokutyaev and Serova return to the Gagarin Cosmonaut Training Center in Star City, located outside of Moscow.