March 1, 2015
— The International Space Station is now three steps – or rather spacewalks – closer to being ready for the arrival of new U.S. commercial crewed spacecraft with the successful completion of a two-astronaut outing on Sunday morning (March 1).
NASA astronauts Terry Virts and Barry "Butch" Wilmore ventured outside the orbiting outpost for the third time in eight days to prepare the station for new docking ports to be added later this year. On Sunday, Virts and Wilmore routed some 400 feet (122 meters) of cables and installed two antenna booms that will provide navigational data to spacecraft approaching the complex.
Virts and Wilmore completed the five hour and 38 minute spacewalk at 12:30 p.m. EST (1730 GMT), having started the excursion at 6:52 a.m. EST (1152 GMT).
The duo's extravehicular activity (EVA) came on the heels of two spacewalks on Saturday, Feb. 21 and Wednesday, Feb. 25, during which Virts and Wilmore routed 360 feet (110 meters) of power and data cables to where the first of the two new international docking adapters (IDA) will be installed. The IDAs will be delivered to the station onboard SpaceX Dragon cargo spacecraft scheduled to launch in June and December respectively.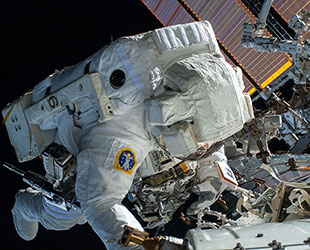 Astronaut Terry Virts is seen working to route a cable while near the forward facing port of the Harmony node on the International Space Station during a spacewalk on Feb. 25, 2015. (NASA)
In addition to preparing the Harmony Node 2 module for the new docking port, Wilmore worked on configuring the Tranquility Node 3 for the arrival of an expandable activity module designed by Bigelow Aerospace, while Virts added grease to the latching mechanisms on the space station's Canadarm2 robotic arm.
The astronauts' spacewalk on Sunday focused on adding antennas and cables for the Common Communications for Visiting Vehicles (C2V2) system.
"These cables are going to attach to some antennas that are going to be used for the future American vehicles that are going to be docking, bringing crew to the space station starting in a few years," Virts said from orbit on Thursday. "So, we need to put these antennas and the cables there for them, and also reflectors so their on board navigation systems that use lasers know where the space station is and what orientation it is in to be able to dock properly."
In 2014, NASA awarded contracts to Boeing and SpaceX to develop and certify
commercial crewed spacecraft
to fly astronauts to the station beginning by 2017. Both Boeing's CST-100 and SpaceX's Dragon capsules are designed to use the C2V2 system and IDAs to rendezvous and dock with the orbiting laboratory.
The CST-100 and Dragon will resume the United States' capability to fly crew members to and from space station since the end of the shuttle program in 2011. At present, NASA relies on Russia's Soyuz spacecraft to deliver its astronauts to orbit. The Soyuz uses a different, Russian-
developed docking system to link up with the station.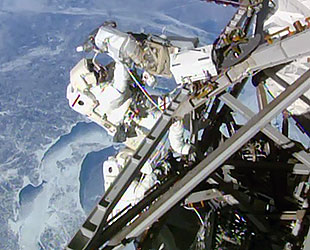 Astronaut Terry Virts configures a newly-installed antenna boom as Butch Wilmore routes cables on March 1, 2015. (NASA TV)

Sunday's spacewalk was Virts' third and Wilmore's fourth career EVAs. During their three outings together, the two astronauts spent a total of 19 hours and 2 minutes outside the space station.

Wilmore, who is presently commander of the station's six-member Expedition 42 crew, has been aboard the outpost since September. He is scheduled to return to Earth with two of his Russian crewmates on March 11. Virts will take over lead as Expedition 43 commander for two months.

Their spacewalk on Sunday was the 31st U.S. and 187th spacewalk overall in support of space station assembly and maintenance since 1998. The spacewalk was the last expected before the 50th anniversary of the first EVA by cosmonaut Alexei Leonov on March 18, 1965. The first U.S. spacewalk, by NASA astronaut Edward White, took place on June 3, 1965.

"It is amazing to see how far we have come from the very first steps outside, to being able to do six-plus hours of work like we do nowadays, to build this orbital outpost, the International Space Station," Virts said after the end of the spacewalk on Sunday. "It is truly amazing."