Jan. 27, 2015
— Boeing and SpaceX will each be ready to fly astronauts to and from the International Space Station in 2017, company officials said on Monday (Jan. 26).

The two U.S. firms, which last September were selected by NASA to provide commercial transportation services to the orbiting laboratory, joined space agency leaders at the Johnson Space Center in Houston to share their plans and schedules. Boeing's CST-100 and SpaceX's Dragon space capsules will each fly four astronauts per flight to and from the station, relieving NASA's reliance on Russia's Soyuz since the end of the shuttle program in 2011.

"The contracts we have signed with our industry partners are vivid examples of American innovation at work," said NASA Administrator Charles Bolden, addressing the small audience of astronauts, flight directors and media. "We've seen the return of an American launch industry."

Over the next two years, Boeing and SpaceX each expect to conduct a series of engineering reviews and test flights, leading up to crewed flights to the space station.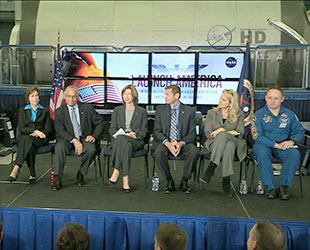 Johnson Space Center Director Ellen Ochoa (seated, left), NASA Administrator Charles Bolden, NASA Commercial Crew Program Manager Kathy Lueders, Boeing's John Elbon, SpaceX's Gwynne Shotwell and NASA astronaut Mike Fincke.
(NASA TV)
"The contract allowed these companies to propose their approach to how they are going to deliver their certified systems and move on to post-certification missions to the International Space Station," said Kathy Lueders, NASA's commercial crew program manager. "Within the contract, we set it where there were five NASA required milestones, but then Boeing and SpaceX were able to come up with their own strategy to add milestones to better help their funding profile and show progress on certification tasks."

T-2 years and counting

Both Boeing and SpaceX have already completed the first milestone, a baseline review, helping NASA understand their long-term plans for certification and clearing the way for construction of systems hardware to begin. The review was the first certification requirement under the $4.2 billion and $2.6 billion contracts awarded to Boeing and SpaceX, respectively.

"There are launch pads out there already being upgraded and hardware already being delivered," Lueders said.

Boeing, and its partner United Launch Alliance (ULA), has started construction on the crew access tower at the Atlas V launch pad at the Cape Canaveral Air Force Station and has remodeled a shuttle-era hangar at the Kennedy Space Center in Florida to serve as the manufacturing facility for its CST-100 capsules.

"The hardware is being delivered next month that will form the structural test article for the vehicle," said John Elbon, Boeing's vice president and general manager for its space exploration division. "Later this year, the hardware will be delivered that will be part of the crew flight test vehicle."

Boeing expects its pad abort test to fly in February 2017, followed by an unmanned orbital test flight of the CST-100 two months later in April. The company's first crewed flight is scheduled for July 2017, with a Boeing test pilot and a NASA astronaut onboard, Elbon said. The first operational mission is targeted for December 2017.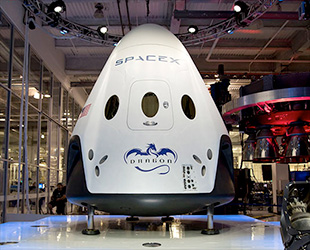 SpaceX's Crew Dragon spacecraft at the company's Hawthorne, California headquarters in May 2014.
(SpaceX)
SpaceX is also making progress, having just finished the construction of its Dragon crew vehicle for the first of two abort tests.

"We largely completed the build of the pad abort system," Gwynne Shotwell, SpaceX's president and chief operating officer, said. "That pad abort test will be upcoming here in the next month or so from Cape Canaveral. Very excited about that."

SpaceX anticipates conducting an in-flight abort test later this year, to be followed by an uncrewed Dragon test flight in late 2016 and then a crewed flight test in early 2017.

Cadre of crew members

Unlike Boeing, which is already planning for a Boeing test pilot and a NASA astronaut to launch on its first CST-100 crewed test flight in July 2017, SpaceX hasn't yet decided the makeup of its maiden manned mission. Previously the company said that only NASA astronauts would crew the Dragon test flight, but Shotwell acknowledged on Monday that a SpaceX crew member was also a possibility.

For its part, NASA is not ready to start naming astronauts to specific test or operational flights on either CST-100 or Dragon, but plans to name a "small cadre" of astronauts who would follow both companies as training procedures and other launch preparations progress.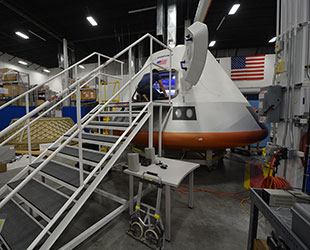 Boeing's CST-100 spacecraft mockup at the company's Houston Product Support Center in Texas in July 2013.
(collectSPACE)
"From that cadre, later on, we would select the first crew," Ellen Ochoa, the director of Johnson Space Center and a space shuttle-era astronaut, said in reply to a question by collectSPACE.com. "I don't see individuals being selected immediately, but probably before too long a small cadre of folks out of the [astronaut] office will be named."

In the meantime, both Boeing and SpaceX are preparing how astronauts will train to fly on their respective vehicles. SpaceX anticipates dividing training between JSC and its own facilities. Boeing, meanwhile, has contracted NASA's Flight Operations Directorate to oversee training crews for CST-100 missions.

"We will have a mission simulator that will be here at JSC, in the same footprint the shuttle training simulator was in," Elbon said. "There will be an ingress and egress simulator here as well. There will be a water egress simulator at the Neutral Buoyancy Lab and some part-task simulators."

"We do want Dragon to be an extraordinarily easy vehicle to operate," Shotwell noted, "but obviously the crew needs to be comfortable and capable of doing what is necessary to maintain safety."

"We understand the incredible responsibility we have been given to carry crew," she said.