Sept. 25, 2014
— Russia's first woman to fly into space in nearly 20 years lifted off to the International Space Station on Thursday (Sept. 25), together with a NASA shuttle pilot and a cosmonaut returning to the orbiting laboratory.

Elena Serova, who is Russia's fourth female cosmonaut in history, launched alongside Butch Wilmore and Alexander Samokutyaev on the Soyuz TMA-14M spacecraft from the Baikonur Cosmodrome in Kazakhstan. Launched at 3:25 p.m. CDT (2025 GMT; 2:25 a.m. local time Sept. 26), the Soyuz docked to the space station's Poisk module at 9:11 p.m. CDT (0211 GMT) after circling the Earth four times.

The Soyuz arrived at the space station with one of its two power-generating solar arrays still folded against the craft. The port-side array failed to deploy as it should have soon after reaching orbit, but with the starboard array deployed, the crew were able to complete their journey to the station.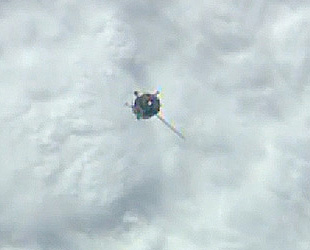 Soyuz TMA-14M, as seen from the space station, with only one of its solar arrays deployed.
(NASA TV)
Shortly after the docking, the port-side array deployed.

The newly-arrived cosmonauts and astronaut will now join the station's Expedition 41 crew. Russian cosmonaut and expedition commander Max Suraev, NASA flight engineer Reid Wiseman and flight engineer Alexander Gerst of the European Space Agency (ESA) have been working on the station since late May.

Samokutyaev, Wilmore and Serova are scheduled to stay on the station through mid-March 2015, transitioning to the Expedition 42 crew in November, when Wilmore will take over command of the orbiting outpost.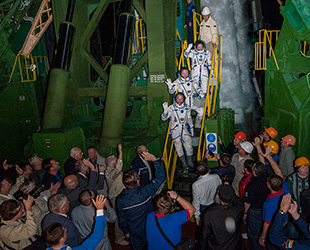 The Soyuz TMA-14M crew, Elena Serova (top), Barry Wilmore and Alexander Samokutyaev wave before boarding the spacecraft at the Baikonur Cosmodrome on Sept. 25, 2014.
(NASA/Joel Kowsky)
During their five and a half months on orbit, Samokutyaev, Wilmore and Serova are scheduled to conduct hundreds of science experiments and see the arrival of supply ships from the U.S. and Russia. Samokutyaev and Wilmore are also slated to conduct spacewalks.

Fourth female

With the launch of Soyuz TMA-14M, Serova became the 58th woman to fly into space, out of the more 500 space explorers worldwide who have flown since 1961. The first woman in space was also Russian, Valentina Tereshkova, who flew in 1963.

Since then, just two other Russian women have flown in space: Svetlana Savitskaya on flights in 1982 and 1984, and Elena Kondakova in 1995 and 1997. A possible fifth female cosmonaut, Anna Kikina, is currently in training to qualify for a spaceflight assignment.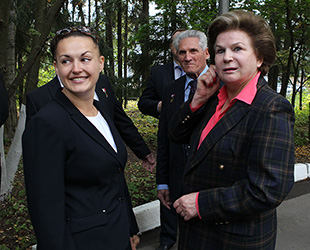 Russia's fourth woman in space, Elena Serova (left), meets with the world's first woman in space, Valentina Tereshkova on Sept. 12, 2014 in Star City, Russia.
(NASA/Stephanie Stoll)
"I was very impressed by those first flights, from Svetlana Savitskaya in particular, who was the first [to perform] a spacewalk," Serova said in a NASA interview. "They had very impressive personalities, showing everybody that if somebody wants to achieve something they can do it."

Serova, whose husband also trained to be a cosmonaut but retired for medical reasons before flying in space, will be the first Russian woman aboard the International Space Station.

"There were a number of women on the ISS before me, but I'll be the first Russian woman cosmonaut," she said. "I never thought about [the historical significance of that] too much because space is what I do for work, and that's what I think about it: it's my work."

In photos during her training, Serova was spotted wearing a personal mission patch with what appeared to be four roses, possibly representing the Russian women in space. Serova is flying with at least one of these emblems to the space station.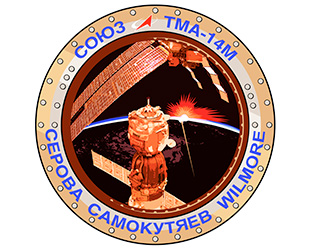 Soyuz TMA-14M crew patch.
(Roscosmos/spacepatches.nl)
For Samokutyaev and Wilmore, Soyuz TMA-14M is their second trip to space. Wilmore previously flew as the pilot of shuttle Atlantis' STS-129 mission in 2009, logging 11 days equipping the space station with spare components. Samokutyaev last flew in 2011 on Soyuz TMA-21, staying 164 days aboard the station during Expeditions 27 and 28.

Tiger toys and river water

Accompanying Samokutyaev, Wilmore and Serova aboard Soyuz TMA-14M are two tigers and a bottle of river water.

"On the eve of International Tiger Day, Roscosmos has decided to support an environmental action designed to call public attention to rare species," Yuri Lonchakov, the chief of the Yuri Gagarin Cosmonaut Training Center and a veteran cosmonaut, told the press. "The Amur tiger cub [toy] named 'Mur' and a far eastern leopard will fly to the International Space Station."

"Mur" is a new character on the popular Russian children's TV program "Good Night, Little Ones!" according to ITAR-TASS.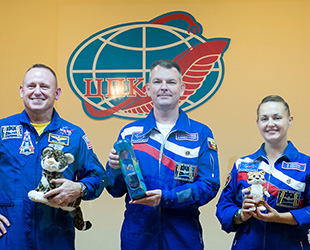 Butch Wilmore, Alexander Samokutyaev and Elena Serova hold the tiger toys and river water they are flying to the space station onboard Soyuz TMA-14M on behalf of Roscosmos.
(NASA)
The crew is also flying a bottle of water collected from the River Kazanka in Kazan, the capital city of the Republic of Tatarstan and the host of the 2015 FINA World Aquatics Championship. The flask will return to Earth with Surayev, Wiseman and Gerst on Nov. 10 to be put in a museum.

This article was updated on Sept. 25 to include the arrival of Soyuz TMA-14M at the space station.