May 28, 2014
— Three new crew members arrived at the International Space Station Wednesday night (May 28) to begin five and a half months of scientific research.

Veteran cosmonaut Maxim Suraev of the Russian federal space agency Roscsomos commanded the Soyuz TMA-13M spacecraft through its six-hour, four-orbit rendezvous to the station. Flying with him on the three-seater Russian capsule were flight engineers Reid Wiseman of NASA and German astronaut Alexander Gerst of ESA, the European Space Agency.

The three lifted off from the Baikonur Cosmodrome at 2:57 p.m. CDT (1957 GMT; 1:57 a.m. local time May 29). Their spacecraft completed an automated approach and docked to the Earth-facing port of the station's Russian Rassvet Mini-Research Module-1 at 8:44 p.m. CDT (0144 GMT).

Waiting to greet Suraev, Wiseman and Gerst aboard their new home for the next 165 days were Expedition 40 space station commander Steven Swanson with NASA and flight engineers Oleg Artemyev and Alexander Skvortsov, both cosmonauts with Roscosmos.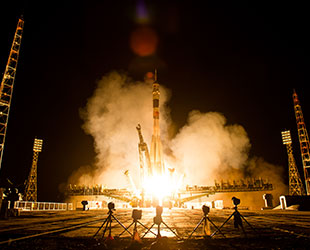 Soyuz TMA-13M lifts off the Baikonur Cosmodrome in Kazakhstan for the International Space Station, May 28.
(NASA/Joel Kowsky)
The new arrivals will serve as flight engineers as members of the Expedition 40 crew until Sept. 10, when Swanson, Artemyev, and Skvortsov are scheduled to return to Earth. Suraev will then become commander of the station's 41st expedition crew.

During their time in orbit, Suraev, Wiseman and Gerst will oversee visits by four different types of cargo spacecraft, including U.S. commercial capsules launched by SpaceX and Orbital Sciences, Russia's Progress supply craft, and the fifth and final of ESA's Automated Transfer Vehicles, ATV-5, which will fly under the name "Georges Lemaître," after the Belgian cosmologist credited as the father of the Big Bang theory.

"In a way it is sad to see that this is already the last one," Gerst said in a preflight interview. "But, on the other hand, the technologies that we used for ATV are being used for future vehicles." (ESA is providing an ATV-derived service module for NASA's Orion crew exploration vehicle.)

Gerst and Wiseman, together with Swanson, also plan to conduct three out of the five spacewalks expected during Expeditions 40 and 41.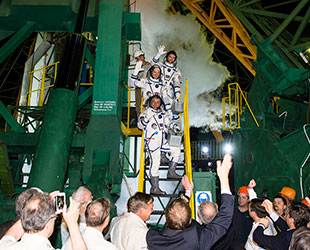 The Soyuz TMA-13M crew, Max Suraev, Reid Wiseman, and Alex Gerst wave prior to boarding their Soyuz TMA-13M spacecraft at the Baikonur Cosmodrome, May 28, 2014.
(NASA/Joel Kowsky)
The flight marks Suraev's second long-duration visit to the space station, having logged more than 169 days in space as an Expedition 21/22 flight engineer from Sept. 30, 2009 to March 18, 2010. A colonel in the Russian Air Force, he was chosen to train as a cosmonaut in 1997.

The Soyuz TMA-13M launch was Wiseman's and Gerst's first trip into space.

Wiseman is only the second member of "The Chumps" — NASA's 14-member 2009 astronaut class — to fly. A U.S. Navy test pilot who is a veteran of more than 500 aircraft carrier landings, Wiseman told a NASA interviewer that he wanted "firsthand knowledge of what it is like to really live off the planet."

"For six months, [the station] will be home and everything up there will feel natural and it's just going to be fantastic," Wiseman said. "I can't wait for that feeling."

Gerst, whose mission ESA has dubbed "Blue Dot," was a geophysicist studying volcanism when he was selected as an astronaut in 2009. The first German to fly into space in six years, he packed a small fragment from the medieval Cologne Cathedral and a German flag for his journey.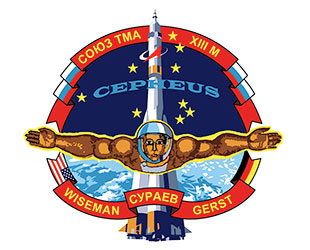 Soyuz TMA-13M crew patch.
(Roscosmos/spacepatches.nl)
"Germany has a long tradition in human spaceflight," said Gerst. "For me it is a big honor to be able to continue this long-standing tradition and to fly to this [orbital] laboratory and bring some of that excitement back with me, some of that perspective back with me, bring it home to the people in Germany."

Suraev, Wiseman and Gerst are scheduled to return home to Earth in November 2014.