Feb. 20, 2016
– "Please welcome Virgin Spaceship Unity."

With those words delivered by physicist Stephen Hawking, and the break of a baby's milk bottle across its bow, Virgin Galactic on Friday (Feb. 19) christened the VSS Unity, the second of its SpaceShipTwo sub-orbital spacecraft, during a ceremony at the Mojave Air and Space Port in California.

The first vehicle to be entirely built and assembled by The Spaceship Company, Virgin Galactic's manufacturing arm, the VSS Unity emerged from behind a black curtain inside FAITH, the company's final assembly, integration and test hangar. The space plane, featuring a new silver and white livery, was towed into position by a Range Rover provided by Virgin Galactic's automotive partner, Land Rover.

"Now I'm pretty sure a one-year old has never christened a spaceship before, so we really are in 'virgin' territory," said Richard Branson, Virgin Galactic's founder, referring to his granddaughter, Eva-Deia. "But today seems to be the right time to change that, as we are after all celebrating the birth of two gorgeous babies."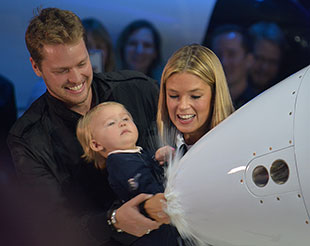 One-year-old Eva Deia, Richard Branson's granddaughter, breaks a milk bottle across the VSS Unity's bow, christening the ship, with help from her parents, Sam and Isabella Branson.
(collectSPACE)
"Clearly, champagne would be inappropriate, [although] it never did me any harm, and certainly hasn't done my wife any harm, so do we have any milk?" asked Branson, who soon after watched on as Eva-Deia, helped by her mother and father, smashed the milk bottle across the nose of the newly-named spaceship.

"I've always believed that having the best looking planes and trains in the world, while not a guarantee of success, is a good start," said Branson. "But our new spaceship has taken that concept to a new level. Isn't she quite beautiful? She is quite stunning."

A better and safer system

Under construction for four years, the VSS Unity succeeds and replaces Virgin Galactic's original SpaceShipTwo, the "VSS Enterprise," which was rolled out in December 2009 and was destroyed during a fatal accident in 2014.

"It has now been 16 months since our flight test accident. That was a hard day," said George Whitesides, the CEO of Virgin Galactic. "It was a moment when years of hard work were put into public doubt and the life of a brave test pilot, a family man and a friend to many of us was lost."


On Oct. 31, 2014, the VSS Enterprise broke apart over the Mojave Desert during its fourth rocket-powered test flight. The accident claimed the life of co-pilot Mike Alsbury and left pilot Pete Siebold seriously injured. Both pilots worked for Scaled Composites, which built the first SpaceShipTwo as well as SpaceShipOne, the X-Prize winning vehicle that was the basis for Virgin Galactic's vehicle.

The Enterprise was lost as a result of Alsbury prematurely unlocking the ship's braking feathers, causing the two tail booms to deploy at a time when aerodynamic and inertial loads were too powerful for the vehicle. Investigators were not able to determine why Alsbury had moved the lever to unlock the feathers when he did.

Safeguards have been added to the VSS Unity to prevent the premature deployment of the tail booms.

"Hardly a day goes by when I don't think of Mike and his family," said Doug Shane, the president of The Spaceship Company. "I know he believed in this mission, and in this technology and in this vehicle design."

"We've made it a better and safer system because making a better and safer system is what Mike was all about," said Shane.

From assembly to the flight line

With the Unity now unveiled, it will next undergo integrated systems verification, followed by ground and flight tests in Mojave and then ground and air exercises at its operations home at Spaceport America in New Mexico.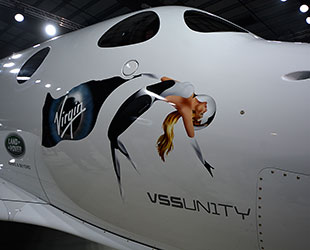 'Galactic Girl' nose art on Virgin Spaceship Unity.
(collectSPACE)
"All of us here today have been very eagerly anticipating the rollout of this spaceship and that is because it marks a very dramatic change for us, as the employees," said Mike Moses, Virgin Galactic's vice president of operations. "We go from the build phase, where we're planning, assembling and analyzing what will be, to the flight line phase, where it is now living and breathing and performing what it is we all dreamt about."

"You can think of the act of 'rollout' as a transition marking a stage — a technical milestone when a brand new vehicle is ready to leave the hangar," he continued. "The hangar is where it was assembled and undergone system testing on the individual level. When it rolls out to the flight line, it is ready for the next phase of its life, where it sees the world and we test the entire vehicle now as a whole."

Although the company won't share its schedule — it wants test results, rather than public statements, to drive its pace going forward — Moses believes the VSS Unity will need significantly less time to pass the same types of tests that the VSS Enterprise took five years to complete.

"We'll check it on the ground, out on the ramp. We'll test it out on the runway. Then we'll put it on [the carrier aircraft] WhiteKnight[Two] and test it in the air," said Moses. "And then we'll finally fly free and more in the glide flight phase, and eventually move onto the powered test program."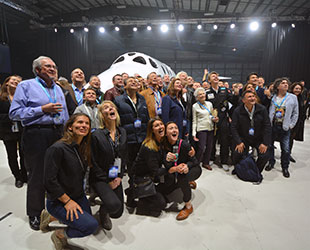 Founder Richard Branson joins Virgin Galactic's customers (future astronauts) for a photo with the VSS Unity.
(collectSPACE)
Only after the VSS Unity has been safely flown beyond the internationally-recognized boundary of space — 62 miles (100 kilometers) high, does Virgin Galactic intend to begin launching the 700 or so people who have reserved tickets at $250,000 each. The craft seats six passengers and two pilots.

"The fact that more people have signed up to experience space with Virgin Galactic than have ever been to space before is thrilling," remarked Whitesides. "The knowledge that we must repay their support by making space travel affordable and safe is humbling, but it also inspires us on a daily basis."

'Unity' in sight

Before the Enterprise was lost, Virgin Galactic sometimes referred to its second SpaceShipTwo as the VSS Voyager. It was in the wake of the accident that Branson found the inspiration for the name "VSS Unity," based on the letters of support that he and the company received asking that they "stay firm in [their] resolve to stay the course."

"And thanks to one message in particular I knew without a doubt who I was going to ask to name her. That message came from the great man who never ceases to amaze and inspire us all," said Branson.

"We are entering a new space age and I hope this will help to create a new unity," stated Hawking, who had hoped to attend the ceremony but was represented by a recording. "Space exploration has already been a great unifier — we seem able to cooperate between nations in space in a way we can only envy on Earth."

"Taking more and more passengers into space will enable them, and us, to look both outwards and back, but with a fresh perspective in both directions," Hawking observed.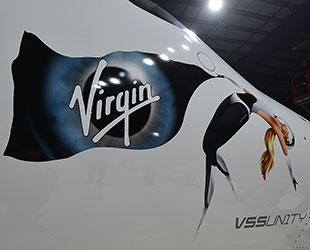 The nose art on the VSS Unity features the eye of famed physicist Stephen Hawking, who helped to name the ship.
(collectSPACE)
Hawking's vision of space will now be a part of VSS Unity's missions, literally and figuratively.

"We felt strongly that we should somehow make sure that Stephen remained a part of Unity's story because so much of what he stands for resonates with what we aspire to be. So the 'Galactic Girl' on the side of our proud spaceship, the VSS Unity, now carries the banner using an image of Stephen's eye," Branson revealed.

"This watching eye reminds us not only of his part in our journey but of the human experience that space provides."