March 30, 2015
— SpaceShipOne, the world's first privately-built piloted spacecraft, has touched down after a decade in 'Flight.'

The historic spaceplane, which flew three suborbital flights in 2004 and then was donated to the Smithsonian the year later, was lowered to the ground on Friday (March 27) after spending ten years suspended in the Milestones of Flight hall at the National Air and Space Museum in Washington, D.C.

"It's hard to believe it's been here ten years already," said Valerie Neal, chair of the museum's space history division and curator responsible for SpaceShipOne, in an interview with collectSPACE.

SpaceShipOne's 'landing' was part of ongoing renovations to the hall, the first major redesign to Milestones since the museum opened in 1976. The museum plans to have the new "Boeing Milestones of Flight Gallery" ready in time for its 40th anniversary in 2016.

Workers carefully placed SpaceShipOne on the floor next to its formerly-suspended companion, Charles Lindbergh's ocean-crossing airplane, the Spirit of St. Louis, which had been similarly lowered from Milestones' ceiling in January. There the two will remain for the next couple of months as they're inspected and undergo preservation work, awaiting their re-suspension.

Neal did not anticipate SpaceShipOne requiring any repair, but she said she might take the opportunity to get a better look at its aft section.

"There are a lot of signatures on the exhaust nozzle and I may go take a closer look at those," she shared. "I think they had a little signing party before they turned it over to us, or perhaps when it first landed."

Created by prolific aircraft designer Burt Rutan and funded by Microsoft cofounder Paul Allen, SpaceShipOne was air launched from the carrier aircraft White Knight, also built by Rutan's Scaled Composites. Dropped from underneath the aircraft, SpaceShipOne was rocketed to space using a hybrid motor and then employed a unique "feathered" tail system to return to Earth as a glider.

The craft flew to space three times: twice with pilot Mike Melvill at the controls on June 21 and Sept. 29, 2004, and once with Brian Binnie on Oct. 4 of the same year. Its two latter flights claimed the $10 million Ansari X Prize offered for the first private vehicle to twice exceed 62 miles (100 kilometers) altitude in less than two weeks.

The Smithsonian, which awarded Rutan and his Scaled team with the National Air and Space Museum trophy for their achievement, chose SpaceShipOne for Milestones of Flight because of what it represented for the near future.

"We thought it was on the cusp of a new style of flight and maybe a new era of spaceflight," Neal remarked. "I think everybody thought that within about five years or so, there would be more activity going into suborbital space than there is [now]."

SpaceShipOne led to the development of SpaceShipTwo, a larger commercial passenger version of the space plane spearheaded by Sir Richard Branson's space tourism firm, Virgin Galactic. In October 2014, the company's first craft, named the VSS Enterprise, broke apart during a powered test flight, leading to the death of its co-pilot.

The tragedy set back Virgin Galactic's schedule to begin commercial spaceflights this year, though the company is pressing ahead with the construction of a second vehicle, the VSS Voyager.

Despite the troubles with SpaceShipTwo, SpaceShipOne's place in Milestones remains valid, Neal said.

"I think that its main reason for being here still stands, at least until a more regular service is established," she said, "and that is it was the first privately-developed spacecraft to carry someone into the fringes of space."

When SpaceShipOne is re-suspended, it will be displayed in a new location and different configuration than its first decade on exhibit. Swapping places with the Bell X-1 that Chuck Yeager flew to become the first to break the sound barrier, SpaceShipOne will be hung in a perpetual landing, with its unique "feathers" deployed in the shuttlecock form that set it apart from previous vehicles.

"I am really excited about that because I think that is a better indicator about what is distinctive about it as an air and space craft," Neal said. "We were displaying it pointed up as if it were ascending, but not in its true orientation for ascent because we had it an angle."

"We're now going to be able to display in a descent angle appropriate for its feather configuration," Neal said. "I think it is going to be a much more impressive looking craft in that configuration because it will be like nothing else that we have on display."

For the next couple of months however, museum visitors will be able to get another unique look at the record-setting space plane as it sits on the ground.

"We're going to go through a few months where it is going to be sort of close passage through Milestones of Flight because we'll have the Spirit of St. Louis, the Bell X-1 and SpaceShipOne all on the floor on one side [of the hall] and then, in addition to the missiles, we will have the Mercury and the Gemini on the other side and a little channel down the middle that people can flow through," Neal said. "But they will get a nice close up look at everything, so that's the compensating factor."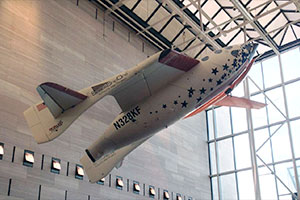 SpaceShipOne, as seen before it touched down in the Milestones of Flight gallery at the National Air and Space Museum. (NASM)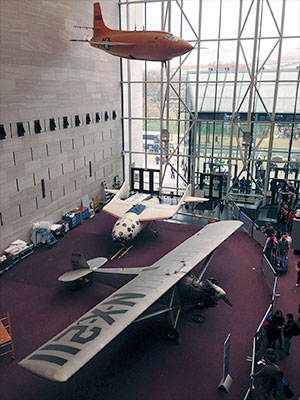 Ten years after being suspended from the ceiling, SpaceShipOne was temporarily lowered to the ground as part of the National Air and Space Museum's redesign of the Milestones of Flight. (NASM)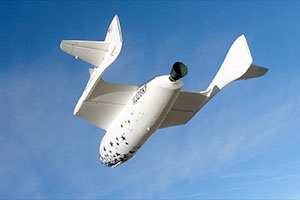 SpaceShipOne, seen here gliding back to Earth, went on display at the National Air and Space Museum in 2005. (Scaled)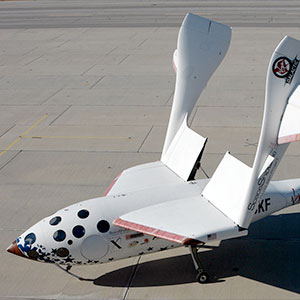 SpaceShipOne will re-hung in the redesigned Milestones of Flight with its wings feathered, as seen here. (Scaled Composites)