October 4, 2014
— The milk chocolate candies that "melt in your mouth, not your hand" helped make commercial spaceflight history 10 years ago Saturday (Oct. 4).

M&M's, the candy-coated chocolates produced by Mars, Inc., were not only onboard SpaceShipOne in 2004 when it claimed the $10 million Ansari X PRIZE, the confectioner was one of the sponsors of the prize-winning flights, too. An M&M character was added to the spacecraft's fuselage and those who came to watch the flights at the Mojave Air and Space Port in California received a special mix of the candies as a souvenir.

SpaceShipOne was the first privately-designed, built, and funded crewed vehicle to enter space. It won the Ansari X PRIZE on Oct. 4, 2004 by twice exceeding 62 miles (100 kilometers) altitude within just a two week period (the first prize-qualifying flight was on Sept. 29).

Created by prolific aircraft designer Burt Rutan and funded by Microsoft cofounder Paul Allen, SpaceShipOne was air launched from the carrier aircraft White Knight, also built by Rutan's Scaled Composites. Dropped from underneath the aircraft, SpaceShipOne was rocketed to space using a hybrid motor and then employed a unique "feathered" tail system to return to Earth as a glider.

Pilots Mike Melvill and Brian Binnie each flew one of the two X PRIZE qualifying flights. It was Melvill, though, who can take credit for the connection to M&M's.

Little sparkling things

Three months before pursuing the prize, Melvill piloted SpaceShipOne on its first-ever spaceflight on June 21, 2004.

Wanting a souvenir of the history-making flight, something that he could let fly free when he went weightless without causing problems on the spacecraft, he chose a pocketful of M&M's. They even bore his initials.

At the pinnacle of his flight, Melvill revealed the candies.

"I reached into my pocket and I took out some M&M's, all different colors, and let them go in front of my face," he recounted at the post-flight press conference. "And they just spun around like little sparkling things. I was so blown away, I couldn't even fly the [craft]. I got another handful and threw them out as well."

M&Ms had flown into outer space before. NASA had been launching them since the first flight of the space shuttle in 1981. But to avoid endorsing the brand, the space agency referred to them as generic "candy-coated chocolates."

Unlike NASA, the private status of SpaceShipOne meant that Melvill's M&M's could be commercialized. One of the flown candies, a brown M&M, was sold in 2006 for $1,400. But before that, the space sweets' flight drew the attention of their maker.

Go.

Between Melvill's first and second SpaceShipOne flights in June and September 2004, Mars Inc. signed on as one of the sponsors for the attempt at the Ansari X PRIZE.

The company's red M&M cartoon character was added to the side of both the spaceship and White Knight aircraft. And of course, more M&M's flew on Melvill's and Binnie's prize-chasing flights.

There were M&M's as souvenirs for the flights' spectators, too. A specially-packaged "commemorative mix" of blue, gray and white M&M's featured candies with the X PRIZE slogan, "Go," and a small rocket printed on each candy.

Though reports suggest Binnie decided to eat, rather than play, with his onboard stash of sweets, at least two of the candies made it back to Earth on Oct. 4. Paul Allen kept the flown orange and yellow M&M's in his office.

"I keep Binnie's M&Ms in my Seattle office as a reminder of the great opportunities ahead for private space travel," Allen told the Wall Street Journal in 2012.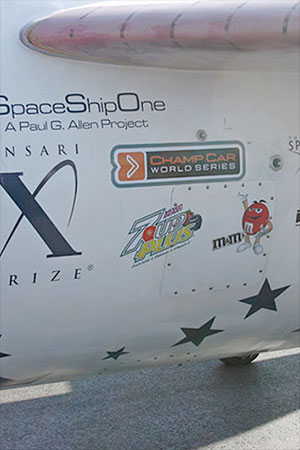 M&M's Red flew on the side of SpaceShipOne as a symbol of the candy's sponsorship of the 2004 X Prize-winning flights. (Scaled)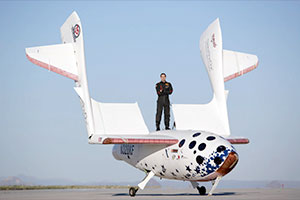 Pilot Brian Binnie stands atop SpaceShipOne, which won the $10 million Ansari X Prize, 10 years ago on Oct. 4, 2004. (X Prize)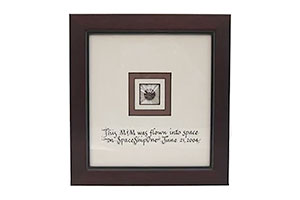 This brown M&M flew into space on SpaceShipOne in June 2004 with pilot Mike Melvill. Two years later, it sold for $1,400. (Aurora)