April 29, 2013
— A private spaceship designed to carry space tourists made its first rocket-powered test flight on Monday (April 29), reaching supersonic speed as it paved the way toward commercial flights in the near future.

Virgin Galactic's SpaceShipTwo fired its rocket engine for the first time during flight Monday morning in a test from the Mojave Air and Space Port in California. The vehicle was carried aloft by the mothership WhiteKnightTwo, and then released in midair at an altitude of about 47,000 feet (14,300 meters). At that point, SpaceShipTwo test fired its rocket engine, designed to propel the craft the rest of the way up to space.

After a short 16-second burn, SpaceShipTwo soared to an altitude of 56,000 feet (17,000 meters) before it flew back to Earth. The trip marked the 26th flight of the vehicle, and the first "powered flight," which propelled the ship to Mach 1.2, fast enough to beat the speed of sound, which is 761 miles per hour (1,224 kilometers per hour) at sea level.

"Ignition went as planned, with the expected burn duration, good engine performance and solid vehicle handling," said George Whitesides, Virgin Galactic president and CEO, in a statement. "The successful outcome of this test marks a pivotal point for our program."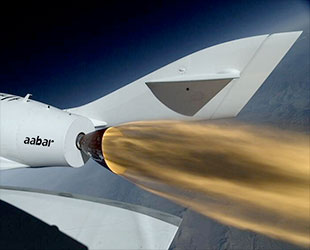 Frame from SpaceShipTwo's boom camera during its first rocket-powered flight, April 29, 2013.
(Virgin Galactic)
"We will now embark on a handful of similar powered flight tests and then make our first test flight to space," he said.

SpaceShipTwo is a suborbital vehicle, designed to carry paying passengers on trips to the edge of space and back for $200,000 a ride. Though these spaceflights won't circle Earth, they will offer a brief experience of weightlessness and a view of the planet from the blackness of space.

Virgin Galactic was founded by British billionaire Richard Branson, who was in Mojave on Monday to see the flight.

"This is a momentous day and the single most important flight test to date for our Virgin Galactic program," wrote Branson in a blog post on Virgin's website. "What a feeling to be on the ground with all the team in Mojave to witness the occasion."

If the test flights continue to go well, SpaceShipTwo may carry passengers as soon as late this year or early 2014, Virgin Galactic officials have said. Already, more than 500 people have signed up for the flights, which will be run out of Spaceport America in New Mexico once test flights are complete.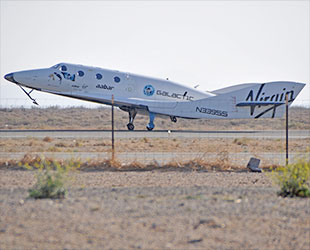 Virgin Galactic's SpaceShipTwo lands in the Mojave Desert after its first powered flight.
(Bill Deaver/Deaver-Wiggins and Associates)
Monday's test flight began at 7:02 a.m. PDT (10:02 a.m. EDT, or 1402 GMT). Flying on board SpaceShipTwo were Mark Stucky and Mike Alsbury, both pilots with the private aerospace firm Scaled Composites, which designed and built SpaceShipTwo for Virgin Galactic. It comes after two recent glide flights, on April 3 and April 12, that tested the vehicle's nitrous venting, feathering and oxider "cold flow," which set the stage for Monday's landmark powered test.

Scaled also built the craft's predecessor, SpaceShipOne, which won the $10 million Ansari X Prize in October 2004 by becoming the first commercial vehicle to fly people to space and back twice in two weeks.