Historic Space debuts Apollo 11 lucite

January 30, 2003 — Historic Space, an online venue for rare astronaut autographs and artifacts, has released their first original, limited-edition acrylic: a section of coldplate removed from the Apollo 11 Command Module Columbia.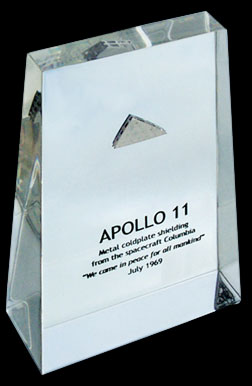 The Apollo 11 Acrylic, which goes on sale today for the introductory price of $395, is 5 by 3.5 by 1.5 inches with chamfered sides. Embedded within each is a triangle of titanium-alloy "coldplate". During its flight to the Moon and back, the coldplate acted as a thermal and radiation shield for the Apollo command module's critical systems, including the computer that the crew used to navigate.

The flown metal fragments range in size between 1/2 and one inch in length.

First offered at auction in May 2001, the uncut 8 by 7 inch coldplate was consigned by Mascoutah Aerospace Museum in Illinois. According to museum agent James Fisher, the plate was removed after flight for testing. The plate was part of the museum's collection of flown Apollo artifacts when it was sold.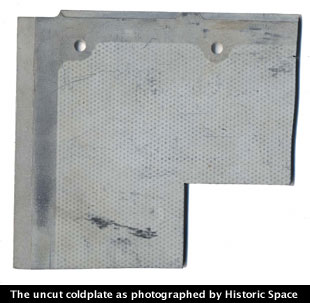 Historic Space acquired the coldplate after several pieces had already been removed by prior owners. As it wasn't suited for display intact, Joe Davies saw the potential for an alternate means of presentation.

"It struck me that it would be excellent material for an acrylic edition due to its interesting visual characteristics of the tri-layer construction," said Davies, founder of Historic Space. "Acrylic is an ideal medium to view material such as this because it can be viewed from all dimensions."

Limited to a maximum of 100 pieces, Historic Space set an issue price of $475, which includes a presentation box with a black satin inner liner. An $80 discount is being offered for a limited time.

The acrylics are offered alongside a new selection of autograph and lunar artifacts for sale. Among the new additions are Apollo 8 and Apollo 17 crew autographs, a very rare John Young Gemini spacesuit autographed portrait, and matted displays featuring the autograph of first moonwalker Neil Armstrong.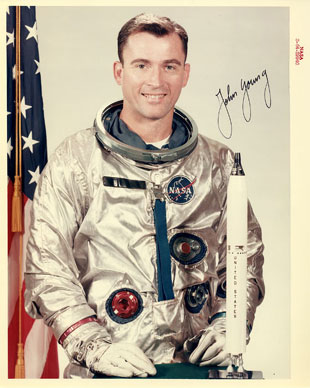 Lunar artifacts include a swatch of moondust from the Apollo 15 landing site and a $2 bill flown to lunar orbit on the same mission.

Several pieces are still available from Historic Space's first catalog released in August, including the autographs of all 12 moonwalkers and all 24 moon voyagers, and a label removed from a film canister carried on Apollo 11.
back to News



© 2023 collectSPACE.com All rights reserved.
Questions? E-mail contact@collectspace.com