Exclusive preview: HistoricSpace.com

August 5, 2002 -- Third-generation antiques dealer and space memorabilia collector Joe Davies had a problem finding pieces for his collection. His solution came in the format of a new online store for high-end space artifacts.

"I collect mainly Apollo, and often at the 'higher' end of the hobby," wrote Davies in a February, 2002, e-mail to collectSPACE. "While there aren't that many of us specializing in this area, there are a considerable number of collectors who are always hunting for that tough to find last item to complete a set. Yet they rarely get the chance to acquire it as these sort of rarities need never come to open sale."

He had a point. Many of these need- to- have- but- rarely- available artifacts and autographs traditionally traded hands through private, direct sales, if not the periodic auction. If you were not in the know, than a collector could be searching for an item that was just out of reach.

"I have also long wished that there was a venue where I could browse and buy inspirational artifacts and autographs," continued Davies. "While there are some vendors who have some items of this nature, it tends to be a very limited stock and often not 'first quality'."

Davies realized that if he wanted such a site to exist, he would need to build it. Already a successful web developer (he had built sites for several noted space memorabilia dealers and collectors, among others) and possessing the experience through his family's business of selling antiques and collectibles, he set about bringing his idea to reality.

The result is HistoricSpace.com, set to open to the public later this week. Davies invited collectSPACE for an exclusive first look inside.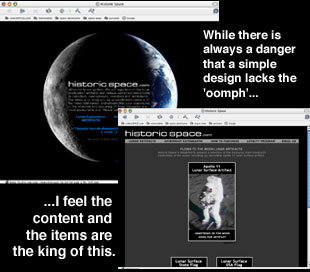 Dedicated to supplying "collectors, connoisseurs, investors and institutions," visitors to HistoricSpace are presented with a simple but elegantly-designed website. "While there is always a danger that a simple design lacks the 'oomph,'" explained Davies, "I feel the content and the items are the king of this."

Along these lines, site visitors are given two primary product choices for navigation: "Lunar Exploration Artifacts" and "Vintage Astronaut Autographs".

Following "Artifacts," visitors are presented with a impressive selection of lunar orbit and surface-exposed items. Thumbnails lead to pages documenting each artifact.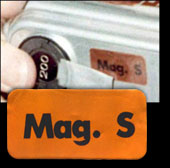 HistoricSpace will debut with two flags carried aboard the Lunar Module and both a U.S. $2 bill and United Nations treaty flown in the Command Module. Featured is a film canister label used by Neil Armstrong and Buzz Aldrin while photographing Tranquility Base.

Using the Apollo 11 artifact as an example, Davies is careful to try to provide all information a potential buyer might desire. In addition to a detailed narrative describing the history of the item, images (with links to enlarge) document its current condition and presentation.

Also included on this page are a list of inclusions (in addition to the artifact itself, no less than 15 documents accompany the film label, including three certificates of authenticity), a clear definition of the artifact's provenance, and of course, the price (in the case of the label, Davies simply lists "a substantial offer is invited", though this is atypical for the site's offerings).

A link at the bottom of the page leads to a purchase form, though online payment is not an option currently offered. All orders, entertained on a first-come, first-serve basis, will be invoiced.

A similar presentation can be found under "Autographs," where thumbnails are further divided into four categories: "Premier", "Crews", "Portraits", and "Lunar". A total of 27 lithographs (or sets) were to be offered for the debut.

The focus under "Autographs" are the rarer, set-completing signature examples sought by collectors. Among the initial offerings are White Space Suit (WSS) portraits of James Irwin and John Young, an "on the moon" Alan Shepard autograph, and a good selection of Neil Armstrong examples (including an HistoricSpace creation depicting Armstrong alone on the Moon).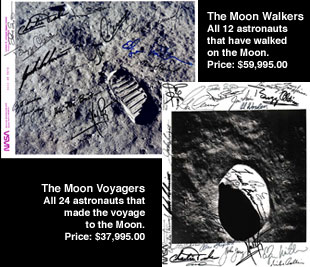 The "Premier" category sets apart two extremely rare pieces, worthy of their title: a single NASA-numbered glossy photograph signed by all 12 moonwalkers and a monochrome NASA glossy print autographed by all 24 astronauts who made the voyage to the Moon.

As with the lunar artifacts section, clicking on an autograph's thumbnail displays a separate page that clearly identifies the medium, its size, the inscription (if applicable), condition, age, and of course, those who signed. A comment field describes the significance of each piece, while links lead to even larger images of the autographs.

Two other site sections are made available once a visitor has selected a product category. In "How to Purchase," as the name might imply, payment, shipping, and return details are explained. This section also describes the HistoricSpace guarantee for authenticity, as well as their policies for consignments and appraisals.

Under "Loyalty Program", incentives for multiple purchases are offered. Discounts begin after the first item and range from five to 10 percent.

Even with these discounts -- and all visitors to the site will receive a five percent discount on their first order prior to August 15 -- most items may still remain out of reach of the average collector, with prices starting at $1000 and in many cases, much higher.

Davies acknowledges this, though he feels the site will be of interest to more than just potential customers.

"I feel this is an exciting happening for collectors, a venue where they will be able to locate those tough Apollo and earlier items, and whether they are visiting to browse or buy, the inventory itself will provide a valuable resource in terms of informative exemplars of rare astronaut signatures and flown memorabilia."

HistoricSpace.com was scheduled to open on August 7, when this article went to print.


back to News



© 2018 collectSPACE.com All rights reserved.
Questions? E-mail contact@collectspace.com