January 22, 2019
— NASA has swapped out one of its crew members on the first piloted flight of a new commercial spacecraft.

Mike Fincke has replaced Eric Boe as a member of the maiden crew for Boeing's CST-100 Starliner capsule, targeted for launch to the International Space Station later this year.

"Boe is unable to fly due to medical reasons," NASA said in a statement released on Tuesday (Jan. 22). The space agency provided no further details.

Assigned by NASA to Boeing's Starliner Crew Flight Test (CFT) in August 2018, Boe will now take on Fincke's prior role as the assistant to the chief for commercial crew in the astronaut office at NASA's Johnson Space Center in Houston. A NASA astronaut since 2000, Boe previously flew as pilot on two space shuttle missions, including the final flight of Discovery in 2011.

Fincke joins the Starliner CFT crew having already logged more than a year in space on three flights to the International Space Station. A NASA astronaut since 1996, he served on the station's Expedition 9 and Expedition 18 crews in 2004 and 2009, respectively, and then flew as a mission specialist on the final flight of the space shuttle Endeavour in 2011.

Once the record holder for the most time in space by an American (he has since been surpassed by three astronauts, including the current record holder, Peggy Whitson, at 665 days), Fincke now stands to become only the third U.S. astronaut in history to launch on three different type of spacecraft (Russia's Soyuz, NASA's shuttle and Boeing's Starliner), following Walter "Wally" Schirra (NASA's Mercury, Gemini and Apollo capsules) and John Young (NASA's Gemini, Apollo and shuttle orbiter).

Fincke, in his position since 2013 supporting NASA's commercial crew program, has worked with Boeing and his now new Starliner crewmates on the development and testing of the spacecraft. According to NASA, Fincke will immediately begin training alongside Boeing's Chris Ferguson and NASA's Nicole Mann, who were both assigned to the CFT mission in August 2018.

"We should see a key when we look at these spacecraft," Fincke said in 2014 when NASA chose Boeing's and SpaceX's commercial crew vehicles to deliver astronauts to and from the space station. "A key to the doorway of space that will be opened by more and more people. It's going to let us have more people working on the station, conducting more scientific research than we've been able to do so far."

The CFT mission will mark the first time that Boeing's CST-100 Starliner will be launched into space with humans on board. An uncrewed flight, currently targeted for late March, will test the spacecraft's systems prior to Fincke, Ferguson and Mann taking flight. The Starliner is designed to fly atop United Launch Alliance's Atlas V rocket from Launch Complex 41 at the Cape Canaveral Air Force Station in Florida.

The U.S. astronauts assigned to the Starliner's first operational mission, Sunita Williams and Josh Cassada, as well as the NASA crew members selected for SpaceX's first Crew Dragon missions, Bob Behnken, Doug Hurley, Mike Hopkins and Victor Glover, remain unchanged. The operational missions will also include international crew members, including Soichi Noguchi of the Japan Aerospace Exploration Agency (JAXA), who is assigned to fly on SpaceX's Dragon capsule.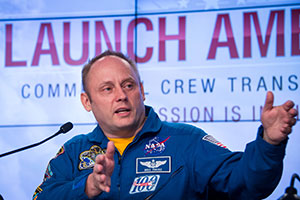 Astronaut Mike Fincke, now assigned to fly on the first crewed test flight of Boeing's CST-100 Starliner spacecraft, is seen taking part in a NASA commercial crew program press conference at Kennedy Space Center in Florida in 2014. (NASA/Bill Ingalls)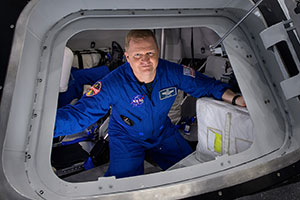 Astronaut Eric Boe poses for a photograph as he exits the Boeing Starliner mockup trainer at the Johnson Space Center in Houston, Texas in August 2018. (NASA/Bill Ingalls)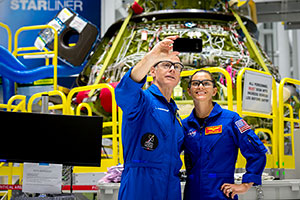 Boeing's Chris Ferguson and NASA's Nicole Mann pose for a selfie in front of their spacecraft, Boeing's first crewed CST-100 Starliner, while it is under construction and testing at NASA's Kennedy Space Center in Florida in August 2018. (Boeing)