August 2, 2018
— The last time NASA assigned astronauts to the first test flight of a new U.S. spacecraft — as it plans do on Friday (Aug. 3) for the first time in 40 years — Bob Crippen was front and center.

Or rather, front and right seat.

On March 16, 1978, NASA announced Crippen would be on the prime crew for the first orbital flight of the agency's new untested launch vehicle, the space shuttle. A then-40-year-old Navy commander who had transferred to NASA in 1969, Crippen was assigned to pilot STS-1, the maiden mission of what would ultimately become a 30-year program.

Now, seven years after the shuttle fleet was retired, NASA is preparing to launch astronauts on not one, but two new types of spacecraft. And unlike the space shuttle, which was owned by the government, these new vehicles are commercial.

"I really want to see us get crews back into space from the United States," said Crippen in an interview with collectSPACE on Wednesday (Aug. 1). "The sooner we can do it, the better, but not before everybody is satisfied they are safe to fly."

On Friday, NASA will reveal who will launch aboard the first test flights of Boeing's CST-100 Starliner and SpaceX's Dragon capsules. The two crews will be selected from a cadre of four astronauts identified in 2015: Bob Behnken, Eric Boe, Doug Hurley and Sunita Williams.

In addition, Boeing has chosen former NASA astronaut Chris Ferguson, who led the final mission of the space shuttle in 2011 and has since led development of the Starliner for the company, as its own corporate astronaut who will fly with whoever NASA picks on the spacecraft's maiden crewed flight.

"If you grew up wanting to be a test pilot like I did — and I think that a few of these people fit that mold — we like firsts," said Crippen.

All five commercial crew members attended Air Force or Naval test pilot schools, but in contrast to Crippen at the time of his STS-1 assignment, they have already flown in space.

"I don't know if having flown prior to the space shuttle would have been helpful. It wouldn't have hurt," said Crippen. "But the secret that I had was flying with John Young, who was [at the time] our most experienced astronaut. I was going with a pro, and I had spent a lot of time working on the space shuttle in its development, so I was pretty familiar with the vehicle's systems."

Crippen said he is glad that Ferguson ("Ferg") is joining the Starliner orbital test flight crew.

"Ferg has been involved in the development of Starliner since its inception, so I think there is something to be said for having him on board," said Crippen. "If we had something like the commercial deals that NASA now has with Boeing and SpaceX, [the orbiter's prime contractor] Rockwell very well may have had its own people be the first to fly on the space shuttle."

On Wednesday, Boeing confirmed its schedule for the first crewed Starliner flight was slipping several months to mid-2019. When Crippen was assigned to STS-1, NASA announced it was planning his launch for the spring of 1979. Columbia did not launch until April 12, 1981, after a two-year delay.

"I don't think either John nor I had a good deal of confidence we were going to fly in '79 when we got announced. It was obvious to us there was a lot of work that needed to be done," Crippen told collectSPACE. "Our simulators weren't ready for us to train, so we had to get those ready. Then they were having problems with the thermal protection system, the tiles, and we viewed a few main engine tests over at Stennis [Space Center in Mississippi] and saw [the engines] come apart. Those were kinds of things that needed to be fixed."

"So John and I were quite comfortable waiting until they were corrected before we got into the vehicle," said Crippen.

In addition to announcing the test flight crews, NASA on Friday will also name the astronauts selected to fly on the first "operational" Starliner and Dragon missions to the International Space Station.

"The nature of the shuttle was that it wasn't like going out and flying a commercial airliner. It was still pushing the envelope, and it will be like that for quite some time with the new vehicles as well," said Crippen.

"The prime difference, of course, is that they will test the new vehicles unmanned before putting crews aboard, and that's a good thing. They also have good escape systems that will have been thoroughly tested," he said.

Even with the expected delays, being assigned now is important, Crippen said, as it proved to be with Young and him.

"I think what it did was give us more of a role with the people who were involved, both in the government and with the contractors," he said. "If John and I didn't like how something was going, we were not bashful. We stated it and people usually worked to make us happy."

"Knowing that you are going to be the one to fly it gives it more impact," Crippen said.

NASA's commercial crew cadre have been working with Boeing and SpaceX since 2015, but now they should use their assignments to become even more involved, advised Crippen.

"The main advice I would give them is probably what they are doing already. Get to know the companies, the people who are building the vehicle. Get to know the vehicle as well as you can and make sure every system that can be tested is tested on the ground and that you're satisfied with any problems that might come up," he said.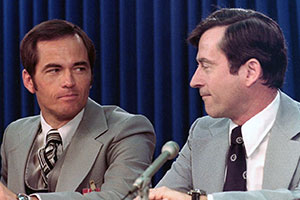 Bob Crippen, left, with John Young at the March 1978 NASA press conference where they were announced as the crew of STS-1, the first test flight of the space shuttle. (NASA)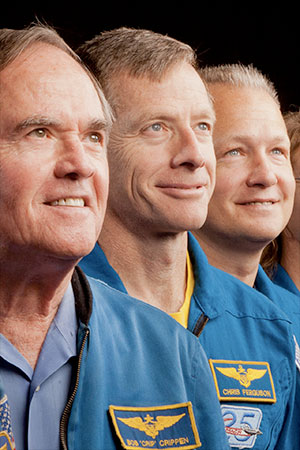 Bob Crippen, left, with commercial crew members Chris Ferguson and Doug Hurley in 2011. (NASA / Houston Chronicle/Smiley Pool)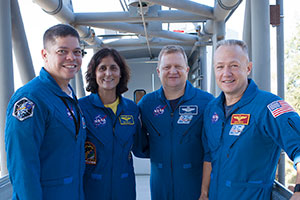 NASA's commercial crew cadre, Bob Behnken, Suni Williams, Eric Boe, and Doug Hurley, as seen in 2016. (NASA/Kim Shiflett)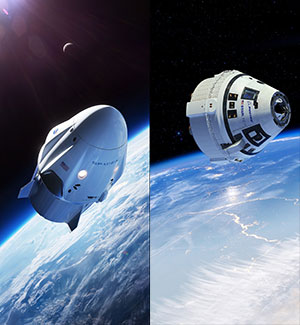 Illustrations of SpaceX's Dragon and Boeing's CST-100 Starliner commercial crew spacecraft. (SpaceX/Boeing)