August 3, 2018
— After years of vehicle development and building anticipation, NASA has now put the crew in commercial crew spacecraft.

The space agency on Friday (Aug. 3) announced nine men and women who will launch on the first crewed test flights and missions of new commercial spacecraft built and operated by The Boeing Company and SpaceX.

The eight active NASA astronauts and one former astronaut-turned-corporate crew member will launch on Boeing CST-100 Starliner and SpaceX Dragon capsules to the International Space Station beginning in 2019. The missions will mark the first crewed launches from the United States since the end of the space shuttle program seven years ago.

The commercial crew members took to the stage during an event led by NASA Administrator Jim Bridenstine at the agency's Johnson Space Center in Houston.

"Now here is what is exciting about today," said Bridenstine. "For the first time since 2011, we are on the brink of launching American astronauts on American rockets from American soil."

NASA astronauts Robert Behnken, 48, and Douglas Hurley, 51, will fly together as SpaceX's first Dragon crew. Veterans of two spaceflights each, Behnken and Hurley will lift off atop a SpaceX Falcon 9 rocket from the Kennedy Space Center's Pad 39A — the same Florida launch pad where the space shuttle left Earth for the last time with Hurley as pilot.

NASA astronauts Eric Boe, 53, and Nicole Mann, 41, will join the commander of that same final space shuttle mission, former astronaut and now Boeing executive Christopher Ferguson, 56, as the crew of the Starliner test flight, launching atop a United Launch Alliance Atlas V rocket from Complex 41 at the Cape Canaveral Air Force Station in Florida.

Ferguson, who has been involved from the start in the Starliner's development, flew three shuttle missions as a NASA astronaut. Boe piloted two shuttle flights. This will be Mann's first launch, having joined the astronaut corps in 2013.

"I don't know about you Chunky, but as a test pilot, I don't think it gets any better than this," said Mann, referring to Hurley by his call sign.

"No, it really doesn't," replied Hurley. "The first flight is something you dream about as a test pilot and you don't think it will ever happen to you."

Behnken, Hurley, Boe and Mann are NASA's first astronauts to be named to the test flights of new U.S. spacecraft since the March 1978 announcement of the space shuttle's first orbital flight test crews. Ferguson will become the first former NASA astronaut to return to orbit as a company's crew member when he flies.

"We were blessed, so very blessed to bring him into the Boeing family a few years back and he's just been wonderful to work with," said Leanne Caret, president and chief executive officer of Boeing Defense, Space and Security division.

Prior to their maiden crewed missions, both Boeing and SpaceX plan uncrewed test flights in late 2018 or early 2019. Both companies will also conduct abort system test flights to ensure the astronauts can safely escape should their rockets go awry.

In addition to naming the crews of the test flights, NASA also announced on Friday the four astronauts who will fly aboard the first operational Starliner and Dragon missions to the space station. Both vehicles were developed in cooperation with NASA to deliver crew members to and from the orbiting laboratory.

Josh Cassada, 45, will fly with Sunita ("Suni") Williams, 52, aboard NASA's first contracted Starliner mission. It will be Cassada's first spaceflight. Williams previously logged 321 days in orbit on two stays aboard the space station, most recently returning to Earth in 2012.

Victor Glover, 42, and Michael Hopkins, 49, will fly on the first operational mission of SpaceX's crewed Dragon. It will be Glover's first time in space. Hopkins logged 166 days aboard the space station in 2014.

The two pairs of NASA crewmates will fly to the station with Russian cosmonauts and international astronauts to be announced at a later date. Between the end of the space shuttle program and the start of commercial crew operations, NASA's crew members have and are continuing to launch to the space station on Russian Soyuz spacecraft.

"I'm really excited that we're going to be able to take these spacecraft and show them off to our international partners, have them ride with us to the International Space Station," said Williams.

Behnken, Boe, Hurley and Williams were named in 2015 as NASA's "commercial crew cadre" and have been working with Boeing and SpaceX on the development of the spacecraft and the simulators that will be used to train astronauts to fly. The two companies have also developed new spacesuits, modified their launch pads and established mission control teams to support the upcoming flights.

With the start of four-person commercial missions, the International Space Station crew is slated to grow by one to a seven-person residency in order to maximize the science that can be conducted on board. Boeing's and SpaceX's commercial spacecraft may also open the space station — and more broadly, Earth orbit — to more privately-funded visitors and spaceflight participants from countries that do not have their own domestic crewed spacecraft and rockets.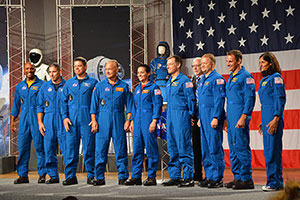 NASA's first commercial crews for Boeing and SpaceX spacecraft, from left to right: Victor Glover, Mike Hopkins, Bob Behnken, Doug Hurley, Nicole Mann, Chris Ferguson, Eric Boe, Josh Cassada and Suni Williams. (collectSPACE)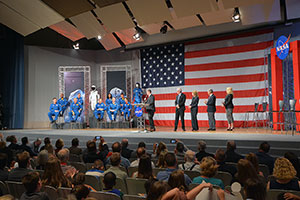 NASA Administrator Jim Bridenstine (center), with Johnson Space Center director Mark Geyer, Boeing's Leanne Caret, Kennedy Space Center director Bob Cabana and SpaceX's Gwynne Shotwell introduce the first commercial crew astronauts. (collectSPACE)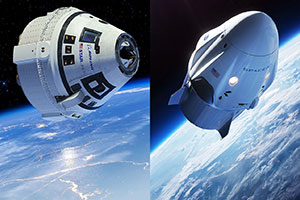 Artist renderings of Boeing's CST-100 Starliner and SpaceX's Crew Dragon spacecraft. (Boeing/SpaceX)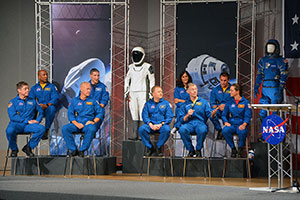 NASA's first commercial crew astronauts. Flying on SpaceX's Crew Dragon (at left): Bob Behnken, Victor Glover, Doug Hurley and Mike Hopkins. Flying on Boeing's Starliner: Eric Boe, Sunita Williams, Chris Ferguson, Josh Cassada and Nicole Mann. (collectSPACE)